10th News: Build Back Better
Before I get to the business of government, let me first wish both the Chicago Sky and the Chicago White Sox success in the playoffs! In case you missed it, last night the Sky defeated the Connecticut Sun to advance to the WNBA Finals for the first time. And this afternoon the White Sox will meet the Houston Astros in the MLB Divisional Playoffs.

I also want to congratulate the Tenth District 2021 National Blue-Ribbon Schools: Braeside Elementary, Carmel Catholic High School, Lake Forest High School, Prince of Peace School, and Maple School! This honor is awarded to fewer than 1% of the schools in the nation. Thank you to all the teachers, students, staff, and administrators for their hard work serving Tenth District students.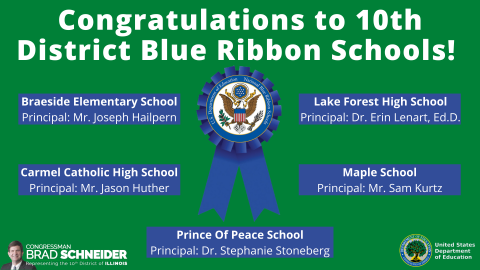 Much attention last week was focused on the tug of war among multiple factions in Congress trying to find a path to passing the bipartisan infrastructure package and President Biden's Build Back Better Agenda.
I am frustrated by those that want to draw lines in the sand. I've been clear: We desperately need to invest in our nation's infrastructure, and the bill, which has already passed the Senate 69-30, should be brought to the House for a vote as soon as possible. I would have voted for the bill in August. I would have voted for it in September. I look forward to voting for it in October. 

I also look forward to voting for a transformative, paid-for bill that addresses climate change, promotes economic growth and job creation, invests in kids and education, and expands access while reducing the cost of health care. Democrats are in ongoing negotiations, and I am confident that we will soon come together to get this legislation accomplished for American people, sending both bills to President Biden.

Also last week, the House again sent legislation to the Senate that would responsibly address the debt limit and avoid a catastrophic default. Unfortunately, Majority Leader McConnell is standing firm in his commitment not only to vote against extending the debt limit, but prevented the Senate as a whole from taking action. If McConnell is successful, the country is at risk of defaulting on its debt for the first time ever this December, potentially leading to a recession and loss of millions of jobs. Default would also raise the nation's cost of borrowing costing taxpayers billions of dollars annually.

This week the House is focused on committee work. On Tuesday the House Foreign Affairs Committee held a hearing on the U.S. withdrawal, and subsequent evacuation from Afghanistan. The bipartisan panel of experts included former Deputy Secretary of State Richard Armitage, form ambassador to Afghanistan Ryan Crocker, former National Security Advisor H.R. McMaster, and former NATO ambassador Douglas Lute. Even after 5 hours of testimony and questions, we have only merely scratched the surface in understanding the lessons of the United States twenty-year long investment in Afghanistan. And we continue to help all American itizens and all those who helped our efforts get to safety.

Lastly, I had a wonderful time meeting with this year's class of STEAM Scholars at the Chicago Botanic Garden over the weekend. Thank you to Dr. Andrea Kramer, Dr. Kay Haven, Joan O'Shaughnessy, and Taran Lichtenberger from the Garden for showing us around!

Keep reading for more information on what's been happening in Washington and around the district.
What's Happening in Washington
Working for the Build Back Better Agenda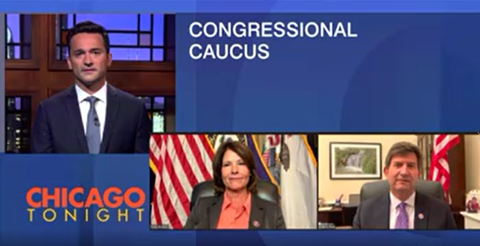 We are working to create quality jobs, invest in our kids, boldly address climate change and more. But first we have to do the basics of keeping the government open. I am thankful that the Senate followed the House's example and passed funding to avoid a shutdown before last Thursday's deadline. I joined WTTW's Chicago Tonight last week to talk about our agenda, infrastructure and more. Watch the full interview here.
Paying Our Country's Debt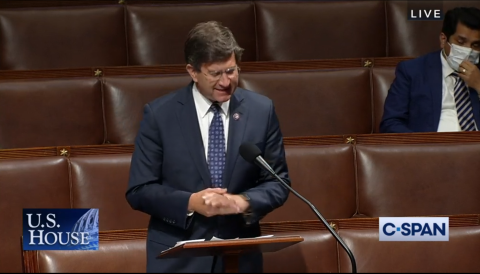 For the last four years, Republicans have run up our nation's debt. The bill is now due. Defaulting on our debt will cause catastrophic damage to our nation's economy. I urge my Senate colleagues to put their partisanship aside, put the country first and pay our country's debt. Watch my full speech in support of raising the debt ceiling here.
Reducing Gun Violence from Stolen Firearms with Sen. Dick Durbin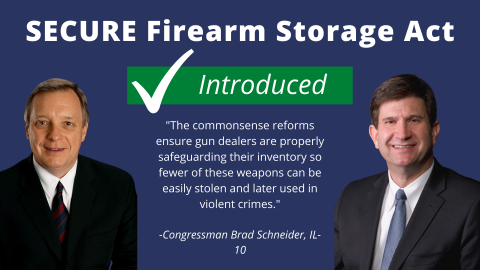 Almost 60,000 guns have been stolen since 2012. It doesn't have to be this way. It simply requires gun dealers to take the responsible step of securing their inventory.

The commonsense, practical reforms in the SECURE Firearm Storage Act ensure gun dealers are properly safeguarding their inventory so fewer of these weapons can be easily stolen and later used in violent crimes. I am pleased to introduce the SECURE Firearm Storage Act with the support of Sen. Durbin and many of my colleagues, and hope that this Congress we find the courage to act legislatively to save lives from the scourge of gun violence.
Israel Normalization Bill Passes House Foreign Affairs Committee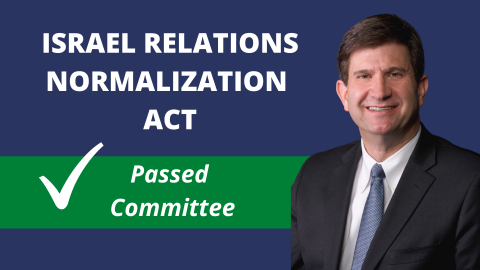 Last week, the House Foreign Affairs Committee approved my bipartisan Israel Relations Normalization Act during its markup. The bill encourages the continued cooperation of the Abraham Accords and urge expansion of these peace and normalization agreements to countries that do not currently have diplomatic ties with Israel.

It is my hope that my bill will lift the chances of peace in the Middle East and provide a better future for all. Ultimately, I hope the Abraham Accords will help forge a path to an agreement between Israel and the Palestinians ensuring a secure, Jewish, and democratic Israel living side by side with a Palestinian state with peace, security, and prosperity for both peoples.
Supporting Onshore Wind Energy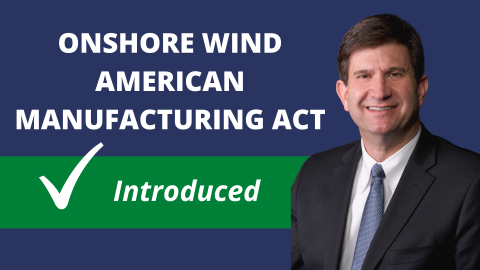 In the race against a warming climate, the United States must accelerate our progress on all alternative energy pathways, in particular wind and solar. This transition to the green economy will build clean, good paying jobs here at home. It also requires that the federal government fosters and supports the manufacturing supply chain central to this transition, which is why I'm proud to partner with Senator Michael Bennet on the Onshore Wind American Manufacturing Act to establish tax credits in support of domestic manufacturing of wind energy components.
Congressional App Challenge: Applications Due November 1
In less than a generation, apps have come to touch every aspect of our lives. The Congressional App Challenge is an opportunity for Tenth District students to demonstrate and develop their STEAM skills by designing their own app and presenting their work on a national stage. I look forward to seeing the remarkable apps that this year's students create. View the application and learn more on my website.
Around the Tenth
STEAM Scholars at the Chicago Botanic Garden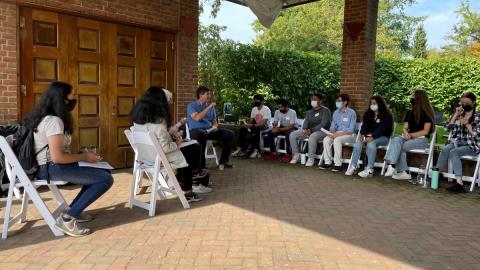 We kicked off our fourth cohort of the Tenth District STEAM (Science, Technology, Engineering, Arts and Math) Scholars program on Saturday at the Chicago Botanic Gardens. This year 20 exceptionally talented sophomores and juniors from 13 area schools were selected to participate. 
The Tenth District provides incredible opportunities for students to learn about and work in STEAM fields here at home. Our world-class Chicago Botanic Garden is a gorgeous, engaging example of the opportunities our students have, and I was thrilled to take this year's STEAM scholars there on Saturday. STEAM education is critical for preparing our next generation for the jobs of the future. Learning STEAM skills will help our students find creative solutions to problems like climate change, disease research, technology development and more.
Reducing the Harmful Effects of Ethylene Oxide
Last week the Environmental Protection Agency wrote a letter to the Lake County Board explaining its approach to ethylene oxide emissions in the region.

I appreciate EPA Region 5's detailed response to Lake County's concerns about ethylene oxide emissions. After years of inaction by the Trump Administration, I welcome more concerted engagement by the Agency. In the House, I founded the bipartisan EtO Task Force to focus on the national impact of this carcinogen and develop national solutions to the problem. I am eager to continue working with the EPA to fully address our community's concerns and to keep my constituents fully informed on our federal work to address EtO. I strongly believe federal air monitoring, stricter federal regulations on EtO, and collaborative engagement with EtO-impacted communities remain critical priorities for the EPA. Read more in the Daily Herald.
Upcoming Events
Webinar: Medicare Open Enrollment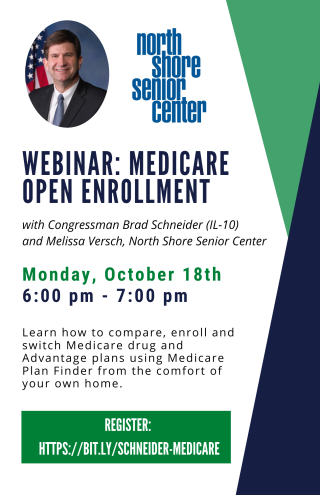 Did you know that you can compare, enroll, and switch Medicare Drug and Advantage plans without leaving your home? Medicare Open Enrollment is the time to choose the coverage you need. Join me and SHIP Coordinator Melissa Versch for a presentation on how to navigate Medicare Plan Finder on Monday, October 18th at 6:00 pm. RSVP here.
October 23: Congress On Your Corner – North Chicago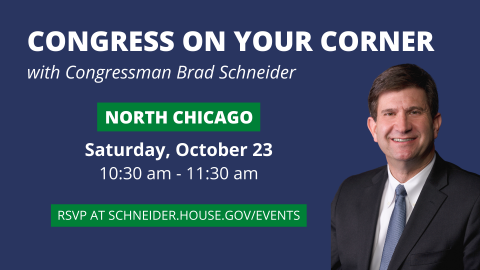 Please join me for Congress on Your Corner on Saturday, October 23rd at 10:30am in North Chicago. I will answer your questions and provide an update on my work in Washington fighting to help Illinois families rebuild after the pandemic. RSVP here: schneider.house.gov/events.
Brad's Bookworms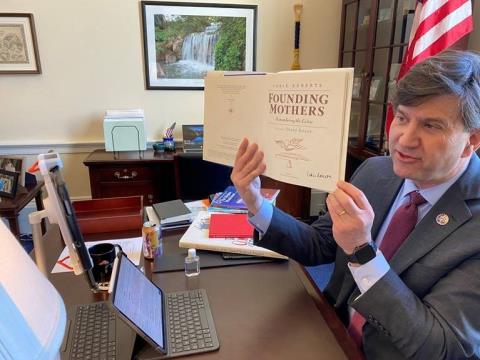 Reading books opens new worlds, no matter your age. The Brad's Bookworms Program encourages K-5 readers to read 10 books and discover new worlds — while also bringing the community together to help their students reach their reading goals. Learn more and apply here.
COVID-19 Update
Illinois currently has a statewide mask mandate in effect. This means that everyone, regardless of vaccination status, must wear a mask when indoors.
Although the CARES Act and American Rescue Plan have helped us speed up recovery, we are unfortunately still very much in the thick of the pandemic.

The good news is that the vaccine is safe and effective. Currently, 95% of COVID-19 hospitalizations are people who are not vaccinated, and, tragically, 99.5% of all COVID-19 deaths are people who were not vaccinated.

In Lake County, 97% of the people who are hospitalized with COVID-19 are unvaccinated.

The vaccine is saving lives. So again, tell your loved ones, your friends, neighbors and coworkers, join the fight and get your shot!
Resources
LONG WAITS FOR PASSPORTS: Look Before You Book
If You're Traveling Internationally Soon, Remember to Check Your Passport Expiration Date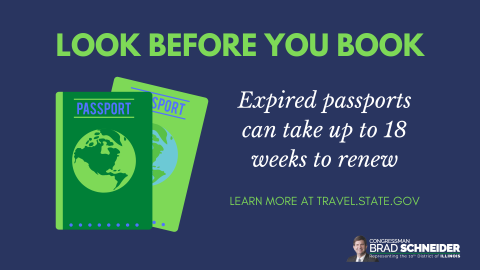 As more and more people get vaccinated, travel is starting to pick back up again. My office has received a major uptick in calls asking to expedite passport renewals lately. If you plan to travel internationally, remember to check the expiration date on your passport before you book your trip. It is taking much longer than normal to renew a passport, so make sure to plan ahead.

Check the passport website to get an idea of processing time -- expedited processing is now taking 12 weeks from submission to receipt, regular processing 18 weeks.

At this point, expedited exceptions are only being made in case of emergency travel. In other words, apply now for that passport you will need for the trip you might take over Spring Break. Passports last for 5 or 10 years depending on what age you were issued your first passport.
Cook and Lake Counties COVID Rental Assistance Programs Open Now
Both Lake and Cook Counties are now offering rental assistance programs for those who face financial hardships related to COVID-19 and are struggling to pay rent.
Back to Business Grants: Applications Open Now
Governor Pritzker recently announced the statewide Back to Business (B2B) program, which will provide $250 million in grants to small businesses across Illinois experiencing significant losses from COVID-19. Top priority will be given to restaurants, hotels, arts businesses and more. Learn more and apply here.
IL-10: By the Numbers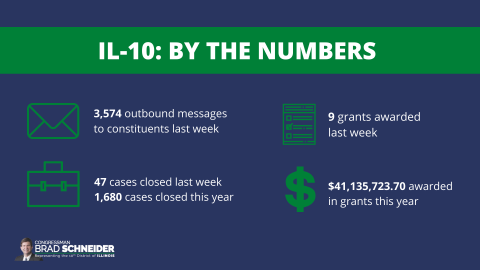 Last week we received and sent out more than 3,500 calls, emails and online messages! Keep those calls and letters coming, it's one of the best ways for me to learn what is most important to our district.
We also continue to manage an extraordinarily high number of constituent requests for assistance, in particular related to passports, IRS inquiries, and immigration issues. Please never hesitate to reach out to my team for assistance with any issue you may have with a federal agency, including Social Security, Medicare, Veterans Affairs, or any other agency.

We also work with local governments, agencies, groups and even individuals seeking federal grants. So far this year we have helped bring more than $38 million dollars in grant money to the district. If you don't already receive our monthly grants newsletter, you can sign up here and check the box for our grants newsletter.
In Closing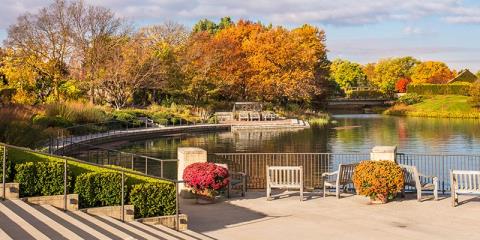 In case you haven't noticed, the temperatures are beginning to drop, the leaves are starting to turn, and the days are clearly getting shorter. Fall is definitely here. With the changing of the seasons, I encourage everyone to grab your hiking boots, put on a warm sweater and enjoy some of the great trails and paths around the district. And if you have a chance, make your way to the Chicago Botanic Garden (above).
Onward,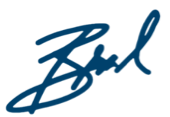 Bradley S. Schneider
Member of Congress