10th News: Building Back Better in the Tenth District
I am writing this week's newsletter from my desk in Washington, having just returned to the office after voting to pass H.R. 4, The John Lewis Voting Rights Advancement Act. You may have heard me share that my office office was previously occupied by my colleague and American Hero of voting rights -- the late, great John Lewis. I feel a special responsibility to honor his legacy and ensure that every eligible citizen is able to confidently and safely cast their vote. We took an important step towards that vision today. (More on that below.)

Meanwhile, at home last week I continued my summer "Tour of the Tenth."  It was great meeting with activists, mayors and village presidents, small business owners and more. Among the highlights was touring sites that I helped secure local infrastructure funding for in the House, including Park Street in Mundelein, Wolf Road in Prospect Heights and the Lake County Behavioral Health Center in Libertyville (more on that below as well).

These site visits took on an even deeper meaning as the House took action this week to advance both the Senate's bipartisan infrastructure framework and the President's Build Back Better agenda. My expectation is that we will vote on final passage of  the infrastructure bill shortly after Congress returns next month, and certainly before the October 1 deadline for reauthorization of transportation funding. The Build Back Better Act should come for a vote at the same time, or shortly thereafter. 

One last thing: If you haven't made it to a town hall yet this month, please join me Thursday for my final Congress on Your Corner in Round Lake or come out for Bike the Tenth on August 28th.

Keep reading for information about what's been happening in Washington and around the district.
District Connections
Upcoming Events
Thursday: Congress on Your Corner in Round Lake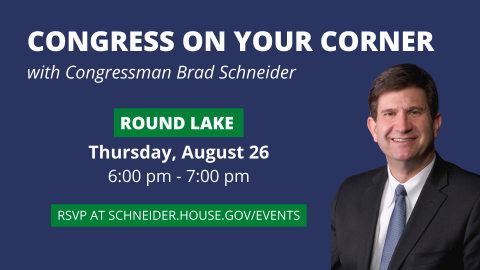 Please join me this Thursday, August 26th at 6:00 pm for our final Congress on Your Corner of the month in Round Lake. RSVP here.
Bike the Tenth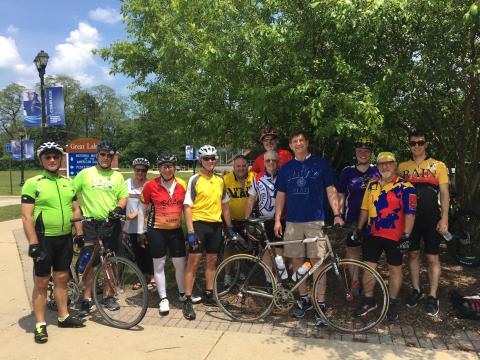 I am excited to invite you to one of my favorite events of the year, coming up this weekend: Bike the Tenth! Join me and other constituents on a 15 mile ride along the Des Plaines River Trail, traveling throughout parts of the Tenth District at 9am, this Saturday, August 28th. All ages are welcome for what will be a leisurely ride.

The route begins and ends at Half Day Forest Preserve in Vernon Hills. And knowing me, I suspect we will stop for ice cream somewhere on the route.

Learn more and RSVP at schneider.house.gov/bike.
Virtual Career Expo – Prep Session this Thursday, August 26
Join me, State Rep. Rita Mayfield, the Job Center of Lake County, and the Illinois Department of Employment Security for a job seeker informational workshop. Learn tips and tools for job-seeking in a pandemic and what to know ahead of virtual job expos.

Register for the the prep session on Thursday, August 26 at 1 pm here. And don't forget to save the date for our virtual career expo on Friday, September 17th at 9 am.
Service Academy Night: Virtual Information Session 9/14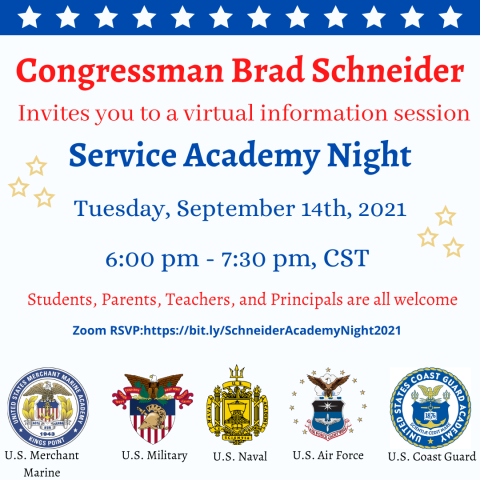 If you or your student is interested in military academy service, join us on Tuesday, September 14th from 6:00 pm – 7:30 pm to learn more about the process. RSVP for the information session here.

You can also learn more about the application process on my website: schneider.house.gov/services/military-academy-nominations.
Around the Tenth
Calling for Senate Action on Local Infrastructure Funding
Lake County Behavioral Health Center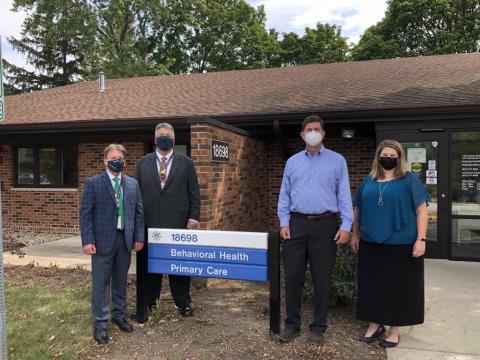 The Senate has the opportunity to rebuild our nation's crumbling infrastructure. I helped secure funding in the House for the Lake County Health Department Behavioral Center Addition, which would double existing behavioral health services capacity at the Lake County Health Department Libertyville Mental Health Center by expanding the physical space housing primary care, psychiatry, and counseling for individuals with mental illness. I hope my colleagues in the Senate follow the House's example to fund this important project.
 
Mundelein Park Street Closure & Enhancement Project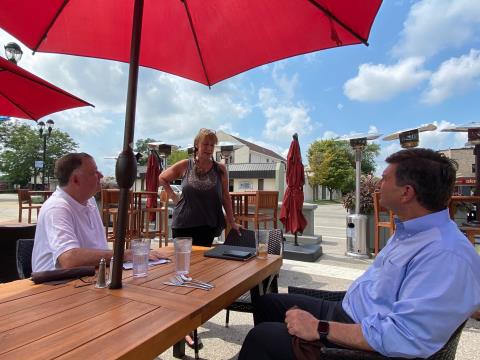 I had a great lunch at Tina G's with Village of Mundelein Mayor Steve Lentz to talk about the Park Street Closure & Enhancement Project. This project, which I helped secure federal funding in the House appropriations bills, will promote economic development in Mundelein by turning Park Street into an outdoor public space to connect residents and support local businesses.
Prospect Heights: Wolf Road Sidewalk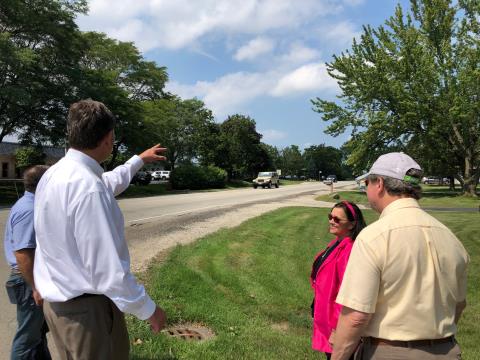 Pedestrians shouldn't have to risk their safety just to get somewhere they need to be. That's why I helped ensure funding to build a sidewalk on the busy Wolf Road in Prospect Heights was included in the INVEST in America act that passed the House in July.  Once the project is completed, more than six thousand area residents will have a safe route to public transportation, and nearby local businesses.
Meeting with Tenth District Immigration Activists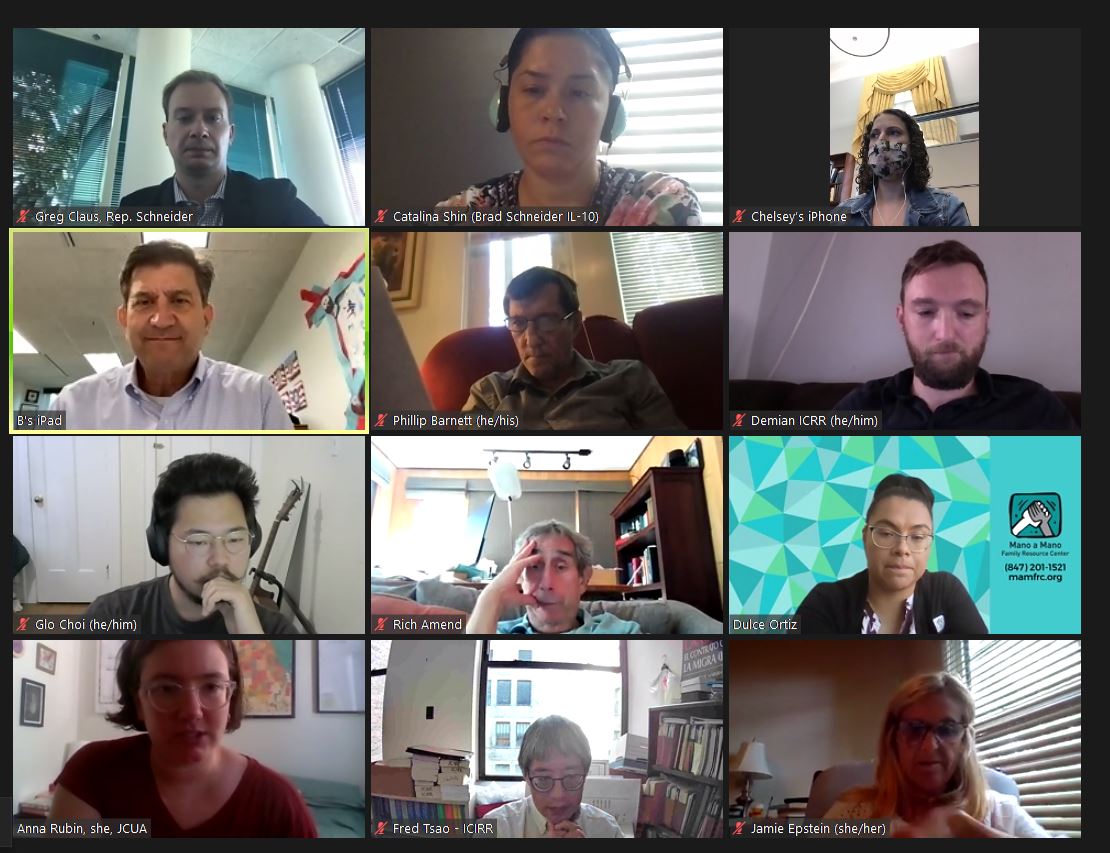 I met with constituents from JCUA, Illinois Coalition for Immigrant and Refugee Rights, HANA Center, and Mano a Mano Family Resource Center last week. Our conversation highlighted the urgent need for a pathway to citizenship for DREAMERS, TPS recipients, and other qualifying immigrants. I will fight for those provisions and others to be included in a reconciliation bill.
Brad at Your Business: Liberty Auto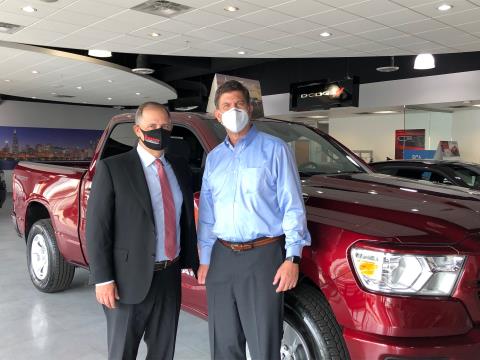 I sat down with Joe Massarelli at Liberty Auto Plaza, a family-owned business, as part of my "Brad at Your Business" series. We talked about the challenges Joe faced during the pandemic and what Congress can do to help businesses keep their doors open going forward.  We also discussed the importance of small business, and especially family-owned businesses for both local communities and our national economy.
Touring Prospect Heights Library Renovations
Over the course of the last year, Prospect Heights Public Library has completed an impressive facility remodel.  With the new renovations, library patrons can now enjoy better technology, more programming and more space for small group work. Thank you to Executive Director Alex Todd for the tour!
Sitting Down with the Illinois Psychiatric Society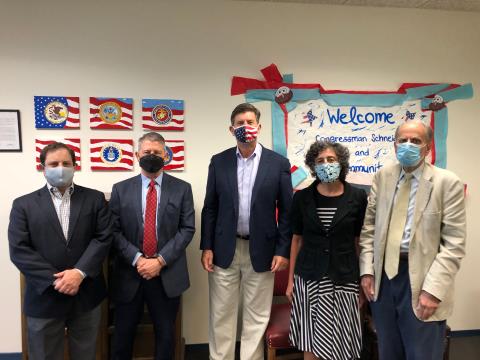 I had a very informative meeting with the Illinois Psychiatric Society to talk about, among other things, the impact of the pandemic on mental health and the importance of access to telehealth. The Illinois Psychiatric Society represents more than 1,000 Illinois psychiatrists and works to advocate for the highest quality care for patients with psychiatric and substance use disorders.
Learning About Small Business Incubators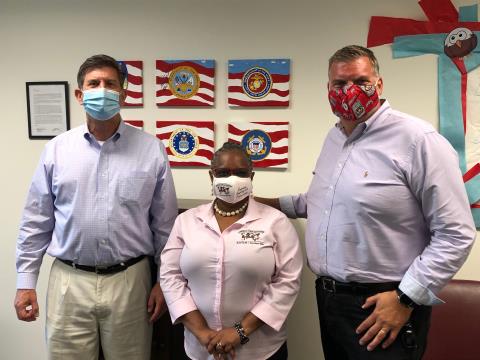 I met with Steven Whittington of LifeWorking Enterprise and Karen Jones of the Chocolate Chips Association to talk about small business incubators and junior incubators for students of color. LifeWorking Enterprises LLC, a coworking startup, has announced its first Chicagoland location and headquarters in Lake Forest -- a productive and collaborative shared workplace for local startups, freelancers, corporate employees, professional services and "work-from-homers" in Lake Forest, Lake Bluff and our other North Shore neighbors.
Local Leaders Listening Tour
Meeting with Riverwoods Mayor and Treasurer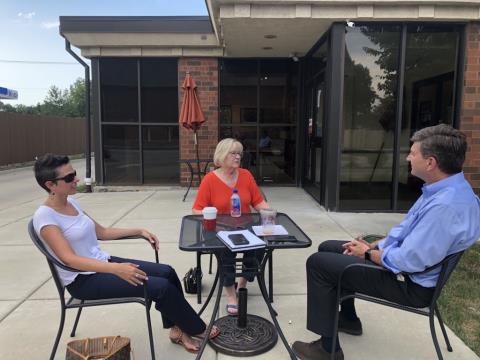 I had a wonderful conversation with new Riverwoods Mayor Kris Ford and Riverwoods Treasurer Daphne Paras at Café de Oro. Though one of the smaller communities in the district, we talked about the village's sense of community and commitment to the environment.
Glencoe Village President Howard Roin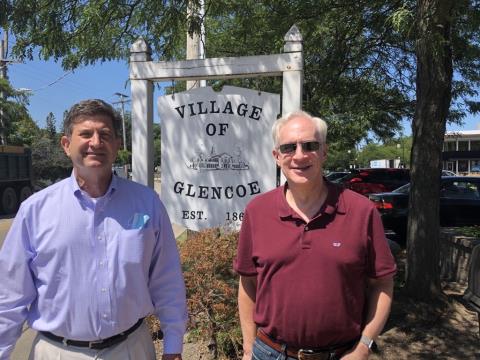 I also had a great meeting with Glencoe's new Village President Howard Roin. President Roin grew up in the village he now has the privilege to lead. We discussed both the many opportunities and the potential challenges of his new role.
Happening in Washington
I was briefly back in Washington this week to vote on advancing the HR 4, the John Lewis Voting Rights Advancement Act and the Build Back Better plan.
The John R Lewis Voting Rights Advancement Act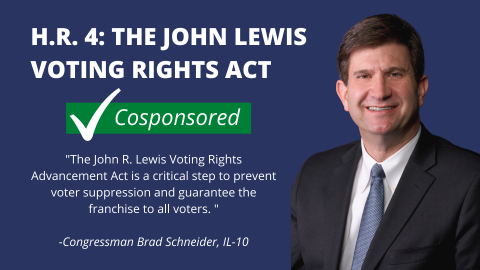 The House took bold action to secure voting rights for all Americans and combat voter suppression when it passed the John Lewis Voting Rights Advancement Act this week. To secure our democracy, American voters must have the means to choose the people who represent them and hold those representatives accountable. We cannot sit idly by while self-serving politicians across the country pass laws that disadvantage certain citizens' ability to vote, tactics that would have been prevented from becoming law under the Voting Rights Act before Shelby County v. Holder.
The John R. Lewis Voting Rights Advancement Act is a critical step to prevent voter suppression and guarantee the fundamental right to vote to all eligible citizens. John Lewis devoted his life to the pursuit of voting rights for all. I was personally honored to count him as a friend in his life and am now honored to help further that legacy by passing this historic legislation.
The Build Back Better Plan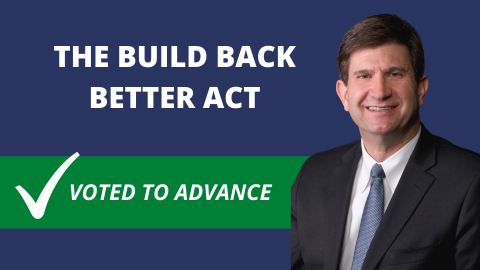 The House also voted to move to the next phase of crafting President Biden's Build Back Better Act.  This bill will deliver life-changing benefits for working families and small businesses in Illinois and across the nation, while also taking bold action to address climate change and other threats confronting our county. The bill will create quality jobs, lower health care costs, and cut taxes and help us build back even better than we were before the pandemic.

Over the next several weeks, the respective committees in the House will flesh out and debate the details of the legislation.
Other District News
Calling for NRG Accountability with Waukegan Coal Plant Clean-Up

I led a letter to NRG Energy from federal and state representatives asking for assurances that NRG will conduct appropriate environmental remediation before closing its Waukegan coal plant. Learn more and read the letter here.
Apply for STEAM Scholars by Wednesday, September 8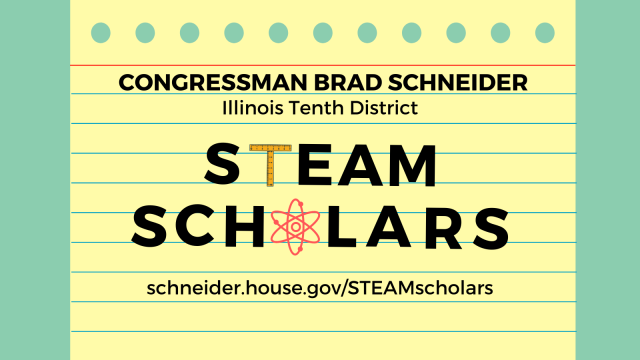 In the fall, students selected to participate in the STEAM Scholars program will have the opportunity to join me on visits to four STEAM-related businesses and facilities. Learn more and apply here by September 8th: https://schneider.house.gov/STEAMscholars
Apply Today for the Congressional App Challenge

In less than a generation, apps have come to touch every aspect of our lives. The Congressional App Challenge is an opportunity for Tenth District students to demonstrate and develop their STEAM skills by designing their own app and presenting their work on a national stage. I look forward to seeing the remarkable apps that this year's students create. View the application and learn more on my website.
COVID-19 Update
On Monday the Food and Drug Administration (FDA) granted full approval to the Pfizer COVID-19 vaccine. This is great news, and I hope that it will encourage many more people to get vaccinated so we can beat back this pandemic.
Although the CARES Act and American Rescue Plan have helped us speed up recovery, we are unfortunately still very much in the thick of the pandemic.

The good news is that the vaccine is safe and effective. Currently, 95% of COVID-19 hospitalizations are people who are not vaccinated, and, tragically, 99.5% of all COVID-19 deaths are people who were not vaccinated.

In Lake County, 97% of the people who are hospitalized with COVID-19 are unvaccinated.

The vaccine is saving lives. So again, tell your loved ones, your friends, neighbors and coworkers, join the fight and get your shot!
Resources
Back to Business Grants: Applications Open Now

Governor Pritzker recently announced the statewide Back to Business (B2B) program, which will provide $250 million in grants to small businesses across Illinois experiencing significant losses from COVID-19. Top priority will be given to restaurants, hotels, arts businesses and more. Learn more and apply here.
COVID-19 Rental Assistance

Apply for the Lake County COVID-19 Rental Assistance Program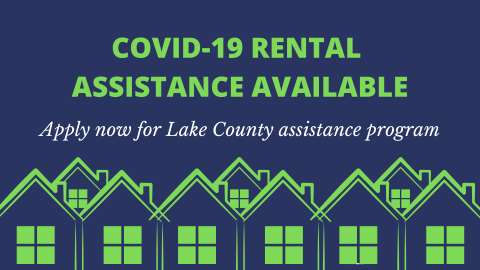 Lake County renters who face financial hardship related to COVID-19 can now apply for the new Lake County Federal Emergency Rental Assistance (FERA) Program, which provides help for individuals paying rent and/or utility bills.

To qualify for help, residents must: pay rent in Lake County, have a COVID-related financial hardship, be at risk of homelessness or housing instability, meet income guidelines based on household size, and provide appropriate documentation.

More information and the application can be found here.
Mortgage Help for FHA-insured Borrowers
The Federal Housing Administration launched a COVID-19 mortgage forbearance program to help those struggling to pay their mortgage. If you are one of the many FHA-insured borrowers in communities across the country having difficulty paying your mortgage due to the pandemic, visit the HUD website to learn more. Apply before September 30.
IL-10: By the Numbers
I thought it would be interesting to share some facts behind the work my team does on behalf of Tenth District residents every week. In a typical week, we receive between 1,000 and 2,000 emails, letters and calls. We try to respond to everyone as quickly as possible, though sometimes inquires require extra time for research and other digging to give a more complete reply. With so much happening in our world, your inbound correspondence is higher than normal. I am proud to share that we sent out more than 3,500 replies and responses last week.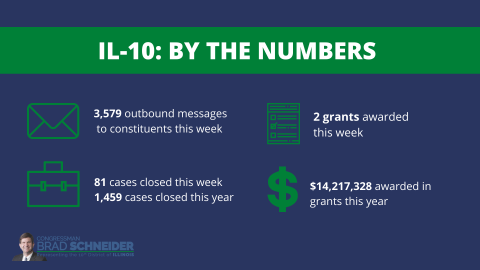 In Closing
Over the weekend I read a story in the Daily Herald about Marcus Wheeler, a longtime Libertyville mail carrier and Waukegan resident. Last week Marcus died unexpectedly at age 56, after a 33-year career with the Libertyville post office. After the community learned of his death, people came together this past weekend for a rare procession of USPS and civilian vehicles that followed the mail route that Marcus took every day during work.

I was touched reading this story. Marcus made an extraordinary impact on his community just by showing up and doing his job every day with a smile. I hope that we can all take a second to recognize the small ways that others impact our life every day – and continue joining together to honor those who make a difference.

Read more about Marcus's life and the procession here.
Onward,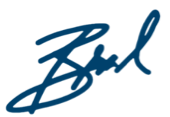 Bradley S. Schneider
Member of Congress