10th News: Child Care, Healthcare, Climate and Jobs
The big news last week was the announcement of a compromise agreement between the House, Senate and Administration on a $1.75 billion national investment in our young people, our seniors and our communities. The agreed-to framework will be the largest investment ever in addressing climate change, and continues our efforts to ensure every American has quality, affordable healthcare. Ultimately, this bill will be a middle- and working-class tax cut that will get America back to work and help secure our children's future. And I am very pleased that this bill and the critical investments that it will make in the lives of everyday Americans will be fully paid for without adding to the deficit.
On Thursday, President Biden came to the House to lay out his Build Back Better framework and affirmed his commitment to work with Congress to bring his vision (including the bipartisan infrastructure framework) into law. I am committed to passing both bills—the Bipartisan Infrastructure Framework (already passed the Senate by Republicans and Democrats in a 69-30 vote) and the broader Build Back Better Act. My hope is that we can vote as soon as this week.

From the beginning of this process, I have said that I want a Build Back Better Act that will address four things: child care, climate, health care, and jobs.  The announced framework includes elements of all four. This framework is tremendous news for working families, young people starting their careers, and seniors – the people who, for too long, have been squeezed in this economy. As we inch closer to a final bill, I personally shared with Speaker Pelosi Sunday my commitment to improving our immigration system. America's essential immigrant communities have already waited for too long to make progress on immigration reform. One thing is for sure: this week is an historic moment for the bipartisan infrastructure bill and Build Back Better Act.
Following his visit with the House, the President left for Europe and the COP26 U.N. Climate Change Conference. The conference will be an essential inflection point for the world-response to the existential threat of climate change, and U.S. leadership remains vitally important to making progress. In advance of President Biden's trip, I was proud to introduce a resolution in Congress supporting the goals of the meeting with, and appreciative that more than 140 of my colleagues joined as cosponsors.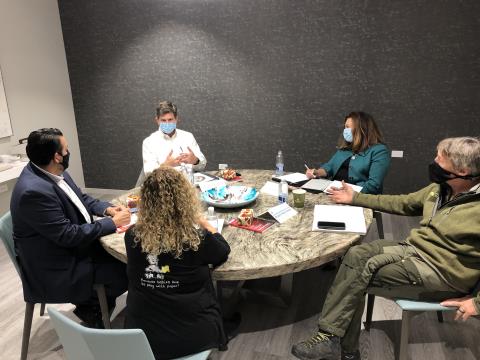 Wrapping up my week, I retuned home on Friday to sit down with local small business owners to hear about their experience during the pandemic. Time and time again, I have heard from small business owners about how helpful programs like the Paycheck Protection Program (PPP), passed as part of the CARES Act, have been. I will continue fighting to ensure that small businesses have the resources they need to continue rebuilding throughout the pandemic. I also enjoyed speaking to the Lake Country Transportation Alliance and visiting the Kleiman Campus for Jewish Hope and Healing in Northbrook.
Finally, my district office in Lincolnshire is now accepting applications for winter and spring interns. Interns help with writing constituent letters, district-based projects and constituent casework as needed. Interested college students can apply now on my website: https://schneider.house.gov/services/internships. Please contact 847-0383-4870 with any questions.
Keep reading for more information on what's been happening in Washington and around the district.
What's Happening in Washington
This week the House passed my bipartisan bill, the Veteran Entrepreneurship Training Act of 2021, which will help grow our economy by giving veterans the tools to start their own businesses. The bill will formalize the Boots to Business program for 5 years. Among several other bills considered, we will also vote on the Protect Older Job Applicants Act of 2021 to prohibit employers from discriminating against job applicants on the basis of age.
COP26: Combatting the Climate Crisis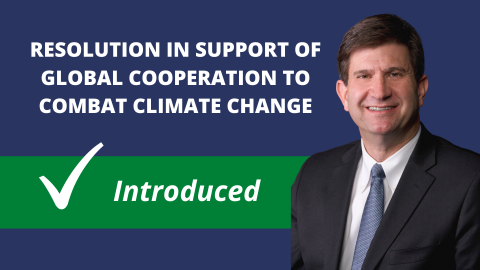 Climate change remains an existential threat to America's national security, economy, and children. During this critical moment, effectively combatting climate change requires the collective efforts of the international community as a whole. Preventing the worst climate change scenarios is still possible, but requires the cooperation of the global community. As countries around the world meet in Glasgow in the coming days, our resolution sends a strong message that the U.S. House of Representatives stands ready to play our part towards combatting climate change

I was proud to introduce a resolution last week with 142 original cosponsors expressing support for the United Nations Climate Change Conference in Glasgow, also known as COP26, to reaffirm American support for global cooperation in combatting climate change. You can read the text of the bill here.
Making Railroad Crossings Safer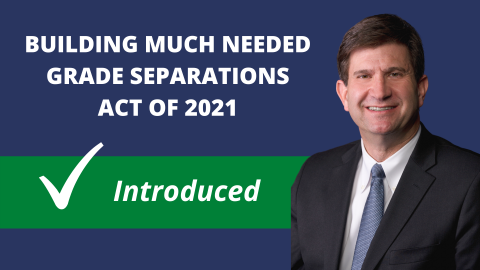 As one of the top manufacturing districts in the country and a major Metra hub, the Tenth District is riddled with railroad crossings. When a train blocks a roadway, it creates traffic backups, produces emissions, and too often holds up our first responders on their way to life-and-death emergencies. It is essential that America plans to remove these antiquated, dangerous crossings by lowering more roads. I'm helping introduce legislation with Congressman Jesus "Chuy" García to build more grade separations that make our communities safer, faster, and less-congested. It's a piece of critical infrastructure investment that rail-heavy communities like ours have been crying out for decades.
Promoting Democracy in the Balkans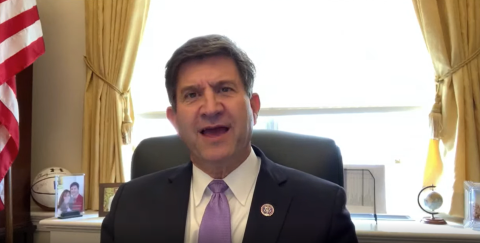 The United States has played an outsized role in promoting peace and security in the Western Balkans. During a recent Foreign Affairs subcommittee hearing, I asked U.S. Deputy Assistant Secretary of State Gabriel Escobar what America and our allies can do to continue to promote stability in the Balkan region. Watch Secretary Escobar's full answer here.
Around the Tenth
Hearing from Small Business Owners Impacted by COVID-19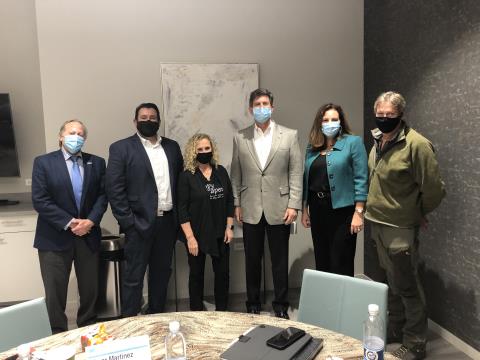 Last week I sat down with small business owners helped by federal COVID-19 relief programs as part of Goldman Sachs '10,000 Small Business Voices' Road to Recovery event. I heard from local business owners about how critical federal programs, including the Paycheck Protection Program passed as part of the CARS Act, helped them survive the pandemic.
Touring Congregation Anshe Tikvah's New Home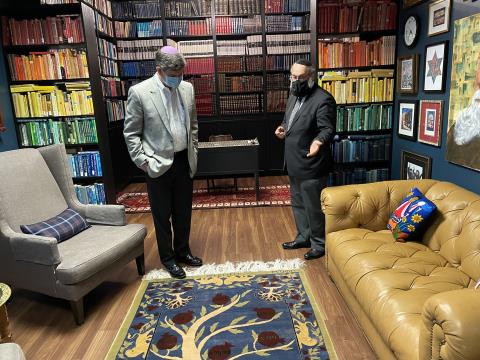 Congregation Anshe Tikvah's new home, the Kleiman Campus, will give the congregation more space for mental health services, spiritual counseling, and educational activities. It was great touring the new space last week with Rabbi Rob Jury! Above, Rabbi Jury is showing me a rug that he acquired from the Jewish community in Afghanistan. Sadly, the two last Jews remaining in Afghanistan left the country in recent weeks.
Discussing Infrastructure with Lake County Transportation Alliance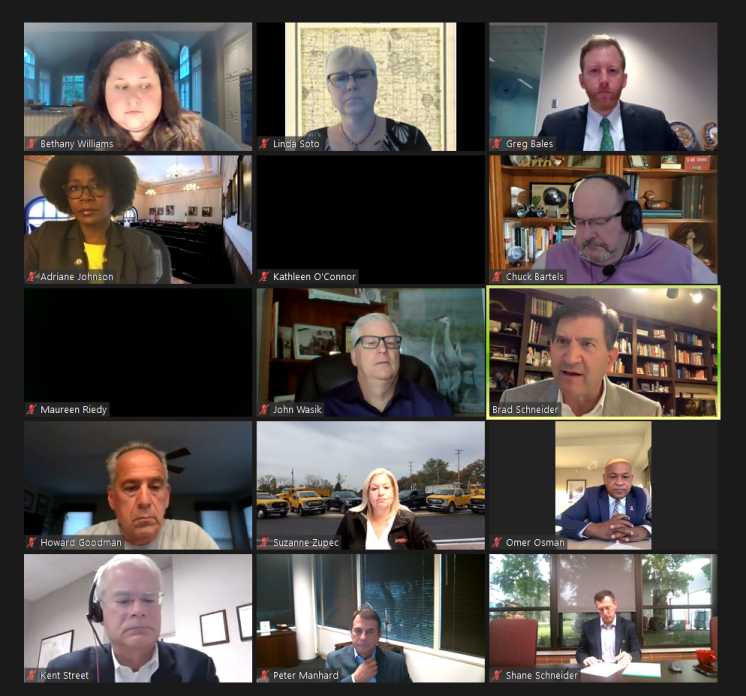 Federal infrastructure investment means greener, more modern and more accessible public transit. As I discussed with the Lake County Transportation Alliance on Friday, Congress must pass the bipartisan infrastructure framework soon so we can make the largest federal investment in public transit in our country's history.
District Connections
Upcoming Events
Next Week: Veterans' Day Reception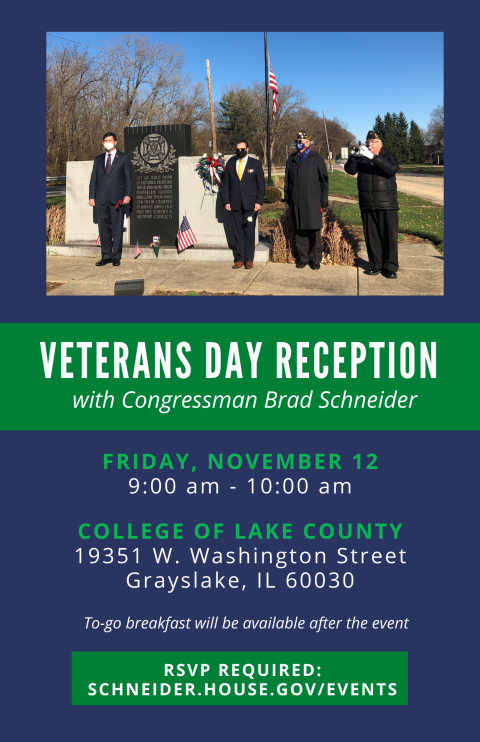 Please join me for a reception on Friday, November 12 at 9:00 am to honor those in our community who have served our country. I will also share some of the ways that my office and local veteran organizations can be of assistance, as well as updating attendees on legislation in Congress affecting veterans. Please register here.
DEADLINE EXTENDED: Apply for a Military Service Academy Nomination by Friday, November 5th
My office has extended the deadline to apply for a U.S. Military Service Academy nomination to Friday, November 5. If you or your student is interested in attending West Point, the Air Force Academy, the Naval Academy or the Merchant Marine Academy, please go to my website to learn more and apply.
Brad's Bookworms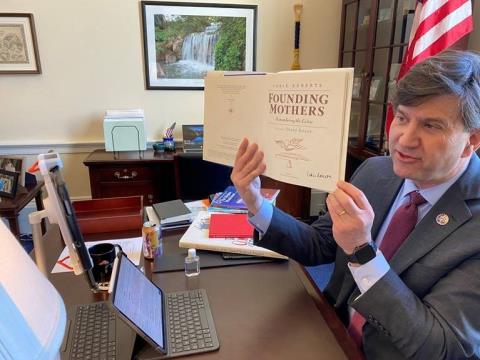 Reading books opens new worlds, no matter your age. The Brad's Bookworms Program encourages K-5 readers to read 10 books and discover new worlds — while also bringing the community together to help their students reach their reading goals. Learn more and apply here: https://schneider.house.gov/bookworms.
COVID-19 Update
While COVID-19 case rates are declining statewide, we must remain vigilant. Lake County was recently downgraded from "high" risk of COVID-19 transmission due to high vaccination rates.
The vaccine is safe and effective. Currently, 95% of COVID-19 hospitalizations are people who are not vaccinated, and, tragically, 99.5% of all COVID-19 deaths are people who were not vaccinated.

NEW: The FDA recently announced new guidance for booster shots. The following populations are eligible for boosters:

Individuals over 65 and older

Individuals 18-64 at high risk of severe COVID-19 due to immunocompromising conditions

Individuals under 65 who have high-risk occupations for exposure to COVID-19

This week, I expect we will see the first children getting vaccinated. I hope that parents will talk with their pediatricians about why it's important that children get vaccinated.

The vaccine is saving lives. So again, tell your loved ones, your friends, neighbors and coworkers, join the fight and get your shot!
RESOURCES
LONG WAITS FOR PASSPORTS: Look Before You Book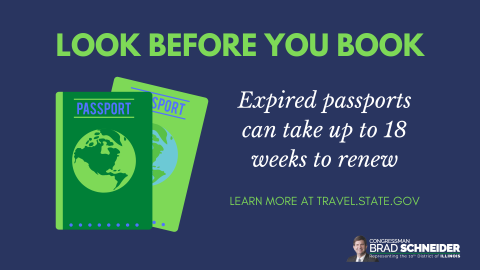 As more and more people get vaccinated, travel is starting to pick back up again. My office has received a major uptick in calls asking to expedite passport renewals lately. If you plan to travel internationally, remember to check the expiration date on your passport before you book your trip. It is taking much longer than normal to renew a passport, so make sure to plan ahead.

Check the passport website to get an idea of processing time -- expedited processing is now taking 10 weeks from submission to receipt, regular processing 14 weeks.

At this point, expedited exceptions are only being made in case of emergency travel. In other words, apply now for that passport you will need for the trip you might take over Winter Break. Passports last for 5 or 10 years depending on what age you were issued your first passport.
Lake County: COVID Rental Assistance Programs Open Now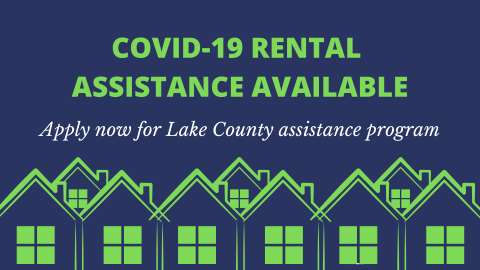 Lake County is offering rental assistance programs for those who face financial hardships related to COVID-19 and are struggling to pay rent. The deadline to apply for rental assistance in Cook County has passed.
Learn more and apply here for the Lake County Federal Emergency Rental Assistance Program.
In Closing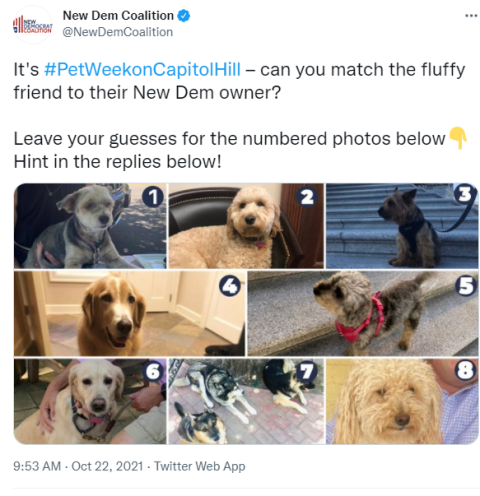 Last week was Pet Week on Capitol Hill! To celebrate the joy that our pets bring into our lives, many members of Congress brought their animals to work with them. While I unfortunately wasn't able to bring JoJo to Washington with me, she did make it into the New Dems poll above. Can you guess which one of the above is JoJo?
Onward,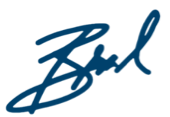 Bradley S. Schneider
Member of Congress