10th News: Child Tax Credit Payments Now Hitting Bank Accounts
Last Wednesday the first round of monthly Child Tax Credit payments started hitting bank accounts. The newly refundable credit is part of the American Rescue Plan passed by Congress in March. The annual credit is $3,000 for children under 17 and $3,600 for children under 6, with half the annual credit paid in monthly installments, July through December. The second half of the credit will be claimed on individuals 2021 tax return.
I hosted a bilingual Facebook Live conversation with Tenth District mothers to talk about how the Child Tax Credit will benefit families like theirs. If you missed it, you can watch it here.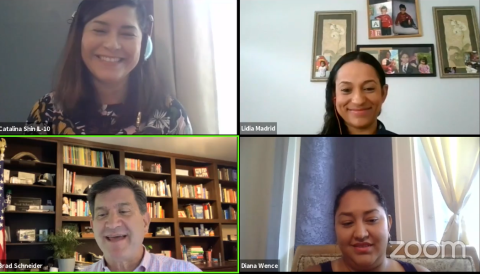 The expanded Child Tax Credit is projected to cut the national child poverty rate in half and will lift 8,500 children in the Tenth District above the poverty line. As my friend Brian Higgins of New York so beautifully stated, this new policy means that just because a child is born into poverty, she will not have to live the rest of her life in poverty. 
If you are eligible and you do not receive your first payment within 2-4 weeks, or if you have questions about the CTC, please call my office at 847-383-4870.

Last week was a committee work week in Congress and one of the highlights was the House Foreign Affairs hearing with USAID Administrator Samantha Power. She highlighted the good work our nation is doing across the globe, helping others while advancing U.S. interests. America's development initiatives are an important part of our national security strategy, working in conjunction with diplomacy and defense. 
Capping off last week, I had the privilege of joining Secretary of Transportation Pete Buttigeig at the CSX Intermodal Rail Facility to talk about infrastructure and the America Jobs Plan.

This week I am back in Washington as we devote the rest of July to advancing several important pieces of legislation, including bills that will improve the safety of Americans' drinking water and also help refund Americans harmed by telecommunications fraud.
Later this week, Congress will be voting on the bipartisan ALLIES Act, which will help our Afghan translators, and other allies who helped us during the war, obtain immigration visas to come to the U.S. Now that President Biden has ended America's longest war, it's time for us to help the thousands of local Afghan translators and contractors who were critical to the safety and success of our mission in the country.

As long as our allies remain on the ground in Afghanistan, they are at risk for retribution from Taliban forces. Because the application for a special immigrant visa can as long as 800 days, these brave men and women have already suffered unacceptable delays and backlogs while trying to get out of Afghanistan.
And to Muslims in Illinois and across the country, Eid Mubarak on this Eid Al-Adha.

Keep reading for information about what's been happening in Washington and around the district.
Around the District
Transportation Secretary Pete Buttigieg Visits Chicago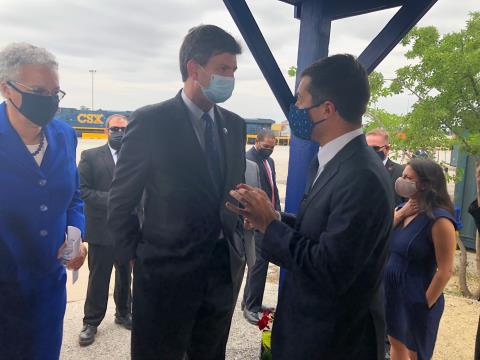 Secretary Pete Buttigieg knows that Chicago and Northern Illinois, like the rest of the country, needs affordable and accessible public transit. We need flood mitigation and sewer systems that combat climate change. Infrastructure is essential to the business of Illinois and the nation, and Sec. Buttigieg's visit on Friday put Illinois's business at the top of the nation's priorities.
LONG WAITS FOR PASSPORTS: Look Before You Book

If You're Traveling Internationally Soon, Remember to Check Your Passport Expiration Date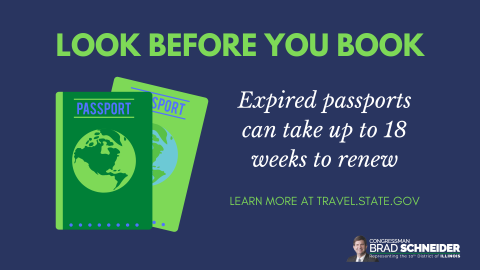 As more and more people get vaccinated, travel is starting to pick back up again. My office has received a major uptick in calls asking to expedite passport renewals lately. If you plan to travel internationally, remember to check the expiration date on your passport before you book your trip. It is taking much longer than normal to renew a passport, so make sure to plan ahead.

Check the passport website to get an idea of processing time -- expedited processing is now taking 12 weeks from submission to receipt, regular processing 18 weeks.

At this point, expedited exceptions are only being made in case of emergency travel. In other words, apply now for that passport you will need for the trip you might take over Winter Break. Passports last for 5 or 10 years depending on what age you were issued your first passport.
What's Happening in Washington
More Schneider Supported Community Projects Included in First Round of Funding Process
I was pleased that six more IL-10 community project requests were included in the first round of Appropriations funding. These projects include the Lake County Health Department Behavioral Center Addition, the College of Lake County (CLC) Workforce Development Project, the Wolf Road (North) Sidewalk Project, the Waukegan Carnegie Library Revitalization Project, the Northern Illinois Food Bank – New Food Distribution Center, and the Park Street Closure and Enhancement Project.

These six projects are critically important community investments that will create jobs in the Tenth District, make our communities healthier and help rebuild local infrastructure to meet community need. I am grateful that the House Appropriations Committee included these local projects for consideration in their upcoming funding legislation. I will continue to work to advocate for each of these projects as the legislation moves through Congress.

Learn more about the projects here.
Federal Judge Rules DACA Unconstitutional and Suspends Applications

The United States is the only home Dreamers have ever known. They are wholly part of our community and our nation. The court's misguided ruling on the DACA program underscores the urgent need for Congress to work together toward bipartisan comprehensive immigration reform. I was proud to be a cosponsor and help the House pass H.R. 6, The American Dream and Promise Act of 2021.  This is an important step for our Dreamers and the Senate should follow our lead. But we need to do more to achieve truly comprehensive immigration reform.
Apply Today for the Congressional App Challenge

In less than a generation, apps have come to touch every aspect of our lives. The Congressional App Challenge is an opportunity for Tenth District students to demonstrate and develop their STEM skills by designing their own app and presenting their work on a national stage. I look forward to seeing the remarkable apps that this year's students create. View the application and learn more on my website.
District Resources
NEW: Spots Opening Soon for Affordable Housing Units in Wheeling and Niles

The Housing Authority of Cook County (HACC) will re-open its waitlist for one-bedroom units at their property locations in Niles (9201 N Maryland Ave) and Wheeling (200 N Milwaukee Ave). The household will be required to pay rent equal to up to 30% of their adjusted annual income. To qualify, the annual income for a one-person household cannot exceed $39,180 and the annual income for a two-person household cannot exceed $44,760.

Pre-applications will be open online from Wednesday, July 28 at 10 am to Friday, July 30 at 4:00 pm. To apply, please visit http://www.thehacc.org and select OPEN under the property listing for Huntington OR Wheeling Tower. Then scroll down and select "Apply to Waiting List" to begin the online- pre-application for housing.
COVID-19 Rental Assistance
Apply for Lake County COVID-19 Rental Assistance Program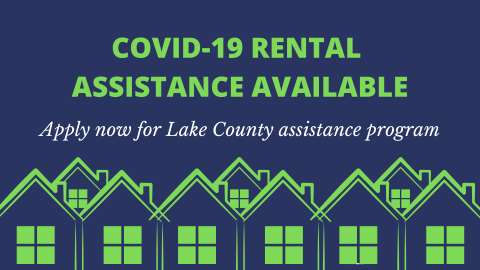 Lake County renters who face financial hardship related to COVID-19 can now apply for the new Lake County Federal Emergency Rental Assistance (FERA) Program, which provides help for individuals paying rent and/or utility bills.

To qualify for help, residents must: pay rent in Lake County, have a COVID-related financial hardship, be at risk of homelessness or housing instability, meet income guidelines based on household size, and provide appropriate documentation.

More information and the application can be found here.
Mortgage Help for FHA-insured Borrowers

The Federal Housing Administration launched a COVID-19 mortgage forbearance program to help those struggling to pay their mortgage. If you are one of the many FHA-insured borrowers in communities across the country having difficulty paying your mortgage due to the pandemic, visit the HUD website to learn more.
Mixed Earners Unemployment Compensation Applications Now Open

Mixed earners, or those who earn money both through self-employment income and traditional W2 employment, can now apply for unemployment compensation. Eligible MEUC recipients will receive an additional $100 per week on top of their normal unemployment insurance benefits. View the application and learn more here.
In Closing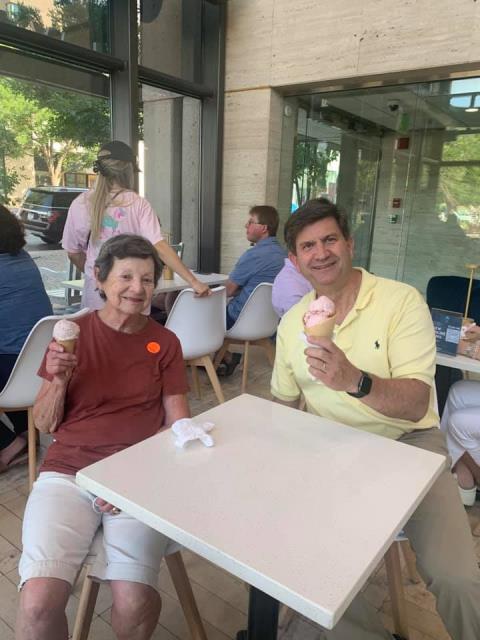 For me, every day is ice cream day. But last weekend on National Ice Cream Day, I made sure to enjoy strawberry ice cream with my mom. As the country gets vaccinated and we enter the hottest days of the summer, I hope that all of us can spend time getting cool treats with family and loved ones.
Onward,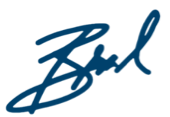 Bradley S. Schneider
Member of Congress