10th News: Federal Funds at Work in the Tenth District
I will be honest with you: With some of the things happening around the world this week, I've struggled tying off this newsletter issue to send to you. From the unfolding crisis in Afghanistan to the earthquake in Haiti and then yesterday's bomb scare at the Capitol, it's been hard to find the right words, or even the right tone. I hope you will forgive the late delivery of this week's update.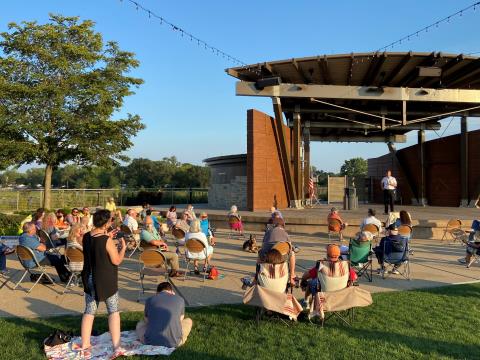 At last evening's Congress on Your Corner in Wheeling (above), I got a lot of questions about Afghanistan. The scenes from there are truly heart-wrenching. So many people who have helped America's mission in Afghanistan, who have worked side by side with our troops, our diplomats our NGOs, are now at grave risk. We must help those in harm's way. That's why I joined my colleagues of both parties in asking the Biden Administration for more information on what we can do to support evacuation efforts (you can see the letter here). And I am proud to share that my office has successfully assisted several people make their way to the airport and then safely out of the country.

We must also forever remember and honor the service and sacrifice of every soldier, sailor, marine and airman, as well as the diplomats and others who served our nation in Afghanistan over the last 20 years. Many will never come home, having made the ultimate sacrifice. Others will never be the same, forever changed by their experiences during the war. Their commitment and dedication helped the U.S. achieve the original goals that initiated our involvement in 2001. We all owe them our sincerest gratitude.
I also send my thoughts and condolences to the people of Haiti, who have suffered another tragic earthquake. The devastation and loss of nearly 2,000 lives is heartbreaking. I am grateful that president Biden has promised swift support for the ongoing rescue and recovery efforts in Haiti.

Beyond the global issues, I've also had the opportunity to visit many different places throughout the district.  Since last week's newsletter, I've been to Park City and Prospect Heights, North Chicago, Highwood, Buffalo Grove, Round Lake, Lincolnshire, Zion, Northbrook, Mt. Prospect, Riverwoods, Waukegan, Lake Bluff, Glencoe, Vernon Hills, Libertyville and Wheeling. We've visited project sites for proposed infrastructure investments, local businesses that have benefited from PPP and the American Rescue Plan, toured a new school that will achieve net zero emissions this year, and greeted golfers at not one, but two outings to supporting veterans.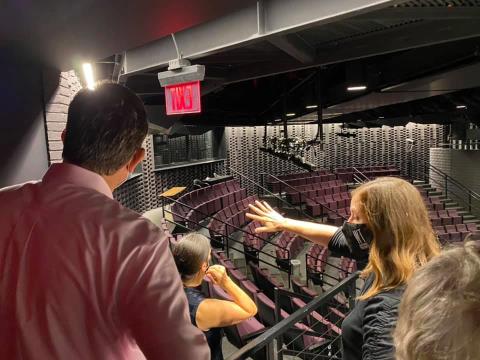 Above: I visited the Writer's Theatre in Glencoe last week to see how they used federal COVID-19 relief funds during the pandemic
Of particular interest, I got to see firsthand how some of the federal COVID-19 relief programs that I helped pass in Congress affected Tenth District businesses and organizations. Our small businesses are on the front lines of this pandemic, with many having had to shut their doors or cease operations indefinitely. I am proud to have helped get relief funding to small businesses in the Tenth District by passing the CARES Act and the American Rescue Plan.
As alluded to above, I also hosted my first in person Congress on Your Corners in over 18 months! It was great to hear from some of you in-person and talk about important issues like COVID relief, infrastructure and tacking climate change. A shout out to everyone who joined us in Zion, Vernon Hills and Wheeling so far. And a big thanks to the respective park districts that hosted us, and the Police Officers who look over all of us—not just at our gatherings, but every day across the district.

Finally, although the CARES Act and American Rescue Plan have helped us speed up recovery, we are unfortunately still very much in the thick of the pandemic. I want to take this opportunity to encourage all of those who are not yet vaccinated to get vaccinated as soon as possible. Currently, 95% of COVID-19 hospitalizations are people who are not vaccinated, and, tragically, 99.5% of all COVID-19 deaths are people who were not vaccinated. In Lake County, 97% of the people who are hospitalized with COVID-19 are unvaccinated. The vaccine is saving lives. So again, tell your loved ones, your friends, neighbors and coworkers, join the fight and get your shot!

One last thing: If you weren't able to join us at our COYCs, join me later this month  for Bike the Tenth on August 28th. It will be a wonderful opportunity to travel a significant cross-section of our district and spend quality time together.
Keep reading for information about what's been happening in Washington and around the district.
Around the Tenth
First Congress On Your Corners in Zion, Vernon Hills and Wheeling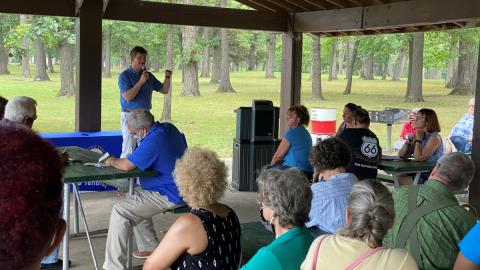 It was so great to see you at my first Congress On Your Corners this year in Zion last Tuesday (above), Vernon Hills (below) and Wheeling (top of page)!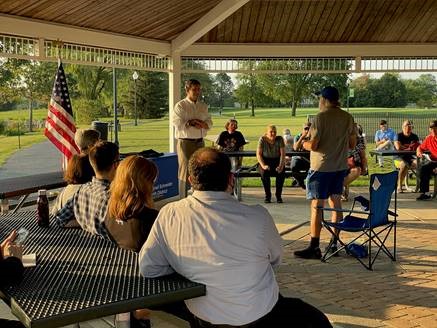 Our communities have overcome so much in the last 17 months fighting this pandemic. Between the Cares Act and the American Rescue Plan, Congress has worked hard to distribute vaccines and get us to where we need to be to beat back the virus and hold meetings like this once again. Now we are working on passing the bipartisan infrastructure deal and supporting American jobs. When I get back to Washington, I will continue to build on the success of the American Rescue Plan and also work to pass the federal infrastructure investment that our communities like Zion so desperately need.
Small Business Assistance Tour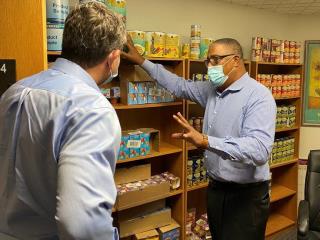 Our small businesses were on the front lines during the pandemic, with many having to close their doors or cease operations indefinitely. Last week I started my Small Business Assistance Tour, visiting businesses across the Tenth District that benefitted from the COVID-19 relief programs during the pandemic. I visited with five small businesses and their employees: Dave Thoenson at Tamarak Day Camp, Antonella Granito and her husband Nunzio at Bonta, Emile Johnson at Goode Foods, Lacey Rust at Reverie Dance Academy, and Katheryn Lipuma at Glencoe Writer's Theatre to discuss how COVID-19 relief programs helped their business stay afloat during the pandemic.

I am grateful to know that the CARES Act and the American Rescue Plan did what they were supposed to do: get people back to work and help small businesses safely reopen.
Brad At Your Business: EMCO Chemical Distributors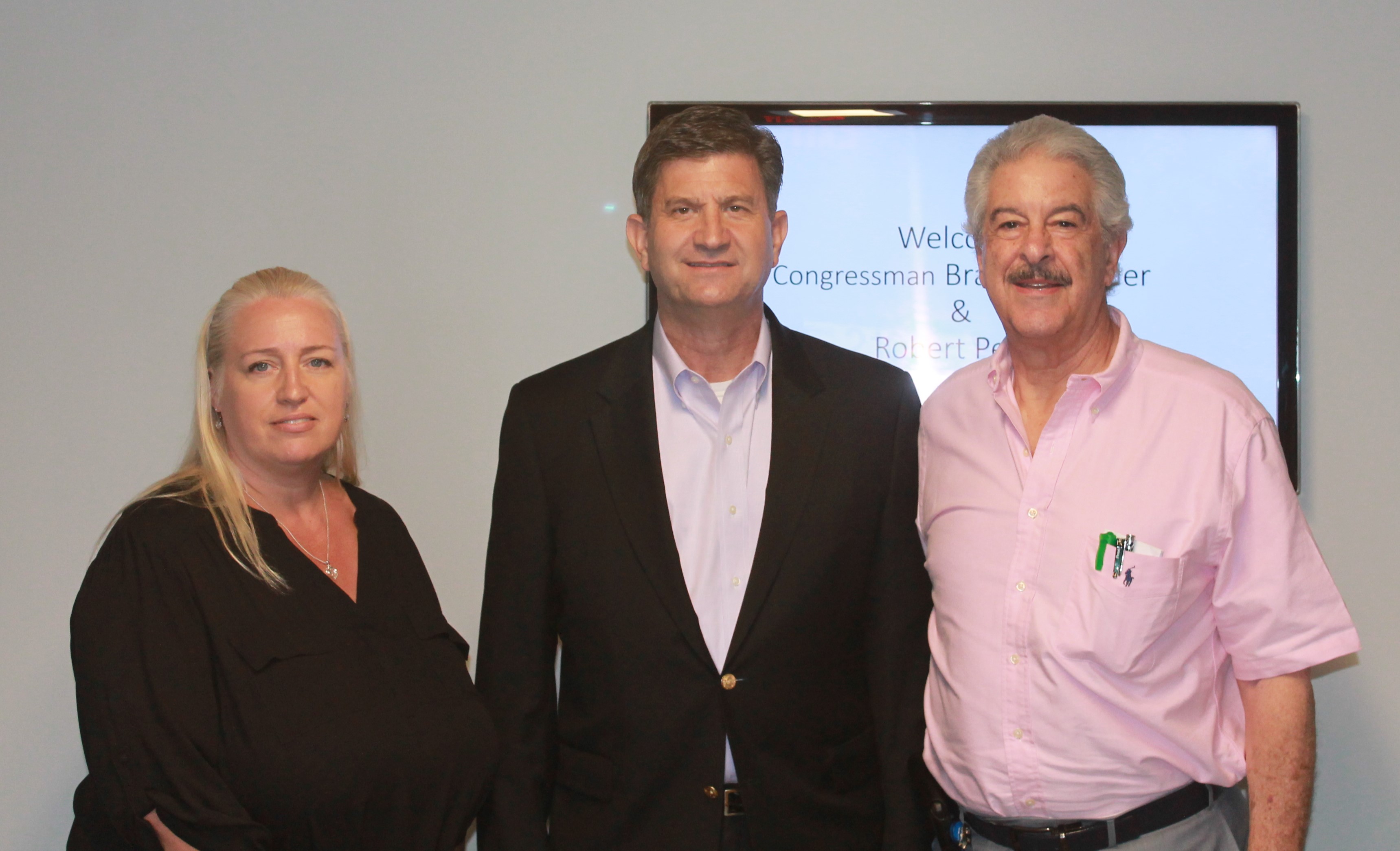 I had a great time visiting EMCO Chemical Distributors in North Chicago last week as part of my "Brad At Your Business" series. In the Tenth District, EMCO has an economic impact of $155.90 million and provides 594 high-quality jobs. EMCO was recently awarded the Responsible Distribution Excellence Award from the National Association of Corporate Directors (NACD) for its commitment to waste reduction and pollution prevention. Edward also just won the Lifetime Achievement Award from the Chicago Paint & Coatings Association for his contributions to the industry.

Thank you to EMCO leaders Edward Polen (pictured right) and Terry Aubry (left) for giving me the tour!
Delivering the Child Tax Credit to Tenth District Families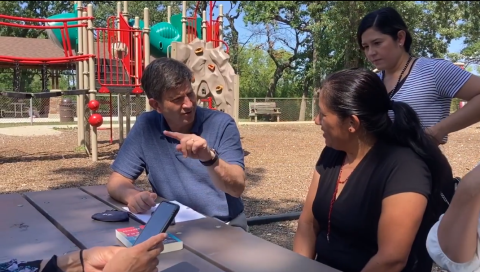 We have delivered a tax cut for working families with the expanded monthly Child Tax Credit, with the second round of payments hitting bank accounts on Friday, August 15th. And it's already changing lives here at home. Watch my conversation with Round Lake mothers Sandra Camarena, Merced Alfaro and Guadalupe Patino about how the CTC has helped them so far here.
Celebrating Highwood Library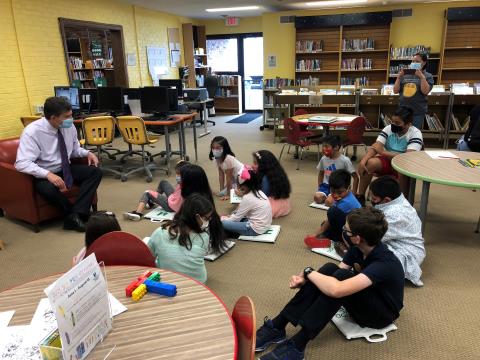 I am particularly proud to share that one of many great libraries in our district was selected to receive one of only three national recognitions with the 2021 National Medal for Museum and Library Services. I nominated Highwood Public Library for the 2021 National Medal in recognition of its incredible recent transformation in the pursuit of service for Highwood's most vulnerable populations. Last Monday we joined State Senator Julie Morrison and State Rep Bob Morgan celebrating the library as they formally accepted the ward.  After the heartwarming ceremony, I got to read books to some of the local students who know personally what make the Highwood Library so special. If you missed it, you can watch parts of the event here.
Celebrating the New Net-Zero Energy Mount Prospect School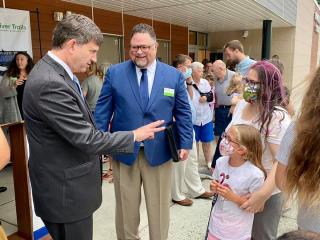 It was an incredible ribbon-cutting last week for the Prairie Trails School, Mount Prospect's first net-zero energy facility. The solar panels installed on the roof will save the district $32,000 per year in gas and electricity! And mean that the school returns more to our national electricity supply that the original building  These are lucky kindergarteners.
Visiting the Ray Bradbury Experience Museum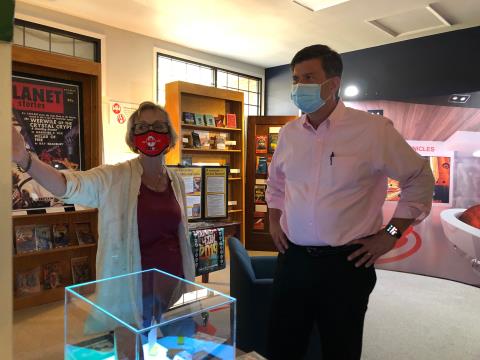 Waukegan's very own Ray Bradbury was one of the most celebrated American writers of the 20th century. Last week I had the incredible opportunity to experience the newly-opened Ray Bradbury Museum in Waukegan, which interprets Bradbury's creative work through immersive experiences. If you haven't already, make sure to stop by this experiential museum!
Thanking US Capitol Police Officers with Carolyn Pinta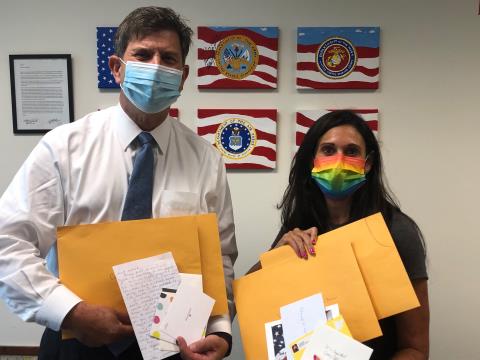 Every day I spend in Washington I trust my safety under the watchful eyes of our heroic Capitol Police. I am forever grateful to all the Capitol Police Force, and truly thankful for the courageous recent testimonies of Officers Dunn, Fanone, Gonell and Hodges. Thanks to constituent Carolyn Pinta for organizing a thank you letter campaign to our brave U.S. Capitol police force!
Touring Black Lives Matter Lake County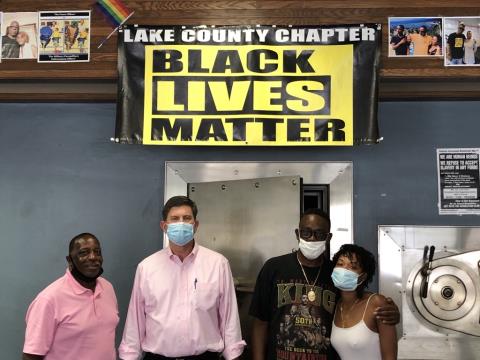 Last August, Lake County Black Lives Matter opened a new office in Waukegan to create a place for community members to seek guidance and dialogue about issues of racial justice. Last week I toured the new office with Al Rogers, Clyde McLemore and Robin Tinker to learn about the programming they offer, which includes teen girl mentorship, at-risk intervention services for young men, community activism training and alternative suspension programs.
Sitting Down with Lake Bluff Mayor Regis Charlot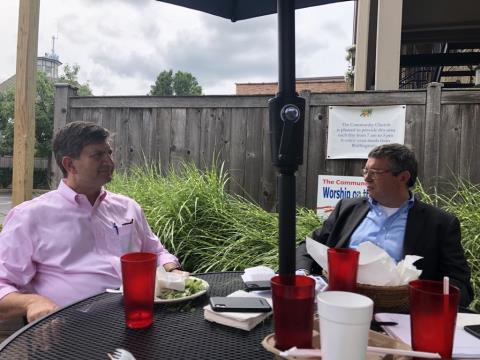 I had a great meeting with new Lake Bluff mayor Regis Charlot last week to talk about how we can work together to help our Lake Bluff constituents.
Meeting with Round Lake BEST Coalition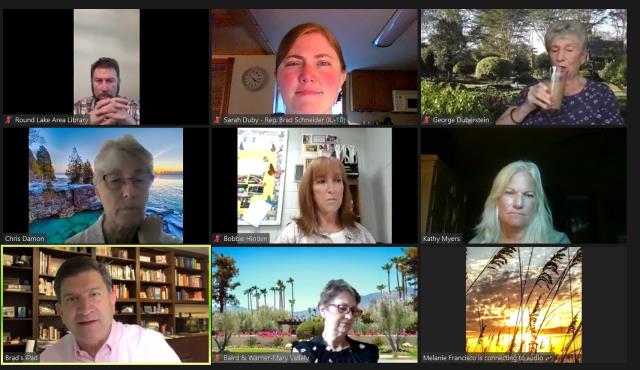 I met with the Round Lake BEST Coalition, which comprises multiple Round Lake area and Lake County organizations, to talk about infrastructure, the recent budget resolution passed by the Senate, and ongoing COVID recovery efforts in Lake County.
Golfing with Vets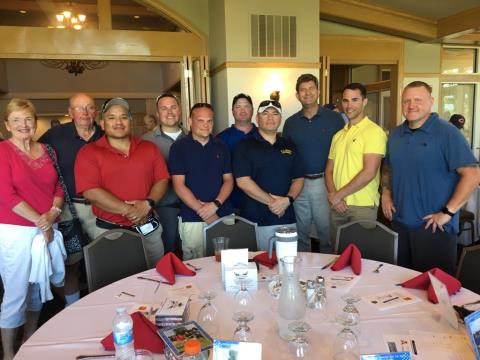 It was an honor to speak at last week's 6th annual Al Lynch 'Swinging for Vets' to raise money for veterans and their families recovering from financial hardships.
Join Me for an August Event
Last Congress On Your Corner in Round Lake Thursday, 8/26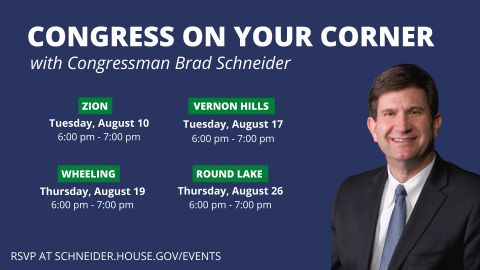 My last town hall this summer is coming up Thursday, August 26th at 6 pm in Round Lake. It has been wonderful to reunite with you all in person after the challenges of the last year and to hear from you about your concerns and hopes in the work of the Congress. 

RSVP for the Round Lake COYC at: schneider.house.gov/events.

Following CDC guidelines and advice of the local health department, attendees are encouraged to get vaccinated against COVID-19. Those attendees who are not vaccinated are encouraged to wear a face mask for their own safety. Additionally, we are requiring RSVPs in advance to accommodate social distancing.
Bike the Tenth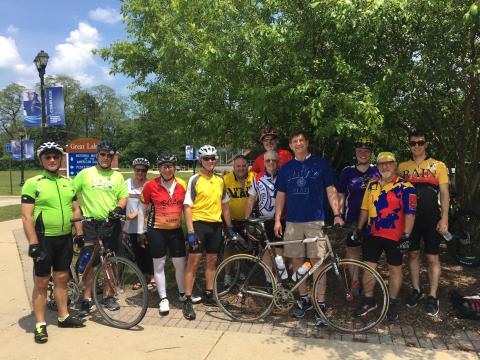 I am excited to invite you to one of my favorite events of the year: Bike the Tenth! Join me and other constituents on a 15 mile ride along the Des Plaines River Trail, traveling throughout parts of the Tenth District at 9am, Saturday, August 28th. All ages are welcome for what will be a leisurely ride.

The route begins and ends at Half Day Forest Preserve in Vernon Hills. And knowing me, I suspect we will stop for ice cream somewhere on the route.

Learn more and RSVP at schneider.house.gov/bike.
Virtual Career Expo – Prep Session August 26

Join me, State Rep. Rita Mayfield, the Job Center of Lake County, and the Illinois Department of Employment Security for a job seeker informational workshop. Learn tips and tools for job-seeking in a pandemic and what to know ahead of virtual job expos.

Register for the the prep session on Thursday, August 26 at 1 pm here. And don't forget to save the date for our virtual career expo on Friday, September 17th at 9 am.
Explore Illinois' Innovation Ecosystem

Join me on Monday, August 23 at 10:00 am CT for a discussion with the Chicagoland Chamber of Commerce and the U.S. Chamber of Commerce Global Innovation Policy Center. We'll talk about what's happening across Chicagoland communities to discover and deliver tomorrow's breakthrough treatments and cures. Register here.
What's Happening in Washington
Senate Passes Bipartisan Infrastructure Deal

After failing to invest in our nation's infrastructure for so long, last week's news that the Senate passed the bipartisan infrastructure framework is an important step in the right direction. I look forward to working with my House colleagues on both sides of the aisle to advance this bill and rebuild our crumbling infrastructure.
STEAM Scholar Applications Now Open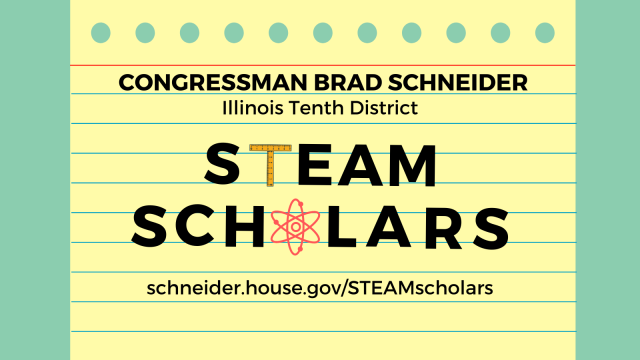 I'm looking forward to joining this year's class of STEAM Scholars on visits to STEAM facilities and businesses around the district in the upcoming school year. The program aims to connect highly-motivated students interested in science, technology, engineering, art, and mathematics with hands-on learning experiences throughout our district. In the fall, students selected to participate in the STEAM Scholars program will have the opportunity to join me on visits to four STEAM-related businesses and facilities during the 2020-2021 school year. 

Learn more and apply here by September 1st: https://schneider.house.gov/STEAMscholars
Apply Today for the Congressional App Challenge

In less than a generation, apps have come to touch every aspect of our lives. The Congressional App Challenge is an opportunity for Tenth District students to demonstrate and develop their STEM skills by designing their own app and presenting their work on a national stage. I look forward to seeing the remarkable apps that this year's students create. View the application and learn more on my website.
LONG WAITS FOR PASSPORTS: Look Before You Book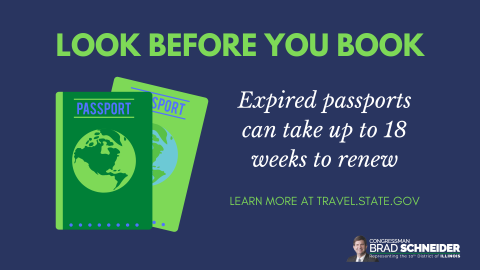 If You're Traveling Internationally Soon, Remember to Check Your Passport Expiration Date

As more and more people get vaccinated, travel is starting to pick back up again. My office has received a major uptick in calls asking to expedite passport renewals lately. If you plan to travel internationally, remember to check the expiration date on your passport before you book your trip. It is taking much longer than normal to renew a passport, so make sure to plan ahead.

Check the passport website to get an idea of processing time -- expedited processing is now taking 12 weeks from submission to receipt, regular processing 18 weeks.

At this point, expedited exceptions are only being made in case of emergency travel. In other words, apply now for that passport you will need for the trip you might take over Winter Break. Passports last for 5 or 10 years depending on what age you were issued your first passport.
District Resources
$250 Million in Back to Business Grants: Applications Now Open

Governor Pritzker recently announced the statewide Back to Business (B2B) program, which will provide $250 million in grants to small businesses across Illinois experiencing significant losses from COVID-19. Top priority will be given to restaurants, hotels, arts businesses and more. Learn more and apply here.
COVID-19 Rental Assistance

Apply for Lake County COVID-19 Rental Assistance Program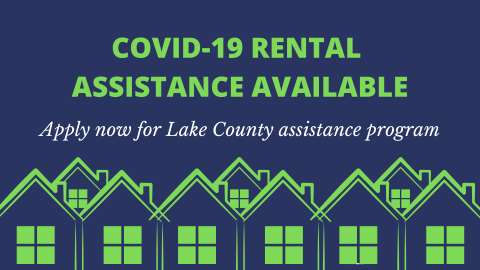 Lake County renters who face financial hardship related to COVID-19 can now apply for the new Lake County Federal Emergency Rental Assistance (FERA) Program, which provides help for individuals paying rent and/or utility bills.

To qualify for help, residents must: pay rent in Lake County, have a COVID-related financial hardship, be at risk of homelessness or housing instability, meet income guidelines based on household size, and provide appropriate documentation.

More information and the application can be found here.
Mortgage Help for FHA-insured Borrowers

The Federal Housing Administration launched a COVID-19 mortgage forbearance program to help those struggling to pay their mortgage. If you are one of the many FHA-insured borrowers in communities across the country having difficulty paying your mortgage due to the pandemic, visit the HUD website to learn more. Apply before September 30.
In Closing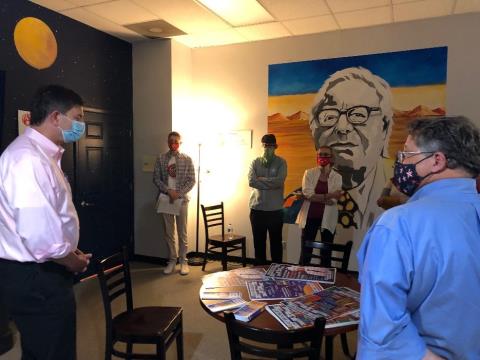 I mentioned that I had the chance to visit the Ray Bradbury Experience Museum in Waukegan last week, which was made possible thanks to several organizations including Oakton Community College, the Waukegan Public Library, Waukegan Park District, the Greater Waukegan Development Coalition and more.

Many of Ray Bradbury's books, including some of his most famous classics like Dandelion Wine and Farewell Summer, are set in the fictional "Green Town," which is based off Waukegan. The museum takes you through a virtual tour of Green Town, from Bradbury's childhood home to the Carnegie Library where Bradbury first discovered his love for books. It was so interesting to see our very own Waukegan set as the backdrop for some of Bradbury's classic books.

If you haven't been already, check out the museum website to learn more and plan your visit.
Onward,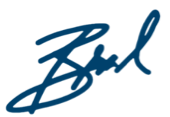 Bradley S. Schneider
Member of Congress