10th News: Getting Illinois Back to (Somewhat) Normal
I hope that you had a wonderful Mothers' Day weekend. To all the mothers and grandmothers in the Tenth District, thank you for your strength and support for all of us, especially during throughout the challenges of COVID-19.  And of course a special shout out to my own mother, Dena, and wife Julie, who have been remarkable sources of strength and support throughout my life.
It was a busy week at home last week.  Highlights included in person visits to North Chicago for the groundbreaking for the new Neal Math and Science Academy and installation, attending the change of command ceremony at Naval Station Great Lakes, and joining with neighbors and friends from Friends of the Chicago River to help clean up some forest in Deerfield.  Thanks to the powers of virtual meetings, I was also able to meet with representatives from the Military Officers of America, Openlands, the American College of Pathologists, as well as hosting a roundtable on the SALT deduction cap and its impact on local communities. 
I returned to Washington this morning for legislative business. We will consider bipartisan legislation to address critical mental health needs in our communities – a problem which has only been exacerbated during the COVID-19 health crisis – which includes efforts to address disparities in mental health care among underserved communities. This critical legislation will also strengthen suicide prevention efforts and fund school grants for mental health services.
I am also looking forward to supporting the Pregnant Workers Fairness Act this week to protect pregnant people from workplace discrimination. We passed this legislation in the 116th Congress but it was buried in the Senate.
In vaccine news, one third of Illinois residents are now fully vaccinated! Last week Governor J.B. Pritzker announced that Illinois will fully reopen by June 11. Nationwide, 57% of adults 16 and over have now received at least one vaccine dose. If you have not already received a vaccine, please do so. Many sites in the district are now accepting walk-ins, and Lake County has plenty of supply.
I recorded a Facebook Live wrapping up the last week in the district. If you missed it, you can watch it here.
Keep reading for more information on vaccines, what's happening in Washington and around the district, including a very special meeting I had with 5th grader Milan Wideman.
VACCINATION UPDATES
All Illinois residents 16 and older are now eligible to receive a vaccine. I am also pleased that children ages 12 – 15 are now approved to receive the Pfizer vaccine.  If you haven't yet had your shot, please do so.  The vaccines are dramatically diminishing the spread of COVID-19, but unless all those who can receive the vaccine do so, the much sought after herd immunity is out of reach.  As the American Rescue Plan continues to help put more shots in arms, I am glad to see that more than a third of Illinois residents are fully vaccinated.
More detailed information about how and where to sign up for vaccine appointments can be found on my website.
TAX FILING DEADLINE IS MONDAY, MAY 17
The tax filing deadline is coming up on Monday, May 17. Please visit my website for a complete list of resources as you finish your taxes, including tax assistance sites near the Tenth District.
Claiming the Child Tax Credit
The American Rescue Plan expands the Child Tax Credit (CTC) through the 2021 tax year. In the Tenth District, the CTC will benefit 122,700 children and lift 8,500 children out of poverty.
To claim the CTC, eligible taxpayers do not need to take any action now other than to file their 2020 tax return if they have not done so. Find more information about the CTC on the IRS website.
WHAT'S HAPPENING IN WASHINGTON
Following Bipartisan Push by Congressional Task Force, EPA OIG Calls for Stricter Regulations of Ethylene Oxide
Last week the Environmental Protection Agency Office of Inspector General released a report recommending stricter regulation of ethylene oxide, including conducting both a technology and residual risk review.
Our constituents have long known ethylene oxide (EtO) was toxic, and for months we've been pushing the EPA to take action that more strictly regulates EtO and protects public health. We applaud the recent Inspector General report calling for just that, including a new residual risk review and technology review for EtO. EPA has a long way to go towards fully addressing this issue, such as conducting ambient air monitoring in affected communities like we've advocated. But this OIG report represents significant progress and recognizes what we've long called for: a public health-focused, stringent regulation of EtO that ensures the air our constituents breathe is safe.
Meeting with the National Brain Tumor Society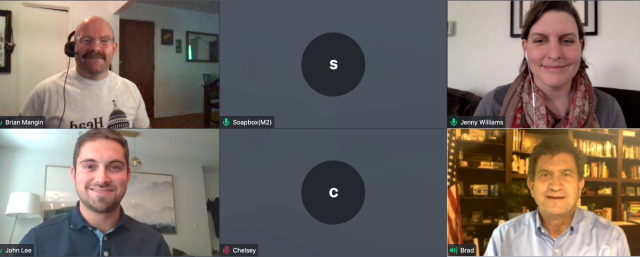 Last week I met with representatives for the National Brain Tumor Society to discuss the importance of telehealth and funding medical research. I am grateful to those that continue to meet with me virtually to share their stories and will continue to advocate for critical funding for medical research through the National Institutes of Health and Peer-Review Cancer Research Programs under the Department of the Defense.
AROUND THE TENTH
ICYMI: Round Table with Local Leaders on Reinstating the SALT Deduction
In 2017, the Trump Administration hiked taxes for many middle-class families by capping the SALT deduction at $10,000. In the Tenth District alone, approximately 42% of filers used the SALT deduction.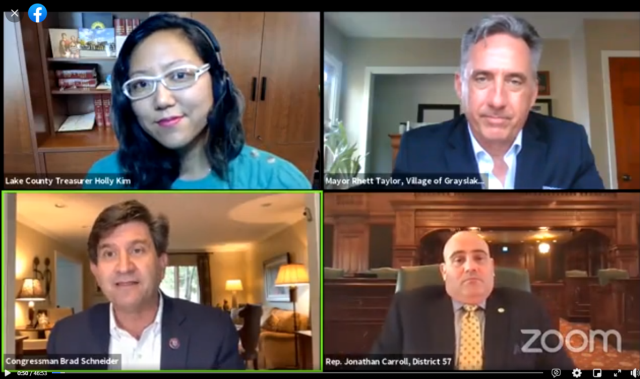 I hosted a round table last week with State Rep. Jonathan Carroll, Lake County Treasurer Holly Kim and Grayslake Mayor Rhett Taylor to discuss this unfair tax burden and the importance of reinstating the state and local tax (SALT) deduction. You can watch a recording of the event here.
Meeting with Milan Wideman, the Niece of Jacob Blake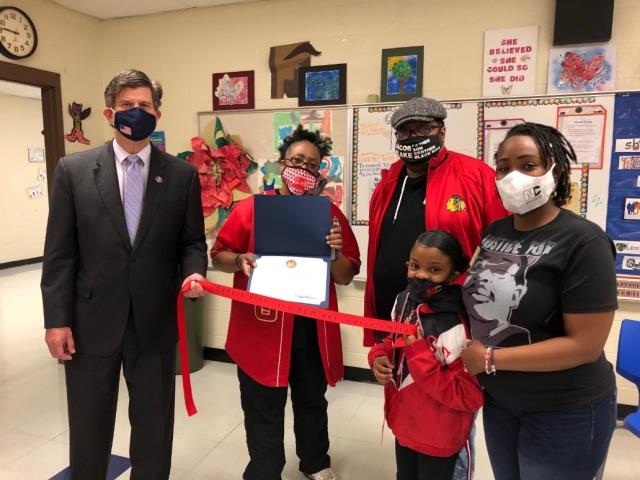 When art teacher Dr. Susan Thomas showed me the message that fifth grader Milan Wideman wrote on a COVID-19 memorial ribbon earlier this week, I knew I had to meet her.
Two days later I joined Milan, her mother and grandfather at Katzenmaier Elementary School in North Chicago to hear about her experiences and feelings during the past year.  Her uncle, Jacob Blake, Jr. was paralyzed after being shot by Kenosha police in August. I was glad to hear he is on the mend and honored to talk with the family.
We talked about Black Lives Matter and civil rights icons like Representative John Lewis. We also talked about Milan's dreams and aspirations—she wants to be an artist. And we talked about visiting Washington, D.C. and I promised to give her a personal tour of the Capitol.
Milan's wisdom and maturity filled me with hope for our future, and confidence that together we can stand up to systemic racism and make our country better for everyone.
Celebrating the Change of Command at Naval Station Great Lakes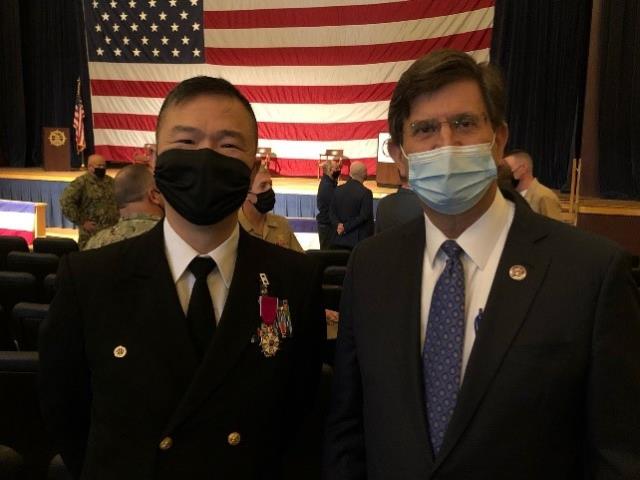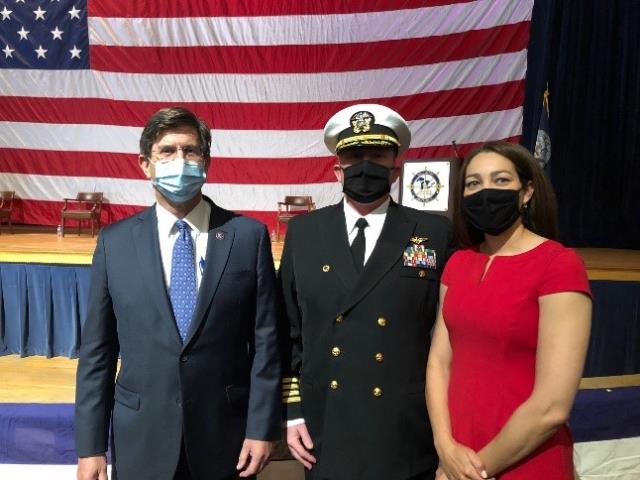 Above: On the top, I help send off retiring Naval Station Great Lakes Commanding Officer Raymond Leung. Beneath, I help welcome incoming Commanding Officer Jason Williamson and his wife, Irma.
Naval Station Great Lakes is home to Recruit Training Command which trains all Navy recruits, graduating 5,000 sailors every week. It is the only sailor training program in the country, and it's located right here in Illinois's 10th District.
Thank you to Captain Raymond Leung for 3 years of service as Commanding Officer of Naval Station Great Lakes. He was a great partner to work with and he did an incredible job leading NSGL through a very challenging time with COVID-19. Best of luck Captain Leung on your next tour of duty in Japan!
I'd also like to extend a warm welcome to Captain Jason Williamson, the new Commanding Officer of Naval Station Great Lakes. Captain Jason J. Williamson is a native of South Dakota and was commissioned through the ROTC program at Boston University. He is a Naval aviator and he and his wife Irma recently relocated to Illinois from Japan for this new tour.
Remembering COVID-19 Victims in North Chicago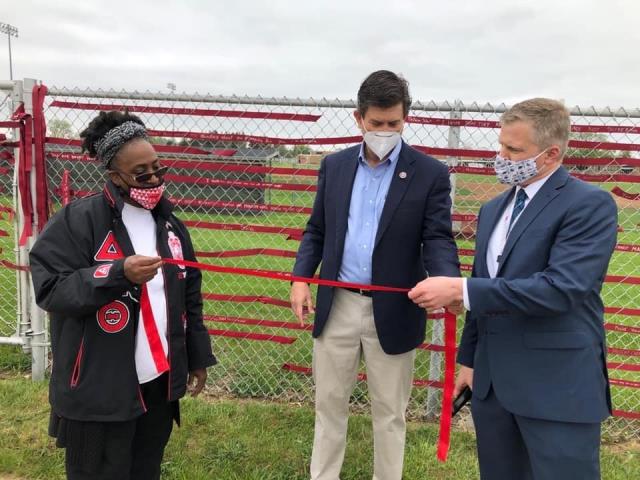 I joined North Chicago students on Tuesday for their COVID Memorial Art Installation. These 4000 ribbons are an incredible tribute to all that's been lost to the pandemic, organized by the students, Dr. Thomas, and Dr. Price. As I wrote on my ribbon, our community will get through this together when everyone gets vaccinated.
Cleaning Up the Community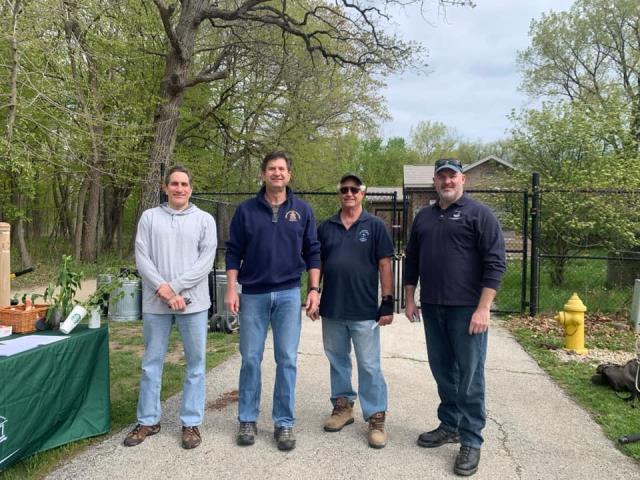 I was honored to join Deerfield Mayor Dan Shapiro, Fox Lake Mayor Donny Schmit and Lake County Stormwater Management Executive Director Kurt Woolford on Saturday morning to help the Friends of the Chicago River with their cleanup of the Briarwood Trail.
RESOURCES  
Small Business Relief: Applications Now Open for the Restaurant Revitalization Fund and Shuttered Venue Operators Grant
The American Rescue Plan established the Restaurant Revitalization Fund (RRF) and the Shuttered Venue Operators Grant (SVOG) for small businesses struggling during COVID. Applications for both programs are now open.
Guidance for Small Businesses Claiming Deductions from First-Round PPP Loans
The Treasury Department and the Internal Revenue Service have issued Revenue Procedure 2021-20 for certain businesses that received first-round Paycheck Protection Program (PPP) loans but did not deduct any of the original eligible expenses because they relied on guidance issued before the enactment of tax relief legislation in December of 2020. View the guidelines here.
Small Business Community Resources

The Illinois Small Business Development Center is offering training programs through TAD (Training Assessment and Development) and BizHub through funding from the CARES Act passed last year.
BizHub: BizHub offers Q&A with local entrepreneurs and experts, access to a network for small businesses, a startup knowledge center, and opportunities to share your startup story or get tips from other small businesses.
TAD: CLC offers TAD, an affordable cloud-based integrated system, to employers of any size in Lake County. TAD is a high-quality, results-oriented training designed for any-size organization. They offer training and workshops on a variety of topics including business writing, communication, ESL, leadership, and more.
FEMA Providing COVID-19 Funeral Assistance
Beginning today, FEMA will start accepting applications for financial assistance for funeral expenses incurred after Jan. 20, 2020 for deaths related to COVID-19. The assistance is limited to a maximum financial amount of $9,000 per funeral and a maximum of $35,500 per application. Please find more information at FEMA's COVID-19 Funeral Assistance website or call 844-684-6333 for help.
Apply for Lake County COVID-19 Rental Assistance Program
 Lake County renters who face financial hardship related to COVID-19 can now apply for the new Lake County Federal Emergency Rental Assistance (FERA) Program, which provides help for individuals paying rent and/or utility bills.
To qualify for help, residents must: pay rent in Lake County, have a COVID-related financial hardship, be at risk of homelessness or housing instability, meet income guidelines based on household size, and provide appropriate documentation.
More information and the application can be found here.
Collect your 2017 Tax Refund
The IRS currently has refunds totaling $1.3 billion for people who never claimed their 2017 tax refunds. If you didn't file a 2017 federal income tax return, you can still claim your refund if you file your 2017 income tax return by May 17, 2021.
If you were eligible for the Earned Income Tax Credit in 2017 and did not file a return, you can still receive the EITC retroactively if you file by the May 17th, 2021 deadline.
Learn more on the IRS website.
IN CLOSING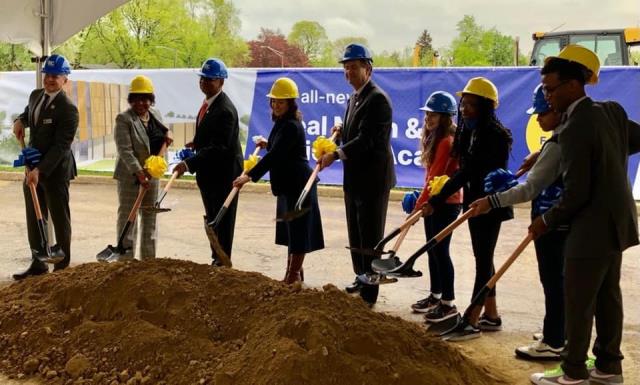 Last week I had the wonderful opportunity to attend the groundbreaking for the new Neal Math and Science Academy in North Chicago. This redevelopment will completely rebuild the middle school, increasing the school's capacity to support at least 625 students and grow the graduation rate from 60% to 80% over the next five years.
The new Neal Math and Science Academy would not have been possible without the generous $40 million donation from AbbVie. AbbVie's donation is an investment in the future of our children and in the whole North Chicago community. Congratulations to North Chicago D187, City of North Chicago and AbbVie for your outstanding partnership and commitment to our greatest asset, our children!
As always, I hope that you and your loved ones are safe, healthy and well.
Onward,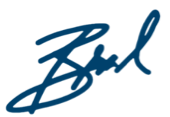 Bradley S. Schneider
Member of Congress