10th News: Hearing From You
Thanks to everyone who participated in one of our many August events, programs or our over 70 constituent meetings who made it a truly remarkable month at home. Among the highlights, it was wonderful to hear from neighbors at one of four town halls about the issues they care about most. I enjoyed speaking with businesses large and small about how the pandemic was affecting them, and how the assistance passed by Congress was making a real difference. I continued my listening tour with our mayors and village presidents to learn about both the challenges and opportunities in their local communities. And I learned a lot from numerous meetings with constituents about specific issues and legislation, some they support and some they oppose.

I enjoyed all the events, but our annual "Bike the Tenth" was a special highlight, with more than 70 cyclists joining this year for a fun ride along with Des Plaines River trail. We started somewhat early to beat the summer heat and stopped at the Culver's in Libertyville for an ice cream break.  I think "ice cream breakfast" could be a new tradition.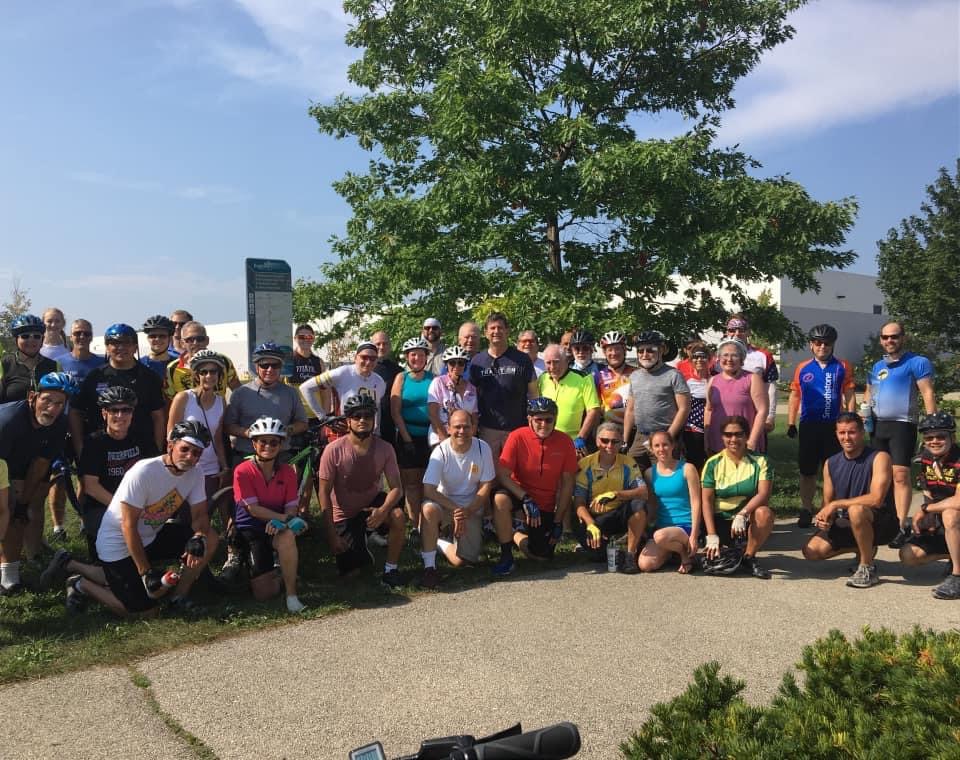 But just because August "recess" is over does not mean that I will stop traveling throughout the district to hear from constituents. As Congress resumes committee meetings and returns to the Capitol this month to work on creating the legislative language for President Biden's Build Back Better Agenda, I hope to continue hearing from you.

For all the great activities in the district last month, the end of August was bittersweet.  First, America ended its longest war with the last U.S. troops leaving Afghanistan early August 31st. The incredible effort of 5,000 plus soldiers, sailors, marines and airmen helped more than 120,000 people evacuate from Afghanistan, including nearly 6,000 U.S. citizens and their families. But between 100 and 200 citizens and many thousands of Special Immigrant Visa (SIV) applicants and other Afghans at risk remain in country. Though our combat forces have left, we must not forget these people left behind and do everything in our power to ensure the safety and secure their departure.

I also want to pause to reflect on the thirteen U.S. service members who lost their lives in Afghanistan last week, and the dozens others who were hurt. These brave souls, like the thousands of other troops who served in Afghanistan, answered our nation's call in a time of need. Those who "gave their last full measure of devotion" died in service to country so that those they served could live free. I encourage you to honor their legacy by knowing their lives through this brief obituary.

Here at home, veterans in our area may be experiencing strong emotions related to our withdrawal from Afghanistan. If you or a loved one is struggling, please seek out help. The VA has incredible resources to help our veterans. They provide support for a variety of mental health conditions and other challenges. And if you are encountering problems with the VA, my office can help.

Second, over the past several days Hurricane Ida cut a path of destruction, and sadly death, across our nation. Millions of lives are currently upended from Louisiana, Mississippi, and Alabama, to Pennsylvania, New Jersey and New York. While we don't know the full extent of the damage yet, more than 50 people have died and thousands will be without power for the foreseeable future. My heart goes out to all those impacted by the storm and my gratitude to the first responders, rescue crews, and many organizations that are working tirelessly to bring safety and relief.

Keep reading for information about what's been happening in Washington and around the district.
District Connections
Upcoming Events
Virtual Career Expo: Friday, September 17th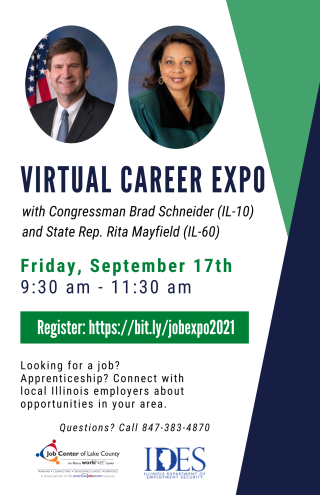 Please join me, State Rep. Rita Mayfield, the Job Center of Lake County, and the Illinois Department of Employment Security for a virtual career expo featuring employers across the district. Register here.
Service Academy Night: Virtual Information Session 9/14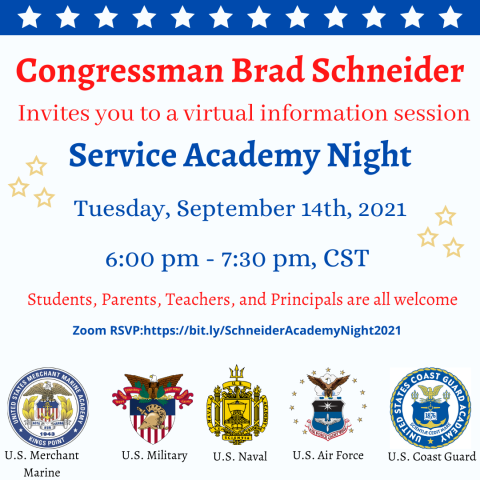 Every year, one of the great honors of my job is nominating Tenth District students for admission to a U.S. Military Service Academy. The privilege of attending a service academy comes with the obligation and commitment to serve in the military for at least five years after graduation.

If you or your student is interested in military academy service, please join me on Tuesday, September 14th from 6:00 pm – 7:30 pm for Service Academy Night. In this virtual information session, we will go over how to apply for military academies and what you need to know throughout the nomination process. Register here.
Around the Tenth
Congress On Your Corner: Round Lake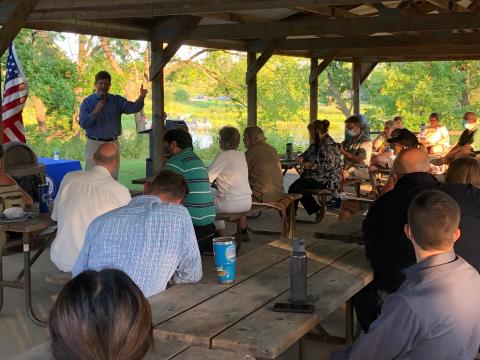 Last week's Congress On Your Corner in Round Lake was my fourth stop in my series of August town halls. I was grateful to close out August by hearing from constituents in Round Lak about the need to rebuild our nation's crumbling infrastructure and the importance of bipartisanship. I will keep working with my colleagues on both sides of the aisle to deliver the federal infrastructure investment that communities like Round Lake deserve.
Bike the Tenth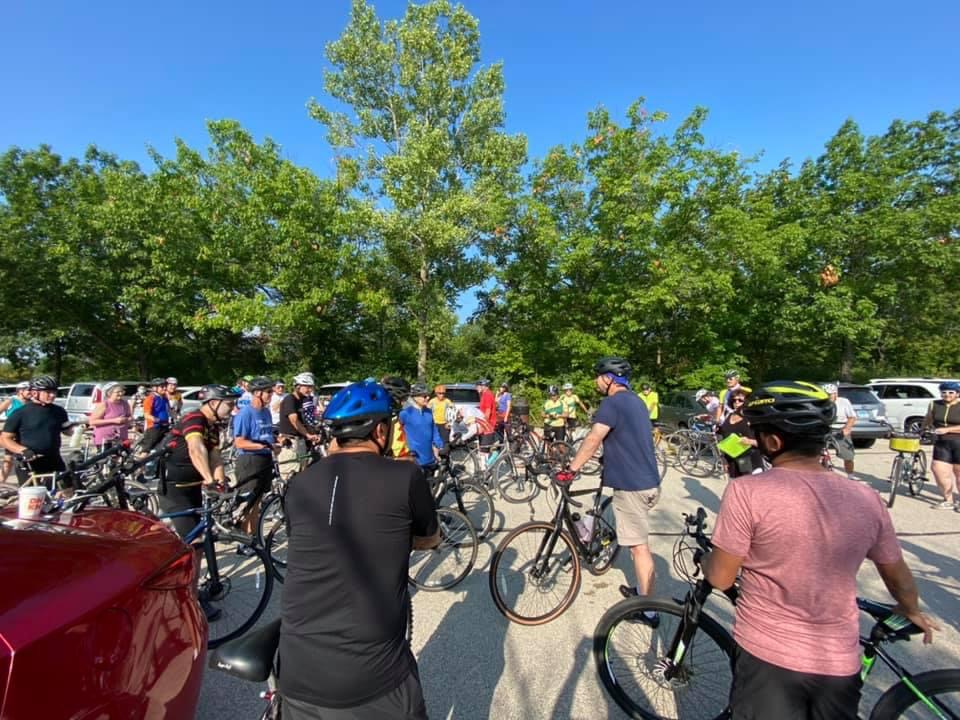 Every year I get to" Bike the Tenth" and share my favorite pastime with constituents. Thanks to everyone who braved the heat to ride with me on Saturday!  I hope you will consider joining us again next year.
Visiting the Lake County Black Business Expo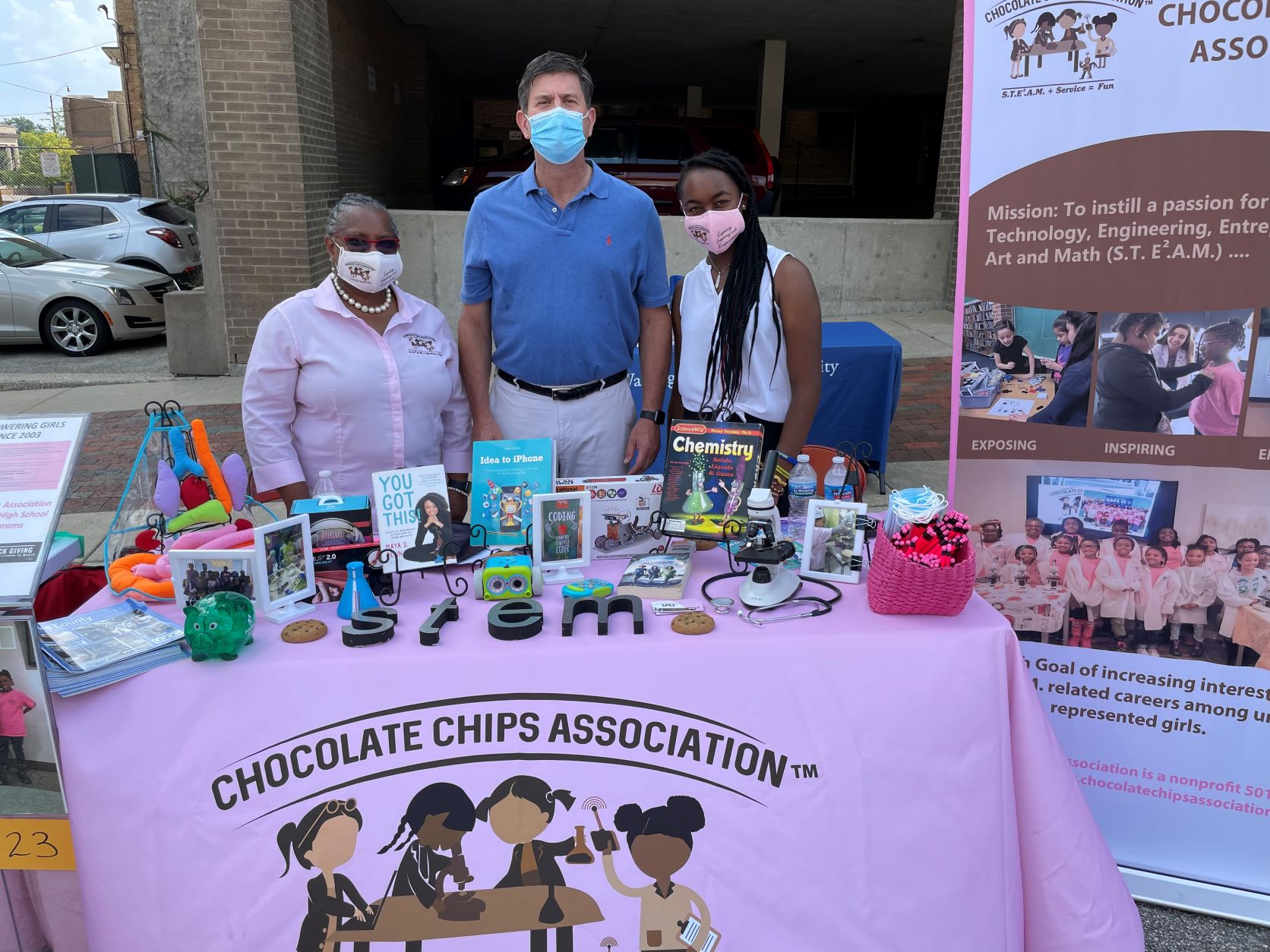 The Lake County Black Business Expo this weekend showcased dozens of Black-owned businesses in the Tenth District. I had a great time meeting with small business owners and seeing what their businesses have to offer.
Virtual Hiring Workshop

As we continue rebuilding from the pandemic, employers are hiring. Last week I hosted a virtual hiring workshop with State Rep. Rita Mayfield's Office, the Job Center of Lake County and the Illinois Department of Employment Security on how to get hired during the pandemic and what to know ahead of virtual job fairs.
Meeting with the Council of Islamic Organizations of Greater Chicago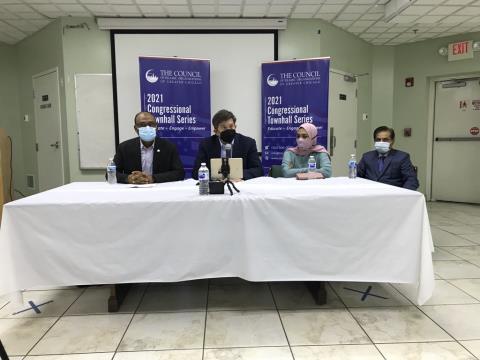 I had a great time participating in the Council of Islamic Organizations of Greater Chicago's congressional town hall recently. We talked about topics ranging from local issues such as EtO, affordable Housing, and infrastructure to national issues including voting rights and gun control, to international issues having to do with India and Israel/Palestine. 
Other Programs
Apply for STEAM Scholars by Wednesday, September 8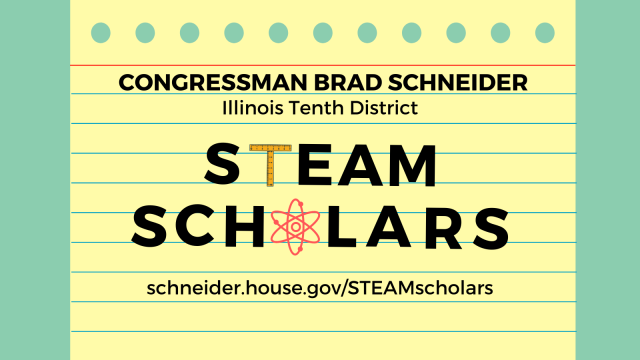 In the fall, students selected to participate in the STEAM Scholars program will have the opportunity to join me on visits to four STEAM-related businesses and facilities. Learn more and apply here by September 8th: https://schneider.house.gov/STEAMscholars
Apply Today for the Congressional App Challenge

In less than a generation, apps have come to touch every aspect of our lives. The Congressional App Challenge is an opportunity for Tenth District students to demonstrate and develop their STEAM skills by designing their own app and presenting their work on a national stage. I look forward to seeing the remarkable apps that this year's students create. View the application and learn more on my website.
COVID-19 Update
A statewide mask mandate went back into effect on Monday. This means that everyone, regardless of vaccination status, must wear a mask when indoors.
Although the CARES Act and American Rescue Plan have helped us speed up recovery, we are unfortunately still very much in the thick of the pandemic.

The good news is that the vaccine is safe and effective. Currently, 95% of COVID-19 hospitalizations are people who are not vaccinated, and, tragically, 99.5% of all COVID-19 deaths are people who were not vaccinated.

In Lake County, 97% of the people who are hospitalized with COVID-19 are unvaccinated.

The vaccine is saving lives. So again, tell your loved ones, your friends, neighbors and coworkers, join the fight and get your shot!
Resources
COVID-19 Rental Assistance
Apply for Lake County COVID-19 Rental Assistance Program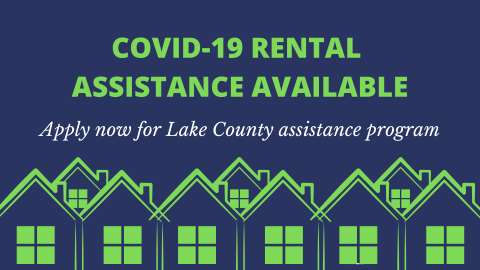 Lake County renters who face financial hardship related to COVID-19 can now apply for the new Lake County Federal Emergency Rental Assistance (FERA) Program, which provides help for individuals paying rent and/or utility bills.

To qualify for help, residents must: pay rent in Lake County, have a COVID-related financial hardship, be at risk of homelessness or housing instability, meet income guidelines based on household size, and provide appropriate documentation.

More information and the application can be found here.
Mortgage Help for FHA-insured Borrowers
The Federal Housing Administration launched a COVID-19 mortgage forbearance program to help those struggling to pay their mortgage. If you are one of the many FHA-insured borrowers in communities across the country having difficulty paying your mortgage due to the pandemic, visit the HUD website to learn more. Apply before September 30.
Back to Business Grants: Applications Open Now

Governor Pritzker recently announced the statewide Back to Business (B2B) program, which will provide $250 million in grants to small businesses across Illinois experiencing significant losses from COVID-19. Top priority will be given to restaurants, hotels, arts businesses and more. Learn more and apply here.
IL-10: By the Numbers
I thought it would be interesting to share some facts behind the work my team does on behalf of Tenth District residents every week. In a typical week, we receive between 1,000 and 2,000 emails, letters and calls. We try to respond to everyone as quickly as possible, though sometimes inquires require extra time for research and other digging to give a more complete reply.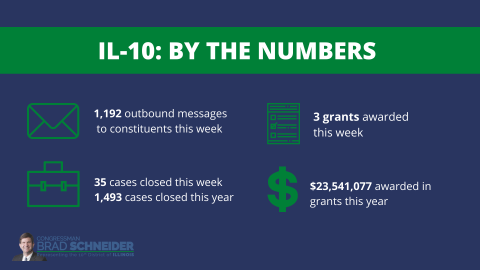 In Closing
This week I want to close by again recognizing the service members, first responders and other government workers who have been involved in both the search-and-rescue efforts following Hurricane Ida and in helping American citizens get out of Afghanistan. Although these are both tragedies, it has given me hope to see so many Americans coming together to help other Americans and our allies – even when it means great personal risk to themselves.

Wishing you a Happy Labor Day.
Onward,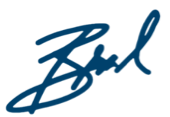 Bradley S. Schneider
Member of Congress