10th News: Help is Here
Let me start this week with an invitation.  Tonight at 6:00 PM I am hosting my second Fireside Chat, this one honoring Women's History Month.  I will be joined by four remarkable women, who also happen to be local Mayor's and Village Presidents concluding a collective 96 years of public service.  Details are below.
In other exciting news, last week the country reached the incredible milestone of 100 million shots in arms, 42 days sooner than President Biden's 100 day promise. With the passage of the American Rescue Plan (ARP), the pace of vaccinations is rapidly increasing and people are holding out the possibility we could reach 200 million doses in early May. We are all now optimistically looking forward to life starting to return to "normal."
In addition to helping vaccinate the nation, the American Rescue Plan is already putting financial relief in people's bank accounts, providing assistance to local businesses, and bolstering local communities.  In my survey last week, I asked about the $1400 direct payments included in the bill.  Approximately 40% of respondents reported that they would spend their stimulus on the basics of food, groceries, and rent, far outstripping the other categories.
I'm sure you saw that Governor Pritzker announced that everyone in Illinois will be eligible to get their vaccine beginning April 12.  So far, nearly 13% of all Illinois residents have been fully vaccinated. Over half of all seniors in Lake and Cook County have been vaccinated. More vaccination sites are opening, including here in the 10th District.  And Illinois will soon receive even more doses of the Johnson & Johnson vaccine, which will increase supply statewide.
Keep reading for more information on what happened in Washington last week, more vaccination updates, and upcoming events.
TONIGHT: Join me for a Fireside Chat on Women's History Month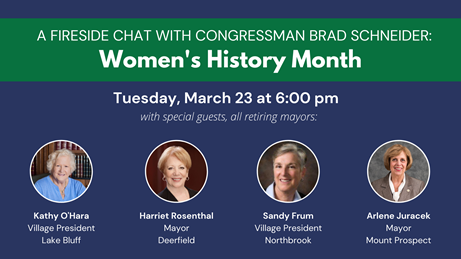 Join me tonight at 6:00 pm as I sit down with four dedicated local leaders who are ending their collective tenure of 96 years of public service for a special Women's History Month themed discussion. Lake Bluff Village President Kathy O'Hara, Deerfield Mayor Harriet Rosenthal, Northbrook Village President Sandy Frum and Mount Prospect Mayor Arlene Juracek will discuss their careers and reflect on Women's History Month. Please register here.
ICYMI: Telephone Town Hall on the American Rescue Plan
The American Rescue Plan benefits every community in every state across America. In case you missed it, I held a telephone town hall last week on the benefits of the American Rescue Plan that you can listen to here.
Check the Status of Your Stimulus Payment
One key element of the American Rescue Plan is the $1400 direct assistance checks to struggling Americans. The IRS has already started make direct deposits and sending out paper checks. Taxpayers can check when and how their payment was sent with the Get My Payment tool.
VACCINATION INFORMATION
More than 13% of Illinois residents have been fully vaccinated. In Lake County, the Department of Public Health will receive an estimated 4,000 doses of the vaccine the week of March 29th. Although this is fewer doses than previous weeks, it's expected that supply will again start increasing once the state receives more doses of the Johnson & Johnson vaccine in April. Please know that demand still exceeds supply and it could be some weeks before an appointment opens.
More vaccine information can also be found on my website.
Vaccination Call Center: The Illinois Department of Public Health (IDPH) recently launched the Vaccine Appointment Call Center to assist people who do not have access to or who have difficulty navigating online services in making appointments to receive the COVID-19 vaccine.
Call the Vaccine Appointment Call Center, open 7 days a week, at 833-621-1284
How to get vaccinated:
If you have not yet registered on your county website, please do so soon. Lake County residents should be using AllVax and Cook County residents have their own portal here. Once you are registered, you will be notified when your group is up to be vaccinated.  And when it is your turn, please get vaccinated.  The vaccines are safe, effective and our best hope to beat back the virus and get back to "normal."
Currently people in Phase 1A and Phase 1B are eligible to receive the vaccine. In Cook County, people in Phase 1B+ - individuals 16 or older with certain medical conditions - are eligible as well.
Register for a vaccine appointment with the government:
The Illinois Department of Public Health has a vaccination locator webpage for COVID-19 vaccination sites. A total of 134 new locations have been added since February 4, for a current total of 517 locations open to the public across the State. The State is partnering with Kroger, Wal-Mart, Meijer, Mariano's, Walgreens, Jewel-Osco, and Hy-Vee pharmacies to provide vaccinations as well. 
If you are a veteran and receive your medical care from the VA, you can register at Captain James A. Lovell Federal Health Care Center. They also have a hotline number: 224-610-3899. If you are a veteran who might be interested in getting care at Lovell and have never received care at a VAMC, you can now enroll online here.  
NEW: All VA and TRICARE patients ages 18 and older enrolled for care at Lovel FHCC are now eligible to schedule vaccine appointments. Call 224-610-3899 to schedule an appointment.
Cook County seniors and essential frontline workers can register for a vaccine appointment at Des Plaines' new mass vaccination site at the old K-Mart at 1155 East Oakton. Schedule an appointment at vaccine.cookcountyil.gov or call 833-308-1988
North Chicago and Waukegan Seniors age 65+ can register for a vaccine appointment at Greenbelt Community Center; 1215 Green Bay Rd in North Chicago.  Please call (847) 582-136 or email vaccine@northchicagocommunitypartners.org with your full name, phone number and birthdate.
Waukegan seniors 65+ who reside within a 10-mile radius of Oak Street Health Clinic can now also make vaccination appointments at Oak Street Health Clinic, 3210 Grand Avenue, Waukegan, IL 60085. Call 847-244-9242 with your name, address, phone number, and date of birth to make an appointment.
Again, you can find more information, reference data regarding COVID and various assistance programs on my website.
WHAT'S HAPPENING IN WASHINGTON 
Preventing Cuts to Hospital Payments During COVID-19
Since 2011, Medicare payments have been subject to a 2% reduction, known as the Medicare sequester. During a pandemic, the sequester poses the unnecessary burden of forcing providers to have to worry about their bottom line instead of solely focusing on treating and eradicating COVID-19.
That's why I introduced the Medicare Sequester COVID Moratorium Act, which passed the House on Friday as part of HR 1868. The uncertainty in COVID-19 cases across the country means continued stress on our frontline health providers. Now is not the time to reinstitute across the board cuts to our providers. We must stand by our frontline workers, and I'm proud that this delay to the Medicare sequester will support them in their mission to care for America.
House Reauthorizes Violence Against Women Act, Passes Critical Support for Immigrants and Undocumented Workers 
Now that Congress has passed the American Rescue Plan to deliver COVID relief for millions of struggling Americans, we are working on some of our other critical legislative priorities. Last week, I joined with my colleagues in the House to pass several critical bills, including:
The Violence Against Women Act, which prevents crimes against women and guarantees critical protection for women within the critical justice system. Survivors of domestic and sexual violence deserve our full support in Congress and I am proud to be an original cosponsor of this landmark legislation.
The Dream and Promise Act, which provides a pathway for DREAMers and other undocumented immigrants already living and/or working in the United States. Many of those affected by the bill have lived in the United States for their whole lives and are already critical members of our communities and economies. I am proud to be a cosponsor of this legislation to reform a critical part of our immigration system.
AROUND THE TENTH
Vote in Lake County Municipal Elections by April 6
On April 6th, Illinois is conducting its consolidated elections for City, Village, and Township Officials, Park District Commissioners, Library District Trustees, School District Boards of Education, and more.
To learn about elections in your district, visit here for Lake County elections and here for Cook County elections.
Discussing Immigration Reform with Building Peaceful Bridges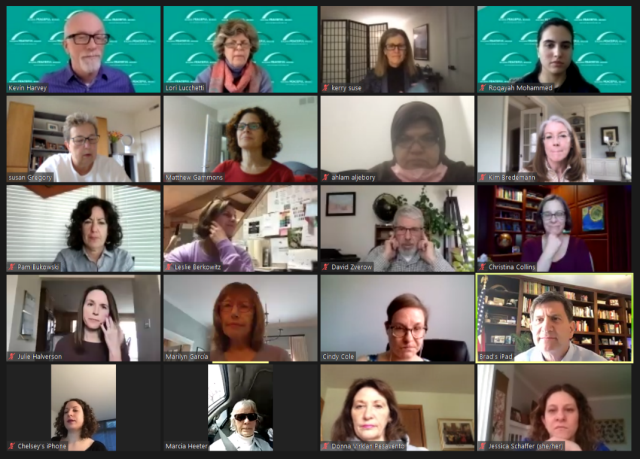 As the House takes steps to reform our broken immigration system, I met with Building Peaceful Bridges on Monday to discuss the challenges that face immigrants and refugees. Building Peaceful Bridges is a refugee assistance nonprofit that helps immigrants and refugees integrate into American society. We had a great, informative discussion about what Congress can do to support refugees going forward under the Biden administration.
Apply for the Congressional Art Challenge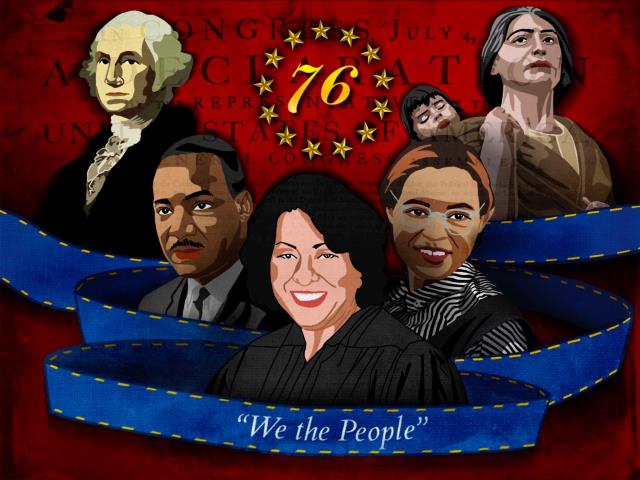 Last year's winning artwork, submitted by Janette Martinez-Tolention from Waukegan High School.
Applications for this year's Congressional Art Competition are now open! This year's theme is "Unity," and students are encouraged to interpret the theme however they wish. The winner will have their artwork displayed in the U.S. Capitol for one year.
Applications are due April 16th. For more details and the link to the application form, please visit my website.
EVENT: Join me on 4/8 for a Mental Health Round Table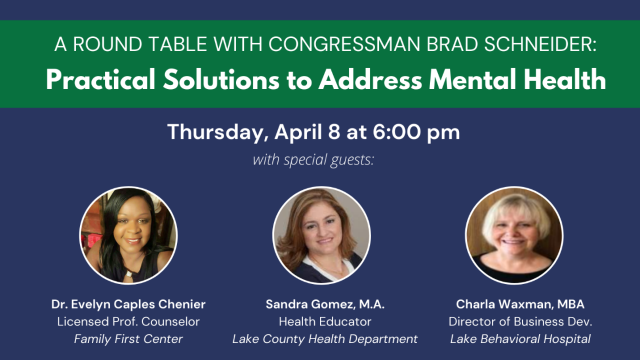 During the pandemic, many of us have faced unique challenges or social isolation that has taken a toll on our mental health. Please join me for a round table on Thursday, April 8 at 6:00 pm as I sit down with three mental health professionals to discuss practical solutions to taking care of mental health. Please register here.
IN CLOSING
I hope you were able to get out and enjoy the warmer weather. I was excited to get outside on my bike and also to take our dog out on the Green Bay Trail. We have great trails and paths throughout the district, including in and around our forest preserves.
As always, I pray that you and your loved ones are healthy and well. If we keep working together, we will beat back this virus and return to normal life.
Onward,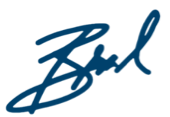 Bradley S. Schneider
Member of Congress