10th News: Help is on the Way
Last week's big news was President Biden signing the American Rescue Plan into law! (I am hosting a telephone town hall tonight to discuss the plan—see below for details.)
Job One for this Congress and the new Administration was always beat back this virus and lift up our nation. The American Rescue Plan will help us do just that. It's the bold response we need to get people back to work, help parents safely send their children back to school, and help small businesses build back their future.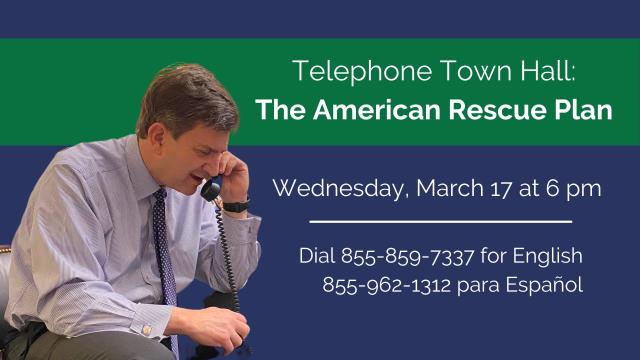 On the vaccine front, I heard from many of you last week that you were frustrated by the United Center's announcement to limit appointment eligibility only to Chicago residents. I share your frustrations. Because pockets of vulnerability exist all across our state, this abrupt decision left many suburban residents confused and upset. In response, I wrote a letter to FEMA co-signed by 11 other Illinois representatives asking for answers on their plans to get more vaccines to communities outside of Chicago (read more below).
On Saturday, I visited the mass vaccination site in Des Plaines with Congresswoman Jan Schakowsky and other local leaders. The site, housed inside an old K-Mart, is administering 2800 doses daily and is capable of administering up to 6,000 doses per day once supply allows for operating at full capacity. Cook County residents 65 and older eligible in phase 1B can make an appointment at the site by signing up through vaccine.cookcountyil.gov or by calling (833) 308-1988.
Seeing this site just days after President Biden signed the American Rescue Plan into law showed me that we are charting the course to beat back this virus. Although roadblocks remain, the American Rescue Plan means that Des Plaines and other local communities across Illinois will more rapidly get shots into people's arms and our economy on the road to recovery even faster.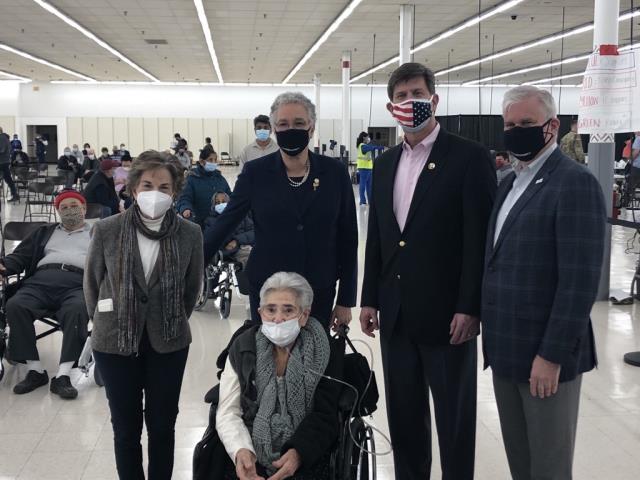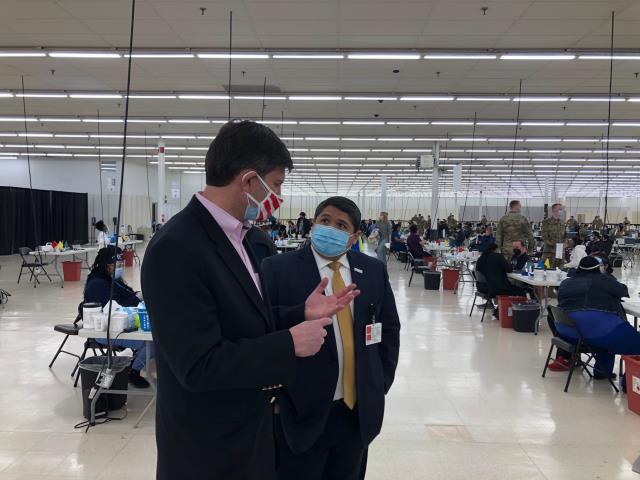 On my visit, I had the privilege of speaking with the CEO of Cook County Health, Israel Rocha. To the countless workers at Cook and Lake County Health Departments, I want to say thank you for your tireless efforts working to keep all of Illinois safe, getting us healthy, and now, administering the life-saving vaccines.
Keep reading for more information on the American Rescue Plan, my letter to FEMA, the Des Plaines vaccination site visit and what's going on around the district.
CONGRESS PASSES COVID RELIEF FOR MILLIONS OF STRUGGLING AMERICANS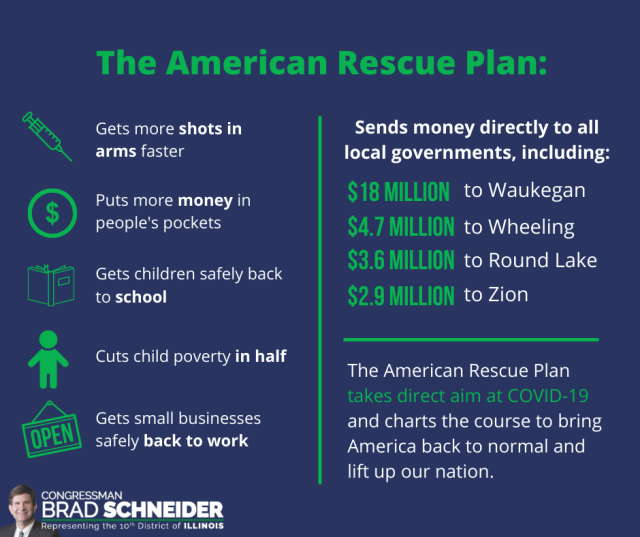 The American Rescue Plan helps every community in Illinois and across the nation. Illinois will receive $13.2 billion in funding from the American Rescue Plan, with $1 billion going to Cook County and $136 million going to Lake County.
The American Rescue Plan provides checks of $1,400 per person in direct assistance to households. The plan will also mount a national vaccination program that includes setting up community vaccination sites nationwide. It will scale up contact tracing and COVID-19 testing, address shortages of personal protective equipment and address health care disparities.
Watch my speech on the House floor in support of the American Rescue Plan here.
Check the Status of Your Stimulus Payment
One key element of the American Rescue Plan is the $1400 direct assistance checks to struggling Americans. The IRS has already started make direct deposits and sending out paper checks. Taxpayers can check when and how their payment was sent with the Get My Payment tool.
VACCINATION UPDATES
Getting Answers: How FEMA will ensure vaccine access for residents outside of Chicago
Last week I heard from constituents, many of whom fall into the vulnerable category who don't live in Chicago, who felt frustrated with the decision to limit vaccine eligibility at the United Center to just Chicago residents.
In response, I led a letter co-signed by 11 other Illinois representatives expressing our frustration at FEMA's decision to limit the United Center mass vaccination site eligibility and asking how the agency plans to serve suburban residents going forward. I asked FEMA to share detailed plans and a timetable for more mass vaccination sites outside of Chicago, share how the locations of federal sites are determined and to consult more with local officials on placement of additional centers. Read more about the letter here.  
Vaccination Information
More than 1 in 6 people in Illinois have now received their vaccine. And the numbers are still improving: Lake County will receive 11,000 vaccines next week. Cook County will receive 22,800 vaccines the week of March 1 and 40,500 vaccines the week of March 8. However, please know that demand far exceeds supply and it could be weeks before an appointment opens.
The vaccine information below can also be found on my website.
NEW: The Illinois Department of Public Health (IDPH) today launched the Vaccine Appointment Call Center to assist people who do not have access to or who have difficulty navigating online services in making appointments to receive the COVID-19 vaccine.
Call the Vaccine Appointment Call Center, open 7 days a week, at 833-621-1284
How to get vaccinated:
If you have not yet registered on your county website, please do so soon. Lake County residents should be using AllVax and Cook County residents have their own portal here. Once you are registered, you will be notified when your group is up to be vaccinated.  And when it is your turn, please get vaccinated.  The vaccines are safe, effective and our best hope to beat back the virus and get back to "normal."
Currently people in Phase 1A and Phase 1B are eligible to receive the vaccine.
Register for a vaccine appointment with the government:
The Illinois Department of Public Health has a vaccination locator webpage for COVID-19 vaccination sites. A total of 134 new locations have been added since February 4, for a current total of 517 locations open to the public across the State. The State is partnering with Kroger, Wal-Mart, Meijer, Mariano's, Walgreens, Jewel-Osco, and Hy-Vee pharmacies to provide vaccinations as well. 
If you are a veteran and receive your medical care from the VA, you can register at Captain James A. Lovell Federal Health Care Center. They also have a hotline number: 224-610-3899. If you are a veteran who might be interested in getting care at Lovell and have never received care at a VAMC, you can now enroll online here.  
Cook County seniors and essential frontline workers can register for a vaccine appointment at Des Plaines' new mass vaccination site at the old K-Mart at 1155 East Oakton. Schedule an appointment at vaccine.cookcountyil.gov or call 833-308-1988
North Chicago and Waukegan Seniors age 65+ can register for a vaccine appointment at Greenbelt Community Center; 1215 Green Bay Rd in North Chicago.  Please call (847) 582-136 or email vaccine@northchicagocommunitypartners.org with your full name, phone number and birthdate.
Waukegan seniors 65+ who reside within a 10-mile radius of Oak Street Health Clinic can now also make vaccination appointments at Oak Street Health Clinic, 3210 Grand Avenue, Waukegan, IL 60085. Call 847-244-9242 with your name, address, phone number, and date of birth to make an appointment.
Again, you can find more information, reference data regarding COVID and various assistance programs on my website.
WHAT'S HAPPENING IN WASHINGTON
Last week, and addition to sending the American Rescue plan to the President,  I helped pass H.R. 8, the Bipartisan Background Checks Act and H.R. 1446, the Enhanced Background Checks Act, two commonsense gun violence prevention measures to require background checks on all gun sales and close the Charleston Loophole that allowed the hate crime at Mother Emanuel AME Church. Every gun sale must include a background check, and it should concern all of us that hundreds of thousands of guns are sold annually without a federal background check.
This Week's Votes 
This week, the House is voting on The Dream and Promise Act and the Violence Against Women Act. As a cosponsor to both pieces of legislation, I am proud that we are moving such significant bills so quickly through the House.
The Dream and Promise Act will provide a pathway to citizenship for Dreamers, TPS, and DED individuals, each of which are essential members of our community. They are American in every way that counts, so it is time that we give them the opportunity to legalize that status. I have long been in the fight to protect the Dream, and I hope that this is the Congress that can get this bill over the finish line.
The Violence Against Women Reauthorization will counter violent crimes against women and protect victims of these crimes. In addition to the existing protections in the original VAWA, the bill will provide limitations on domestic violence perpetrators purchasing firearms. Survivors of domestic violence and sexual assault deserve our full support in Congress and that's why I'm proud to be a co-sponsor of this critical legislation.
The Schneider Standard for Bipartisanship
I recently sat down with NBC reporter Leigh Ann Caldwell to discuss how I plan to work with Republicans going forward, especially those who voted against certifying the 2020 election results. An excerpt from our conversation is below:
"Rep. Brad Schneider, D-Ill., has a basic requirement before he can work with a Republican: 'At the fundamental level, I need an affirmative statement that Joe Biden is the legitimate president of the United States and the 2020 election was an honest and fair election.'
Schneider, a member of the bipartisan Problem Solvers Caucus that is known for reaching across the aisle, said that in the aftermath of the Jan. 6 riot, he has had to cut off previous working relationships.
'It's hard to envision going into an administration with a partner who doesn't acknowledge the legitimacy of that administration or is showing a commitment to the truth,' Schneider said."
In case you missed it, you can read the full article here.
AROUND THE TENTH
Congressional Funding to Increase Lake County Vaccine Supply
I am thrilled to announce that Lake County will soon start receiving more directly-allocated COVID-19 vaccinations as part of a federal COVID-19 assistance program. The Lake County Health Department and Community Center will join the Health Center COVID-19 vaccination program, established as part of the December 2020 COVID relief package, which works to ensure equitable vaccinations targeting underserved communities.
With more doses available, Lake County will be able to get more shots in arms, especially throughout traditionally underserved communities. This brings us one step closer to safely getting children back to school, getting people back to work, and reopening our small businesses.
Small Business Administration Announces New Resources Created by the American Rescue Plan
The American Rescue Plan Act provides additional relief for the nation's small businesses and hard-hit industries for programs that the Small Business Administration is currently administering and adds new efforts, including an additional $7.25 billion for the Paycheck Protection Program and $28.6 billion for the Restaurant Revitalization Fund.
The SBA is hosting office hours this week to answer your questions about the PPP program:
You can find a PPP lender by going to Lender Match or by searching for PPP lenders near you.
Apply for the Congressional Art Challenge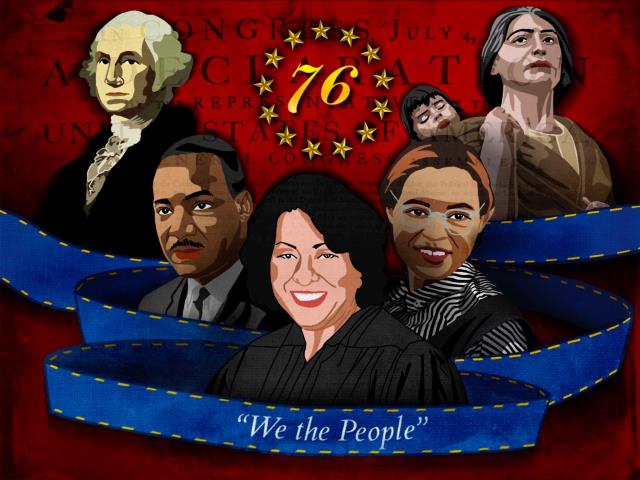 Last year's winning artwork, submitted by Janette Martinez-Tolention from Waukegan High School.
Applications for this year's Congressional Art Competition are now open! This year's theme is "Unity," and students are encouraged to interpret the theme however they wish. The winner will have their artwork displayed in the U.S. Capitol for one year.
Applications are due April 16th. For more details and the link to the application form, please visit my website.
Avoid Phishing Scams
The Illinois Department of Employee Security announced a new scam targeting Illinoisans: Bad actors posing as IDES representatives are sending emails to victims falsely advertising an increase in weekly benefits in order to trick recipients into disclosing their personal information. Learn more here about how to avoid phishing scams.
VIRTUAL TOWN HALLS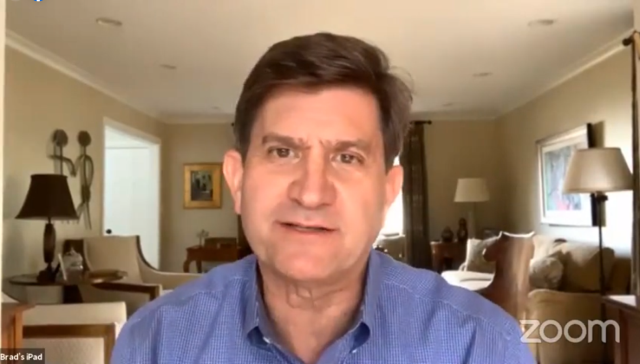 Once again, it was a busy week in Washington. I recorded a virtual town hall on the last week in Washington that you can watch here. I will also be hosting a teletown hall tonight, at 6:00 pm Central that I hope you will tune in for.
IN CLOSING
Especially with the package of the American Rescue Plan this week, we are moving closer every day to getting things back to normal. So please, be patient and don't let your guard down. Continue to wear a mask (or better yet double mask), wash your hands frequently, and watch your social distancing.
If we work together, if we stay diligent, my hope is that we can once again be together in person to celebrate summer.
Onward,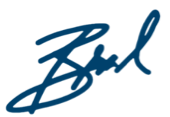 Bradley S. Schneider
Member of Congress