10th News: Investing in Our Future
Last week ended on a high note with the Sox, Sky and Bears all winning. Of course, the baseball season in Chicago came to an end on Tuesday but, as we know too well, there's always next year. Meanwhile, the Sky are tied in the WNBA Finals with the series now in Chicago for games Friday and Sunday. And it looks like Justin Fields is starting for the Bears on Sunday. Add to that the Blackhawks opened their season last night and the Bulls begin next week.

Besides cheering on the home teams, I stopped by the Great Pumpkin Fest in Highwood. I love seeing families spending time together carving pumpkins and just enjoying their community. It was also a pleasure to hear some of the great bands that performed throughout the weekend. And a visit to Highwood is not complete without a visit to Chicago Mike's Ice Cream.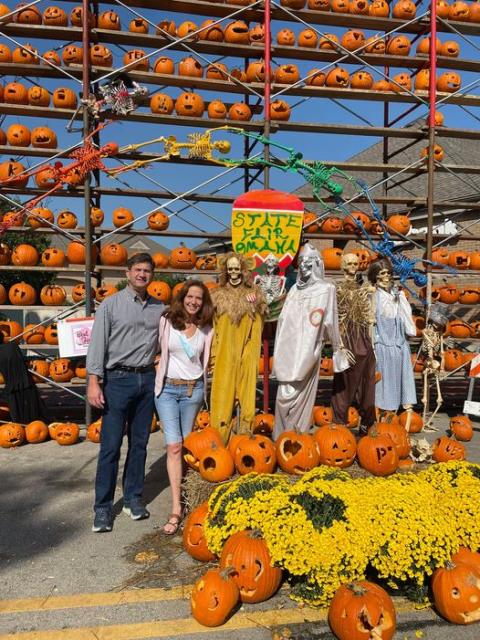 One of the highlights of the week was joining President Biden on his visit to Chicago to talk about infrastructure and his Build Back Better agenda. The Senate has already passed the bipartisan infrastructure bill and I look forward to helping pass it in the House. And negotiations continue on the American Jobs and American Family Plan. What is clear, as President Biden clearly stated during his visit, is that vaccinations work, getting everyone vaccinated helps our economy, and a growing economy needs a 21st Century infrastructure.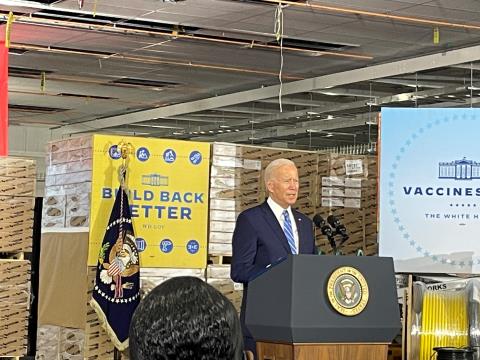 In addition to sports, pumpkins and presidential visits, I've had some quality time in the district talking with constituents. Last Friday I enjoyed a wonderful conversation with four refugees (young men in their early twenties) who came to the United States as unaccompanied minors. They are now students, two studying to be nurses, one into computers and one learning general business. They reminded me of my grandparents' story who came to this country from Russia, fleeing persecution and dreaming of a better future for themselves and their family.

I also held a series of virtual meetings with folks from groups including the Sierra Club, the Waukegan Harbor Advisory Group, and the Council of Islamic Organizations of Greater Chicago. Even virtual, these conversations are a great way for me to more fully hear about the priorities and interests of the people in the district.

On Tuesday I briefly returned to Washington as the House voted to extend the debt ceiling until December and avoid a catastrophic default on our nation's debt. While I am relieved we avoided a default at this time, we must more fully address the debt ceiling so that we don't repeatedly face this situation in the future. If McConnell is successful in blocking the vote in December, the country is again at risk of defaulting on its debt for the first time ever, potentially leading to a recession and loss of millions of jobs. Default would also raise the nation's cost of borrowing costing taxpayers billions of dollars annually.

Finally, the Medicare Open Enrollment period begins this Friday, October 15th. For tips on navigating the Medicare Plan Finder tool, please join me and SHIP Coordinator Melissa Versch for a webinar on Monday, October 18th at 6:00 pm. RSVP here.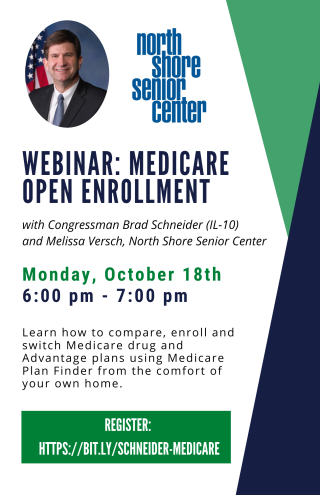 Keep reading for more information on what's been happening in Washington and around the district.
Around the Tenth
New Customs Facility Opens at Chicago Executive Airport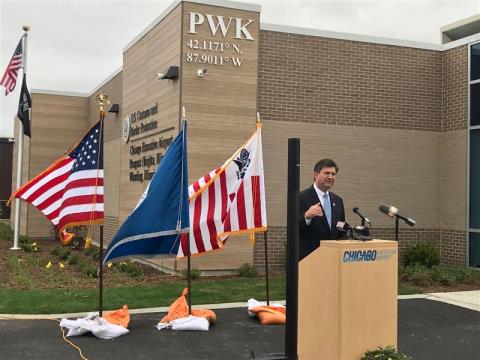 From its humble beginnings and dirt runways, the Chicago Executive Airport is now a critical 'reliever' airport for the Chicagoland area. The airport's new customs facility will enable the airport to bring more international visitors, jobs and economic activity to the Tenth District and surrounding communities.
Fighting for Refugees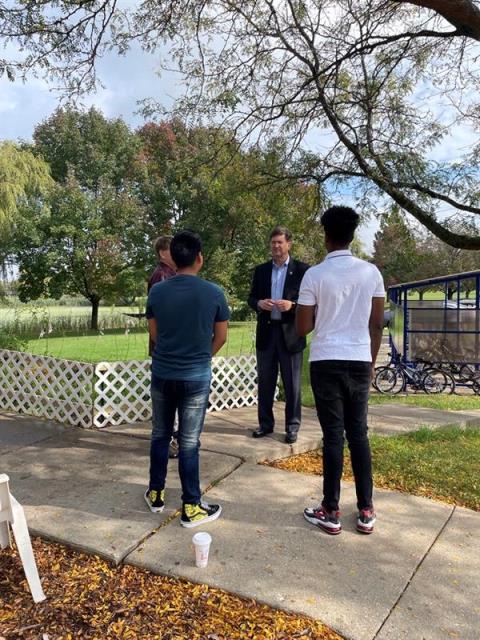 As noted above, I toured the Viator House in Des Plaines and met with some young men at different stages in their immigration applications. Our nation was founded by immigrants and refugees fleeing oppression, and I will continue to work to fix our broken immigration system. For more than a generation we've needed comprehensive immigration reform, and every day that passes without action costs our nation in lost opportunities to strengthen our communities.
WGN Interview: Build Back Better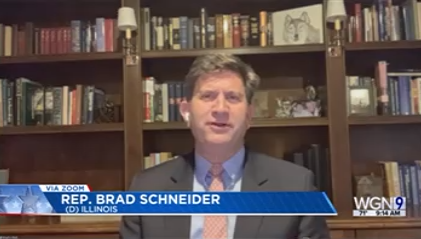 Both the Build Back Better Act and the bipartisan infrastructure bill are investments in our future. The money we are commiting to - whether it's money for infrastructure, childcare, education, healthcare and bringing down the cost down of drugs - are not just spending for the sake of spending. These are investments in our future and our children's future. In case you missed it, watch my full interview with WGN here.
Meeting with Constituents
Biking with Bruce Matthews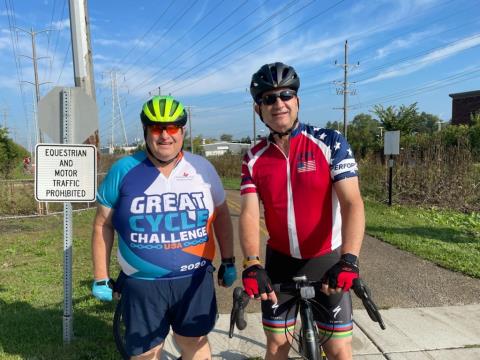 Over the weekend I had a a fun bicycling "meeting" with Indian Trails Public Library District Treasurer Bruce Matthews. We enjoyed a beautiful ride  talking about family, community and Bruce's work raising awareness for the battle against childhood cancers. 
Council of Islamic Organizations of Greater Chicago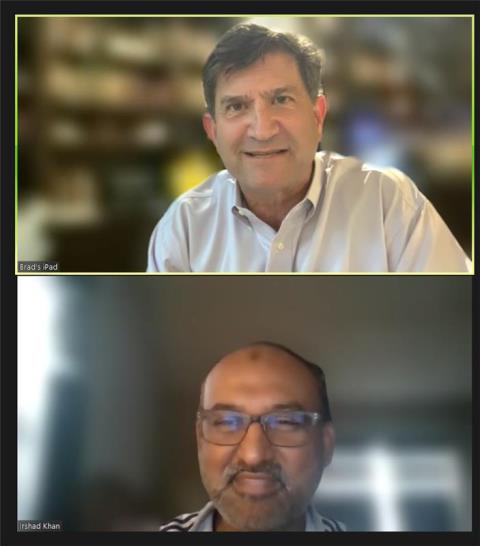 I was honored to meet with Irshad Khan, the chair of the Council of Islamic Organizations of Greater Chicago (CIOGC), to follow up on their congressional town hall that I participated in last month. We discussed topics including my work in Congress to combat Islamophobia and all religious hate, assisting Afghan refugees resettling in the U.S. and supporting affordable housing.
Waukegan Harbor Citizens Advisory Group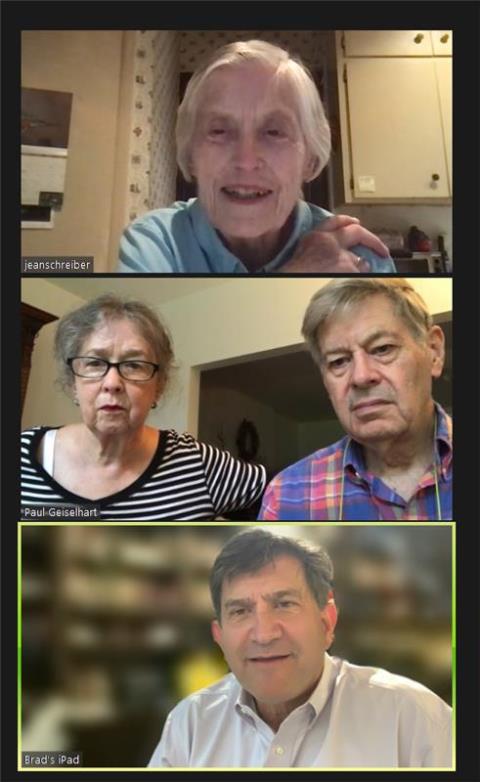 The Waukegan Harbor at one time had one of the largest known concentrations of PCB chemicals and PCB-contaminated sediments. Thanks to the work of the Waukegan Harbor Advisory Group, the harbor has made great progress and only has just one wildlife restriction in place.
Hindu Swayamsevak Sangh USA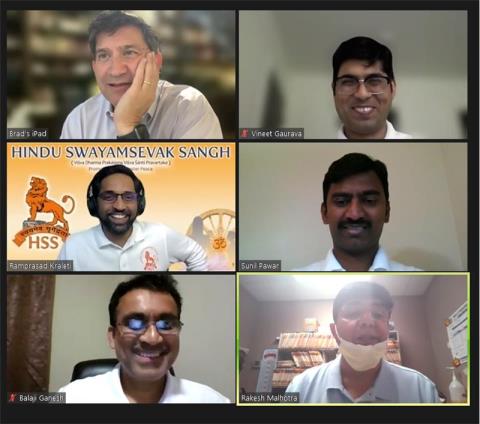 Hindu Swayamsevak Sangh USA (HSS) is a nonprofit working to promote and educate the community on Hindu American culture. During our meeting, HSS told me about their work and their efforts organizing foodbanks in the Tenth District during the COVID-19 pandemic.
Sierra Club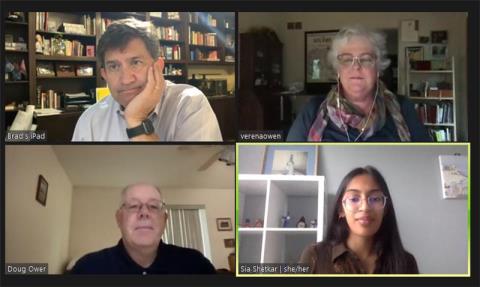 It's always a pleasure meeting with the Sierra Club. We talked about our mutual efforts to ensure that the Build Back Better Act and the infrastructure bill in Congress work to boldly address climate change and reduce carbon emissions nationwide.
J Street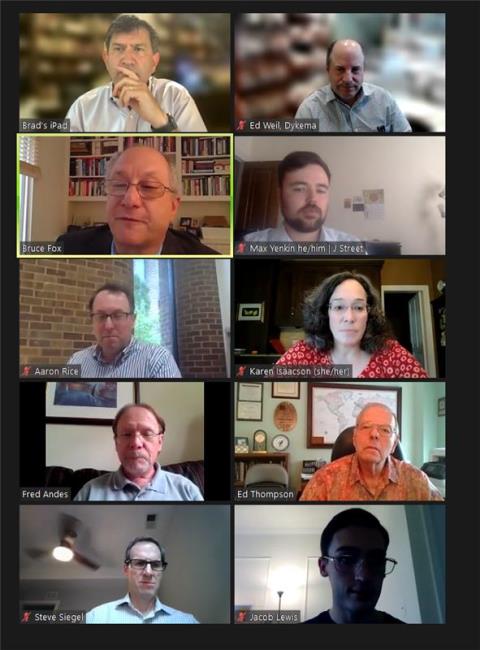 I met with J Street to discuss their efforts supporting Israel's security while also advocating for regional peace and a two state solution.
What's Happening in Washington
Last week the House focused on committee work. On Tuesday the House Foreign Affairs Committee held a hearing on the U.S. withdrawal, and subsequent evacuation from Afghanistan. The bipartisan panel of experts included former Deputy Secretary of State Richard Armitage, form ambassador to Afghanistan Ryan Crocker, former National Security Advisor H.R. McMaster, and former NATO ambassador Douglas Lute.
Even after 5 hours of testimony and questions, we have only merely scratched the surface in understanding the lessons of the United States twenty-year long investment in Afghanistan. And we continue to help all American citizens and all those who helped our efforts get to safety.
Fourth Round of Child Tax Credit Payments Hitting Bank Accounts this Friday
Tomorrow, families across the country can expect the fourth round of monthly Child Tax Credit payments to start hitting their bank accounts.

Congress expanded the Child Tax Credit as part of the American Rescue Plan passed in March. Hardworking families nationwide will receive monthly payments of up to $300 per month per child. In August alone, 123,000 children in the Tenth District received $36 million in Child Tax Credit payments. Nationwide, the Child Tax Credit is expected to cut poverty in half. I am working to invest in the future of American children and families by making this expanded tax cut for working families through 2025. Check out the IRS's Child Tax Credit Update Portal for more information.
Congressional App Challenge: Applications Due November 1
In less than a generation, apps have come to touch every aspect of our lives. The Congressional App Challenge is an opportunity for Tenth District students to demonstrate and develop their STEAM skills by designing their own app and presenting their work on a national stage. I look forward to seeing the remarkable apps that this year's students create. View the application and learn more on my website.
District Connections
Upcoming Events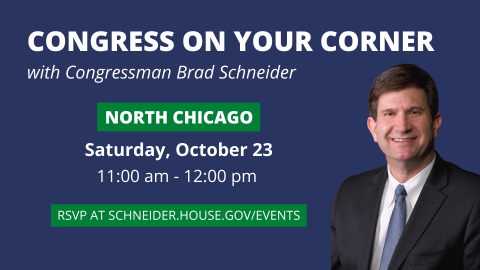 Please join me for Congress on Your Corner on Saturday, October 23rd at 11 am in North Chicago. I will answer your questions and provide an update on my work in Washington fighting to help Illinois families rebuild after the pandemic. RSVP here: schneider.house.gov/events.
---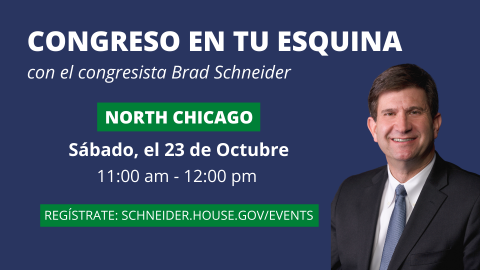 ¡Acompáñame  en nuestro próximo evento de "El Congreso en tu Esquina" en North Chicago el sábado 23 de octubre! RSVP aquí: schneider.house.gov/events
Brad's Bookworms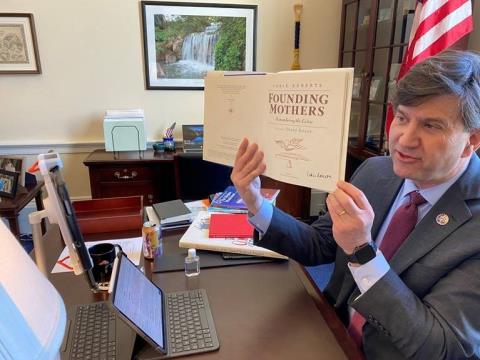 Reading books opens new worlds, no matter your age. The Brad's Bookworms Program encourages K-5 readers to read 10 books and discover new worlds — while also bringing the community together to help their students reach their reading goals. Learn more and apply here: https://schneider.house.gov/bookworms.
COVID-19 Update
Illinois currently has a statewide mask mandate in effect. This means that everyone, regardless of vaccination status, must wear a mask when indoors.
Although the CARES Act and American Rescue Plan have helped us speed up recovery, we are unfortunately still very much in the thick of the pandemic.

The good news is that the vaccine is safe and effective. Currently, 95% of COVID-19 hospitalizations are people who are not vaccinated, and, tragically, 99.5% of all COVID-19 deaths are people who were not vaccinated.

In Lake County, 97% of the people who are hospitalized with COVID-19 are unvaccinated.

The vaccine is saving lives. So again, tell your loved ones, your friends, neighbors and coworkers, join the fight and get your shot!
Resources
Long Waits For Passports: Look Before You Book
If You're Traveling Internationally Soon, Remember to Check Your Passport Expiration Date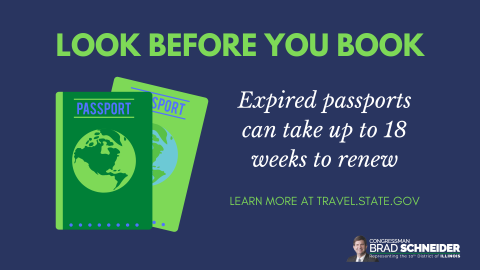 As more and more people get vaccinated, travel is starting to pick back up again. My office has received a major uptick in calls asking to expedite passport renewals lately. If you plan to travel internationally, remember to check the expiration date on your passport before you book your trip. It is taking much longer than normal to renew a passport, so make sure to plan ahead.

Check the passport website to get an idea of processing time -- expedited processing is now taking 12 weeks from submission to receipt, regular processing 18 weeks.

At this point, expedited exceptions are only being made in case of emergency travel. In other words, apply now for that passport you will need for the trip you might take over Winter Break. Passports last for 5 or 10 years depending on what age you were issued your first passport.
Cook and Lake Counties COVID Rental Assistance Programs Open Now
Both Lake and Cook Counties are now offering rental assistance programs for those who face financial hardships related to COVID-19 and are struggling to pay rent.
Back to Business Grants: Applications Open Now

Governor Pritzker recently announced the statewide Back to Business (B2B) program, which will provide $250 million in grants to small businesses across Illinois experiencing significant losses from COVID-19. Top priority will be given to restaurants, hotels, arts businesses and more. Learn more and apply here.
In Closing
Over the weekend I read a story in the Daily Herald about Leonard Brzostowski, a WWII veteran and Libertyville resident who recently received the highest French medal at age 99.

I was inspired reading Leonard's story and touched by his emotional retelling of his experiences. His brave service during WWII, where he was one of the first Allied soldiers to arrive in Paris after the Germans retreated, shows great courage and patriotism. Congratulations to Leonard and his family on this high honor.

Read more about Leonard's story in the Daily Herald.
Onward,

Brad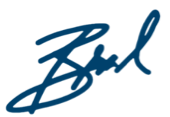 Bradley S. Schneider
Member of Congress