10th News: Out and About in the District
Dorothy was right: "There's no place like home." It was so good to be home and working in the district last week and I am looking forward to many more events throughout the month of August.

Our focus last week was visiting several of the local community project sites for which I was proud to support and secure funding in the INVEST Act (H.R. 3684). In Glenview I met with Village President Mike Jenny and his team at the intersection of Milwaukee and Lake to discuss their plans to dramatically reduce traffic backups. In North Chicago I met with Mayor Leon Rockingham to review plans for a major storm sewer project that would reduce flooding not just in the immediate area but in surrounding towns as well.  And in Park City I met with Mayor Steve Pannell at Dady Slough to review another county project that would also address flooding in the region.

Whether it's reducing traffic bottlenecks, building a storm sewer, or improving flood mitigation, we desperately need to invest in our infrastructure. Securing the funding in the House bill is a critical first step. The Senate must now pass their federal infrastructure bill so we can begin rebuilding our communities right here at home.

In addition to the above, I also had meetings with Des Plaines Mayor Andrew Goczkowski, Niles Mayor George Alpogianis, and Mount Prospect Mayor Paul Hoefert. And though we didn't talk shop, I enjoyed attending Lake Forest Mayor George Pandaleon's reception kicking off Lake Forest Days.

Of course, my job is more than "hobnobbing" with Mayors and Village Presidents. Among the many highlights of my week was spending time at A.J. Katzenmaier Elementary in North Chicago, touring and meeting with students at Youth Build Lake County, and attending the renaming ceremony for John Lewis Middle School in Waukegan.

For all the joy of getting out and seeing friends and neighbors, we are unfortunately still very much in the thick of the pandemic. While COVID-19 case numbers are rising with the spread of the Delta variant, we must continue the fight together to beat back the virus. I want to take this opportunity to encourage all of those who are not yet vaccinated to get vaccinated as soon as possible. Currently, 95% of COVID-19 hospitalizations are people who are not vaccinated, and, tragically, 99.5% of all COVID-19 deaths are people who were not vaccinated. In Lake County, 97% of the people who are hospitalized with COVID-19 are unvaccinated. The vaccine is saving lives. So again, tell your loved ones, your friends, neighbors and coworkers, join the fight and get your shot!

One last thing: tonight I am hosting the first in-person town hall since the pandemic began. Please join me at Congress on Your Corner tonight in Zion at 6 pm for a chance to say hello in person and talk about some of the issues important to you.  If you can make tonight's event, join me later this month for one of three other planned Congress on Your Corners or come out for our next Bike the Tenth on August 28th.

Keep reading for information about what's been happening in Washington and around the district.
AROUND THE TENTH
Calling for Senate Action on Local Infrastructure Projects
Our nation's infrastructure has fallen behind after failing to invest in it for generations. Before I returned home from DC for the month, I helped secure House passage for funding of all my local community project requests. To highlight how important it is for the Senate to pass infrastructure investment, I visited several sites around the district that would benefit from federal infrastructure investment.
Milwaukee & West Lake Avenue Improvements, Glenview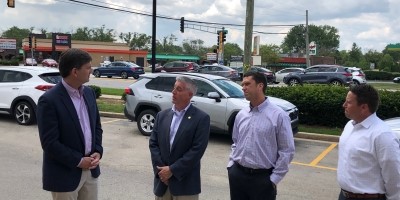 The intersection of Milwaukee and West Lake Ave. regularly see bottlenecks and traffic back-ups up to a mile long. Funding for IL-21 Milwaukee Ave Improvements, which I helped pass in the House, will fund pavement reconstruction, intersection geometry improvements, install ADA-compliant pedestrian facilities, and replace traffic and pedestrian signals.
North Chicago Storm Sewer Project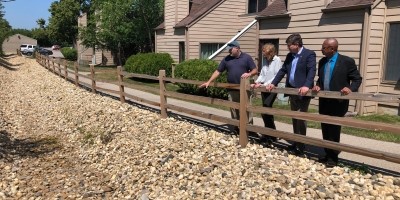 North Chicago families, particularly those who live in Strawberry Condominiums, are unfortunately all to familiar with being forced out of their homes due to flooding. As climate change continues to impact our communities, precipitation in Lake County will only increase. The North Chicago Storm Sewer Project will update the sewer system and add 40 acres of flood storage – benefitting not only the city of North Chicago, but the nearby Great Lakes Naval Station, the entire region along Route 41, and municipalities downstream.
Dady Slough Wetland Enhancement, Park City & Waukegan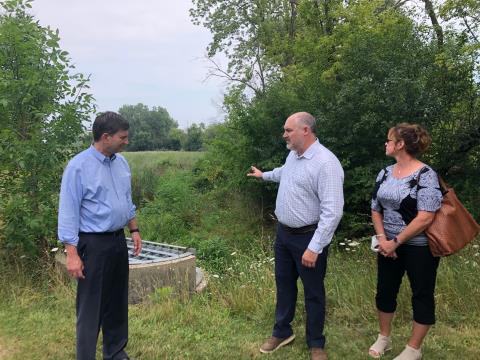 Flooding near Dady Slough Lake in Park View has at times displaced over 800 nearby families from their homes. Due to the frequency and severity of flooding, the Dady Slough Flood Storage and Wetland Enhancement Project is Lake County's highest flood mitigation project. If the Senate can follow the House's example and invest in this project, flooding will abate, delivering more green infrastructure and a boost to our quality of life.
Celebrating John R. Lewis Middle School Renaming in Waukegan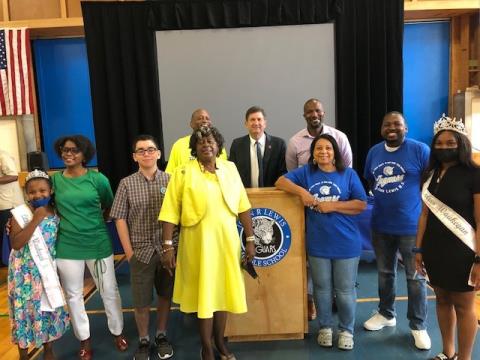 Over the weekend I celebrated the renaming of John R. Lewis Middle School in Waukegan, which was made possible thanks to the hard work and tireless advocacy of the Board of Education, the administration, parents, teachers and more. I can't think of a better namesake to be selected than my friend, colleague and hero John Robert Lewis

John touched my life in more ways than I can imagine. He touched our nation in more ways than we can know. From his early civil rights work in the 1960s to his 33 years as a member of Congress, John Lewis cast a giant shadow for good. He was the embodiment of love – love for his community and love for his country.

John Lewis will take his place in our children's history books among not only the champions of the civil rights movement, but also in the pantheon of historical giants who grabbed ahold to bend that moral arc of our universe.
Meeting with Tenth District Mayors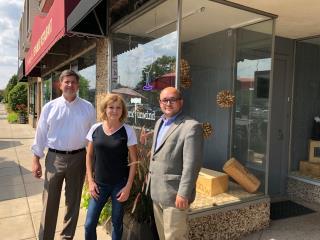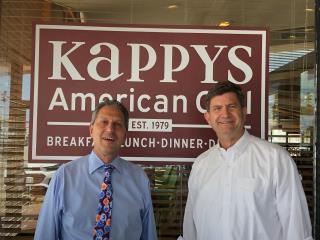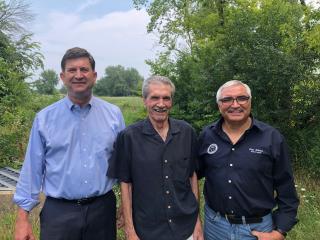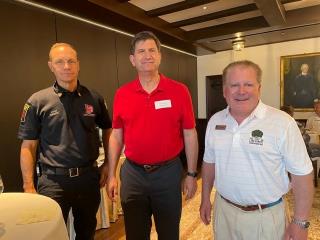 Last week I met with Des Plaines Mayor Andrew Goczkowski (top left), Niles Mayor George Alpogianis (top right), Park City Mayor Steve Pannell (bottom left), and Lake Forest Mayor George Pandaleon (bottom right). We all had great discussions about how we can work together to benefit the residents of Des Plaines, Niles, Park City and Lake Forest!

A special thanks to Heidi (pictured top left), who welcomed Mayor Goczskowski and I into her new small business Uncork, Unwind.
Dedicating the Newly-Renovated North Chicago Metra Station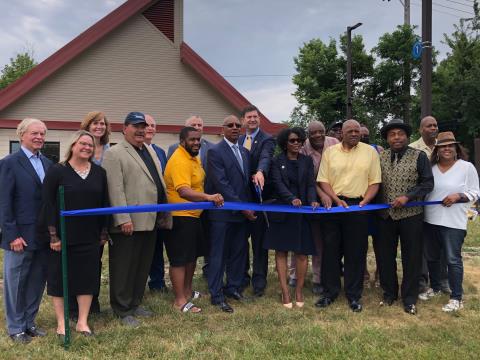 Over the weekend I joined other local elected officials to dedicate the newly-renovated North Chicago Metra Station. These renovations, which will increase passenger security and update the architectural character of the station, are a testament to what can happen when we all work together to invest in local infrastructure.
Welcoming Back North Chicago School District 187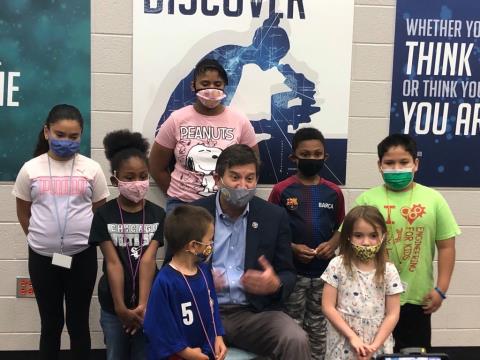 The teachers and administrators of North Chicago Community Unit School District 187 have been hard at work to ensure that students can return back to school safely. Because of the health and safety equipment, training and protocols put in place, District 187 has had a remarkable zero spread of cases in their schools. With the great team at D187 and terrific students and families of North Chicago, it will be a great school year!
Touring YouthBuild Lake County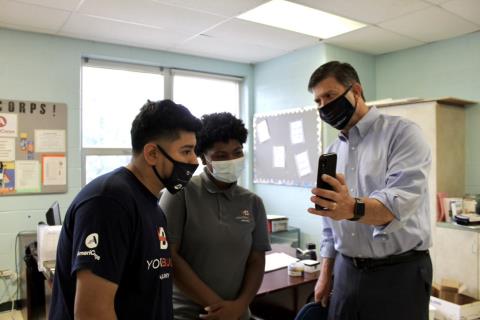 I had a great time touring YouthBuild Lake County in North Chicago last week. YouthBuild works to provide underserved young adults with the education, training, and life skills necessary to become gainfully employed and build a better future. They offer free programs for underserved youth in Lake County to obtain their high school diploma, earn industry-recognized credentials and certifications, develop career readiness skills, and complete hands-on work experience so they can move into careers, college, or vocational schools. Thank you to YouthBuild Executive Director Tameka Wilson for inviting me!
Visiting Highland Park's National Night Out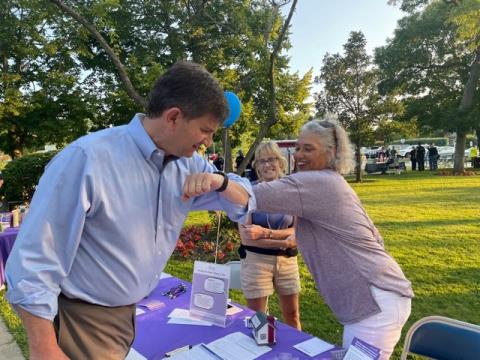 Every year, the Highland Park Police Department hosts National Night Out for community groups and local police organizations to raise awareness about community crime prevention programs. I had a great time seeing the American Legion and meeting with local community groups.
JOIN ME FOR AN AUGUST EVENT
Congress On Your Corner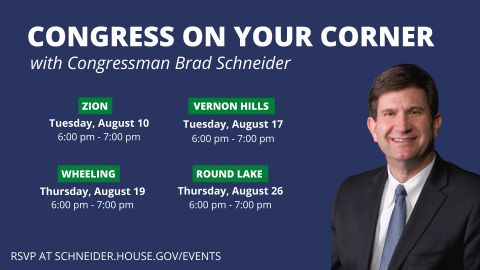 In the last few months, the American Rescue Plan has put shots in arms and money in pockets, and many of you have chosen to get vaccinated to protect yourselves and your neighbors. As a result, we are once again safely able to come together in person. I will be spending the month of August across the Tenth District holding events fighting for you. I am looking forward to reuniting with you all in person after the challenges of the last year and hearing from you about your concerns and hopes in the work of the Congress. 

RSVP for a COYC near you at: schneider.house.gov/events.

Following CDC guidelines and advice of the local health department, attendees are encouraged to get vaccinated against COVID-19. Those attendees who are not vaccinated are encouraged to wear a face mask for their own safety. Additionally, we are requiring RSVPs in advance to accommodate social distancing.
Bike the Tenth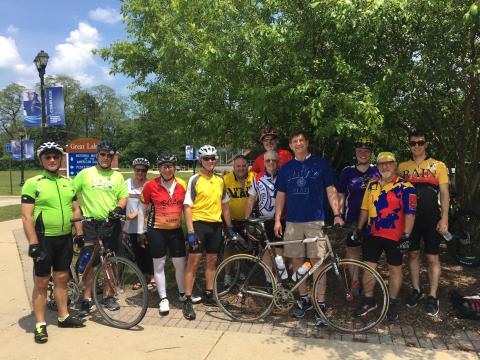 Now that we can come together in person again, I am excited to invite you to one of my favorite events of the year: Bike the Tenth! Join me and other constituents on a 15 mile ride along the Des Plaines River Trail, traveling throughout parts of the Tenth District at 9am, Saturday, August 28th. All ages are welcome for what will be a leisurely ride.

The route begins and ends at Half Day Forest Preserve in Vernon Hills. And knowing me, I suspect we will stop for ice cream somewhere on the route.

Learn more and RSVP at schneider.house.gov/bike.
Virtual Career Expo – Prep Session August 26

Join me, State Rep. Rita Mayfield, the Job Center of Lake County, and the Illinois Department of Employment Security for a job seeker informational workshop. Learn tips and tools for job-seeking in a pandemic and what to know ahead of virtual job expos.

Register for the the prep session on Thursday, August 26 at 1 pm here. And don't forget to save the date for our virtual career expo on Friday, September 17th at 9 am.
WHAT'S HAPPENING IN WASHINGTON
Mourning the Loss of Capitol Police Officers
On January 6, when a terrorist mob attacked our Capitol and threatened our democracy, the incredibly brave officers from both US Capitol Police and DC Metro Police stood strong in defense of our nation. They faced unspeakable physical and verbal attacks, enduring untold injuries that left scars seen and unseen. I am devastated to hear that two more police officers who protected our country that day have died by suicide. My family and I extend our deepest condolences to the families, friends and loved ones of Officer Kyle DeFraytag and Officer Gunther Hashida.
STEAM Scholar Applications Now Open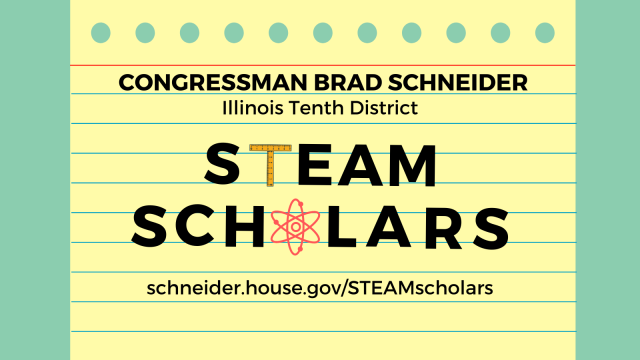 I'm looking forward to joining this year's class of STEAM Scholars on visits to STEAM facilities and businesses around the district in the upcoming school year. The program aims to connect highly-motivated students interested in science, technology, engineering, art, and mathematics with hands-on learning experiences throughout our district. In the fall, students selected to participate in the STEAM Scholars program will have the opportunity to join me on visits to four STEAM-related businesses and facilities during the 2020-2021 school year. 

Learn more and apply here by September 1st: https://schneider.house.gov/STEAMscholars
Apply Today for the Congressional App Challenge

In less than a generation, apps have come to touch every aspect of our lives. The Congressional App Challenge is an opportunity for Tenth District students to demonstrate and develop their STEM skills by designing their own app and presenting their work on a national stage. I look forward to seeing the remarkable apps that this year's students create. View the application and learn more on my website.
Long Waits for Passports: Look Before You Book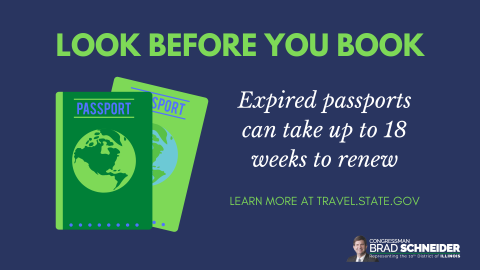 If You're Traveling Internationally Soon, Remember to Check Your Passport Expiration Date

As more and more people get vaccinated, travel is starting to pick back up again. My office has received a major uptick in calls asking to expedite passport renewals lately. If you plan to travel internationally, remember to check the expiration date on your passport before you book your trip. It is taking much longer than normal to renew a passport, so make sure to plan ahead.

Check the passport website to get an idea of processing time -- expedited processing is now taking 12 weeks from submission to receipt, regular processing 18 weeks.

At this point, expedited exceptions are only being made in case of emergency travel. In other words, apply now for that passport you will need for the trip you might take over Winter Break. Passports last for 5 or 10 years depending on what age you were issued your first passport.
DISTRICT RESOURCES
COVID-19 Rental Assistance
Apply for Lake County COVID-19 Rental Assistance Program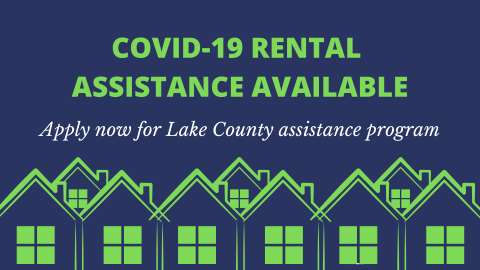 Lake County renters who face financial hardship related to COVID-19 can now apply for the new Lake County Federal Emergency Rental Assistance (FERA) Program, which provides help for individuals paying rent and/or utility bills.

To qualify for help, residents must: pay rent in Lake County, have a COVID-related financial hardship, be at risk of homelessness or housing instability, meet income guidelines based on household size, and provide appropriate documentation.

More information and the application can be found here.
New VA Program Available to Help Vets Avoid Foreclosure

The VA is now offering a COVID-19 Refund Modification option to assist veterans who require a significant reduction in their monthly mortgage payments because of the COVID-19 pandemic. In some cases, veterans can receive a 20% payment reduction. Learn more here.
Mortgage Help for FHA-insured Borrowers

The Federal Housing Administration launched a COVID-19 mortgage forbearance program to help those struggling to pay their mortgage. If you are one of the many FHA-insured borrowers in communities across the country having difficulty paying your mortgage due to the pandemic, visit the HUD website to learn more.
Mixed Earners Unemployment Compensation Applications Now Open

Mixed earners, or those who earn money both through self-employment income and traditional W2 employment, can now apply for unemployment compensation. Eligible MEUC recipients will receive an additional $100 per week on top of their normal unemployment insurance benefits. View the application and learn more here.
IN CLOSING
While I may have had a "marathon" week, it was Team USA who really shined. Our nation's athletes fought through pandemic training regimens, faced the best competitors in the world and rose to bring home 39 golds, and 113 total medals.  I am proud of every member of the U.S. Olympic team and salute their incredible accomplishments.  They are all American heroes who have earned our admiration—as well as the coaches, families, friends and entire communities that stood by them through thick and thin.

Now I can't wait to cheer on our Winter Olympians.
Onward,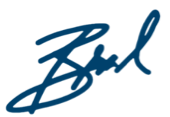 Bradley S. Schneider
Member of Congress