10th News: Touring the Tenth
This week, Congress is back in full swing working on the Build Back Better Act and continuing infrastructure negotiations, among other priorities. The Build Back Better Act is an unprecedented investment in America's fight against global climate change, invests in the competitiveness of American workers and businesses, enhances support for American families, and most importantly, lifts 3.6 million American children out of poverty.

As Summer turns to fall and the House returns to session, I want to take a brief moment to reflect on an incredible District Work Period last month, my summer "Tour of the Tenth."

Having time at home gave me the chance to travel throughout the district speaking to neighbors and local leaders. I met with small business owners as well as local students, sat down with several mayors and village presidents, and spoke to community activists and other leaders.
In total, my team and I hosted 5 town halls, visited 12 community programs and project sites (active and proposed), visited 8 local businesses, dropped by 4 schools, and attended more than a dozen local community events. One of my favorite summer activities is now a tradition — my annual Bike the Tenth  ride, which attracted more than 70 fellow riders this year.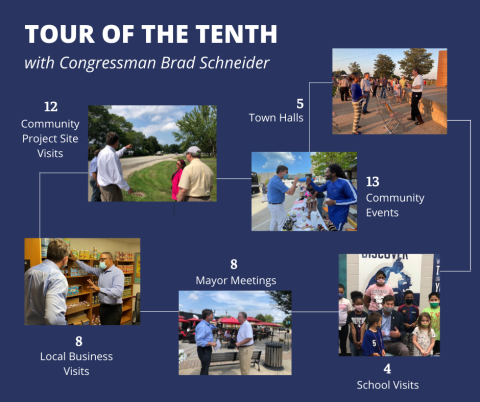 Though I am once again commuting back and forth to Washington, DC, I look forward to continuing my travels throughout the district. And in that vein, I invite you to join me at our next Congress On Your Corner on Saturday, September 25 at 10:30 am in Glenview. If you would like to attend, please RSVP here.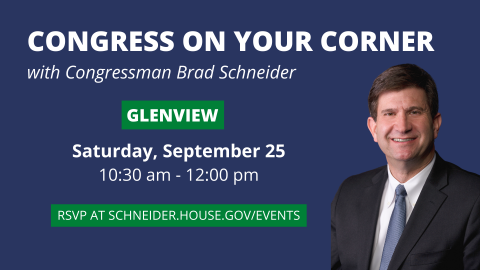 I also want to recognize Hispanic Heritage Month, which runs Sept. 15 to Oct. 15. It's important that we take this opportunity to recognize the Hispanic Community's invaluable contributions to American society. During the pandemic, we must especially work to protect Latino lives, which are disproportionately affected by Covid-19.

Finally, I wish those observing Yom Kippur G'mar Hatima Tova and a meaningful fast.
Keep reading for more memories from this summer, information on what's been happening in Washington and around the district.
District Connections
Wrap-Up: Summer 'Tour of the Tenth'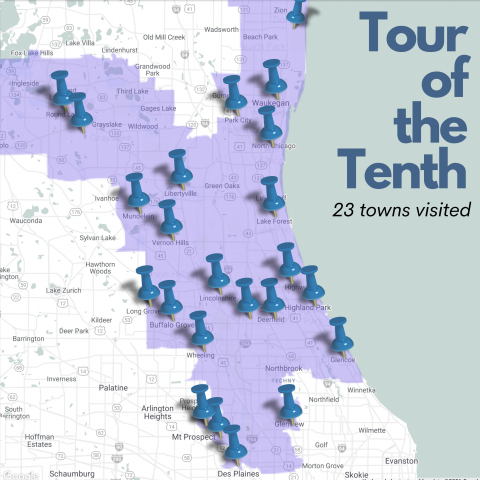 It was a privilege to visit almost every township and more than half the towns in the district during my Tour of the Tenth, attending community events and meeting with constituents. Thanks to everyone who hosted me along the way!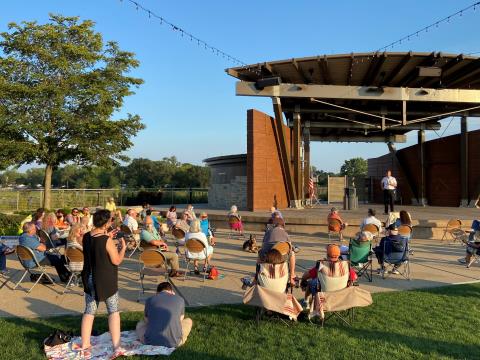 I always love hearing from constituents at our Congress on Your Corner gatherings.  This summer we had 4 outside COYCs like the one in Wheeling (above).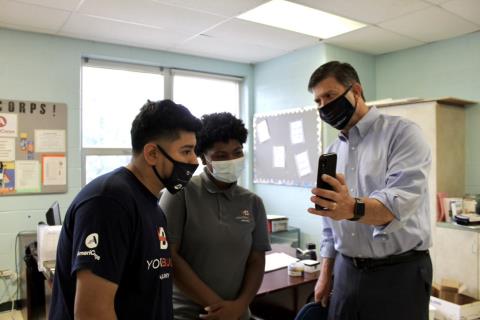 Talking with students is one of my favorite things about representing our district. Above I am chatting with students at Youth Build Lake County, an organization that helps provide underserved young adults with  education, training, and necessary life skills.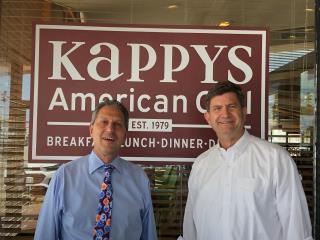 I am also fortunate to work with many great local leaders and try to meeting one-on-one with them whenever I am home.  Last month I sat down with 8  mayors and village presidents, many of them newly elected like Niles Mayor George Alpogianis, who is also the owner of Kappy's American Grill.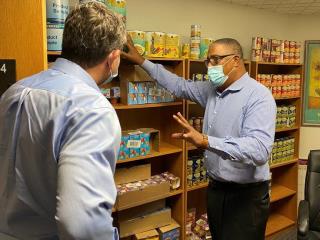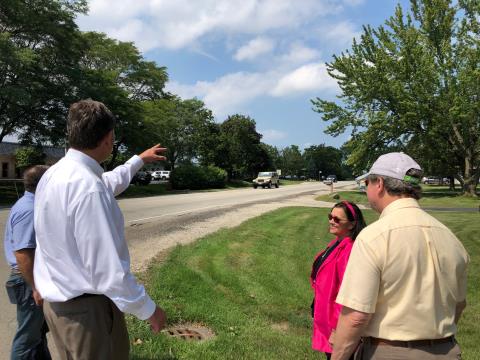 Above Left: Emile Johnson, owner of Goode Foods, shows me around as part of my Small Business Assistance Tour

Above Right: I visit Wolf Road in Prospect Heights, where I helped secure funding to construct a safe sidewalk for pedestrians
I also visited 19 total small businesses and community project sites. Our small businesses have been on the frontlines of the pandemic, and I was glad to hear about how the federal relief programs passed by Congress helped small businesses in the district stay afloat. I also enjoyed visiting the community project sites that I helped secure funding for in the House.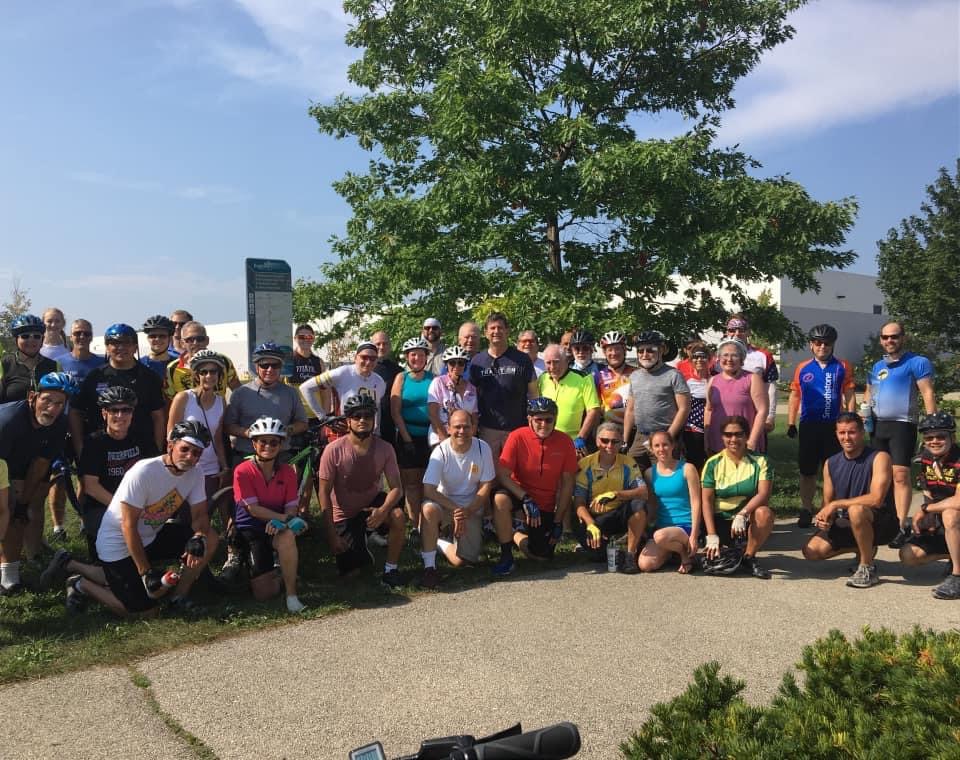 I enjoyed all the events, but our annual "Bike the Tenth" was a special highlight, with more than 70 cyclists joining this year for a fun ride along with Des Plaines River trail. We started somewhat early to beat the summer heat and stopped at the Culver's in Libertyville for an ice cream break.  I think "ice cream breakfast" could be a new tradition.
Upcoming Events
FRIDAY: Virtual Career Expo 9/17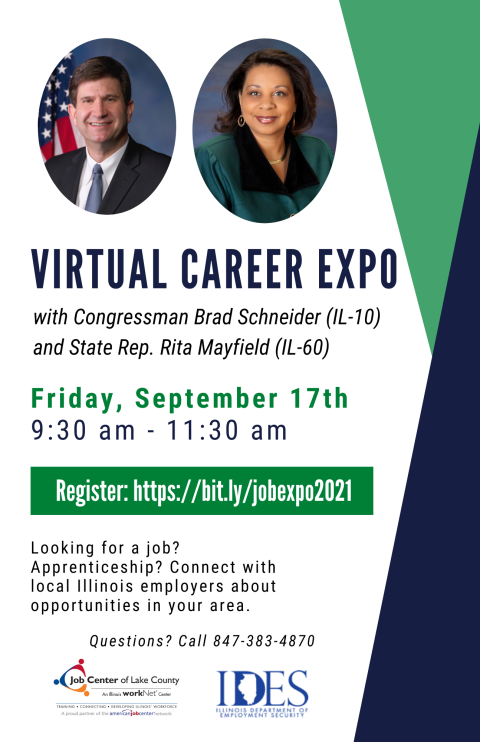 Please join me, State Rep. Rita Mayfield, the Job Center of Lake County, and the Illinois Department of Employment Security for a virtual career expo featuring employers across the district. Register here.
Around the Tenth
Celebrating Native American Heritage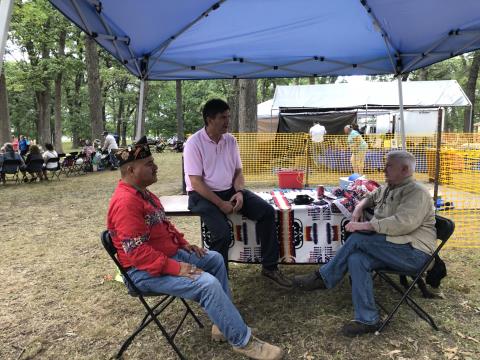 Pow-wows are a chance to come together with loved ones and celebrate Native American heritage. I was glad to join the Potawatomi Trails Pow Wow in Zion, especially after a year of missing loved ones and community gatherings.
Distributing Food with the Northern Illinois Food Bank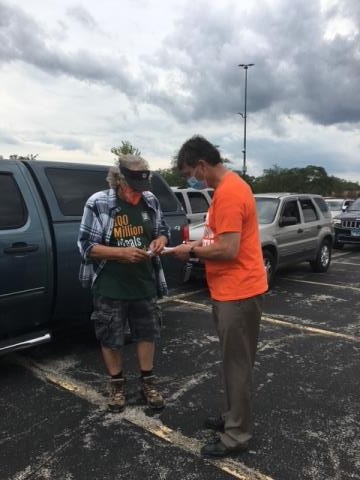 With food insecurity rising in our country, I applaud the local food pantries who are stepping up to make sure that no one in our community goes hungry. It was great to see the teamwork between the Northern Illinois Food Bank and College of Lake County at the recent pop-up food bank in Grayslake.
Touring New Des Plaines Early Learning Center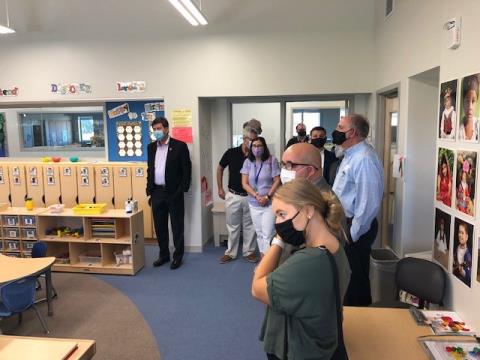 This school year, over 225 preschoolers from around Des Plaines will attend school in District 63's new Early Learning Center. These lucky students will get to enjoy 40,000 square feet of new space, a sensory playground, active learning hubs and more.
What's Happening in Washington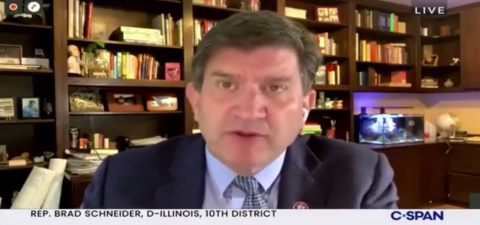 In Washington, I spent most of last week marking up President Biden's Build Back Better Act. Our nation has a long history of overcoming challenges, standing up for what's right and working to improve the lives of our citizens. I was proud to help shape Build Back Better Act to support workers and families across the country. If you missed it, you can watch my testimony in support of the Build Back Better Act here.
Fighting to Combat Climate Change and Decarbonize Aviation
I was proud to fight climate change last week alongside President Biden and his administration and my colleagues, Rep. Julia Brownley and Sen. Sherrod Brown. With legislation like the Sustainable Skies Act, we'll decarbonize aviation while building jobs.
Apply Today for the Congressional App Challenge

In less than a generation, apps have come to touch every aspect of our lives. The Congressional App Challenge is an opportunity for Tenth District students to demonstrate and develop their STEAM skills by designing their own app and presenting their work on a national stage. I look forward to seeing the remarkable apps that this year's students create.View the application and learn more on my website.
COVID-19 Update
Illinois currently has a statewide mask mandate in effect. This means that everyone, regardless of vaccination status, must wear a mask when indoors.
Although the CARES Act and American Rescue Plan have helped us speed up recovery, we are unfortunately still very much in the thick of the pandemic.

The good news is that the vaccine is safe and effective. Currently, 95% of COVID-19 hospitalizations are people who are not vaccinated, and, tragically, 99.5% of all COVID-19 deaths are people who were not vaccinated.

In Lake County, 97% of the people who are hospitalized with COVID-19 are unvaccinated.

The vaccine is saving lives. So again, tell your loved ones, your friends, neighbors and coworkers, join the fight and get your shot!
Resources
LONG WAITS FOR PASSPORTS: Look Before You Book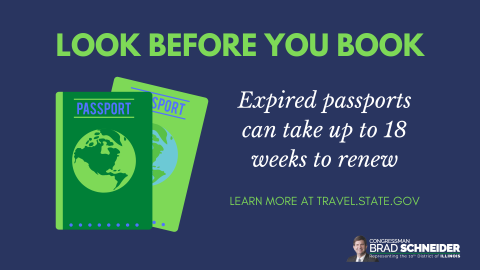 If You're Traveling Internationally Soon, Remember to Check Your Passport Expiration Date
As more and more people get vaccinated, travel is starting to pick back up again. My office has received a major uptick in calls asking to expedite passport renewals lately. If you plan to travel internationally, remember to check the expiration date on your passport before you book your trip. It is taking much longer than normal to renew a passport, so make sure to plan ahead.

Check the passport website to get an idea of processing time -- expedited processing is now taking 12 weeks from submission to receipt, regular processing 18 weeks.

At this point, expedited exceptions are only being made in case of emergency travel. In other words, apply now for that passport you will need for the trip you might take over Winter Break. Passports last for 5 or 10 years depending on what age you were issued your first passport.
COVID-19 Rental Assistance
Apply for Lake County COVID-19 Rental Assistance Program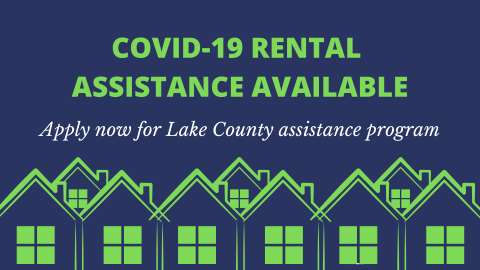 Lake County renters who face financial hardship related to COVID-19 can now apply for the new Lake County Federal Emergency Rental Assistance (FERA) Program, which provides help for individuals paying rent and/or utility bills.

To qualify for help, residents must: pay rent in Lake County, have a COVID-related financial hardship, be at risk of homelessness or housing instability, meet income guidelines based on household size, and provide appropriate documentation.

More information and the application can be found here.
Mortgage Help for FHA-insured Borrowers

The Federal Housing Administration launched a COVID-19 mortgage forbearance program to help those struggling to pay their mortgage. If you are one of the many FHA-insured borrowers in communities across the country having difficulty paying your mortgage due to the pandemic, visit the HUD website to learn more. Apply before September 30.
Back to Business Grants: Applications Open Now

Governor Pritzker recently announced the statewide Back to Business (B2B) program, which will provide $250 million in grants to small businesses across Illinois experiencing significant losses from COVID-19. Top priority will be given to restaurants, hotels, arts businesses and more. Learn more and apply here.
IL-10: BY THE NUMBERS
While last month was a busy period around the district, every week our team is working on behalf of Tenth District communities and residents. In a typical week, we receive between 1,000 and 2,000 emails, letters and calls. We try to respond to everyone as quickly as possible, though sometimes inquires require extra time for research and other digging to give a more complete reply. These numbers are for the last two weeks since we did an abbreviated newsletter last week.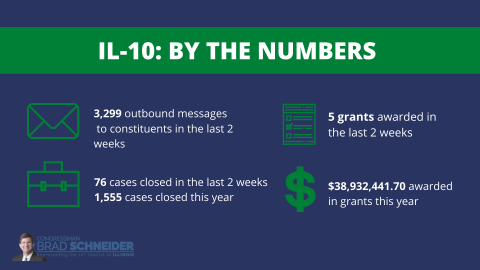 IN CLOSING
Thanks again to everyone for helping make it a memorable summer.  It was wonderful to see people in person.  I hope to see you around the district again soon.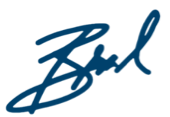 Bradley S. Schneider
Member of Congress