10th News: Town Hall Season Begins
It's finally August, which means I will be working here in the district all month. I am excited to be home and looking forward to seeing people across our different communities. Over the next several weeks, I am sitting down with our local mayors and village presidents to better understand the specific issues they are focused on. I will be visiting local business and various social and civic service groups as well. And of course, with the new school year starting, I and excited to talk with students of all ages. I hope to see you later this month at a Congress on Your Corner or join us at Bike the Tenth on August 28th.

The big news out of Washington last week is that the Senate finally arrived at a bipartisan infrastructure framework and is now working on translating that agreement into a bill. I am pleased that the work and leadership of our Problem Solvers Caucus helped advance the initial bipartisan framework and I look forward to the Senate sending a bill to the House. The bipartisan infrastructure package that invests in our communities is an important step forward. Both parties should want the United States to come out of this pandemic and rebuild American jobs.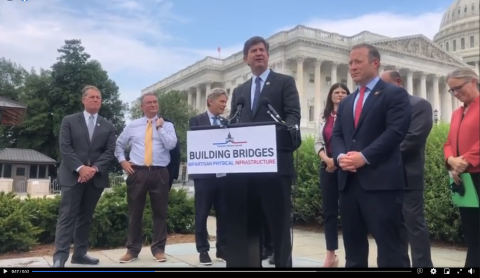 On Friday I joined with the Problem Solvers Caucus and our Senate partners to celebrate this next step towards passing an infrastructure compromise into law.  We can't have the economic growth we want and need without rebuilding and reimagining our infrastructure. Watch my speech here.

In the House last week, our focus was on passing Appropriations legislation to fund the government for fiscal year 2022 – beginning October 1 of this year. We have so far passed 9 of the necessary 12 bills to fund a wide variety of federal agencies, including the departments of Health and Human Services, Education, Veterans Administration, Labor, Transportation, Housing and Urban Development and State. The funding includes money for access to safe and affordable housing, health infrastructure, broadband access, funding for SNAP, WIC and child nutrition, veterans medical care, and action to address climate change. I am proud that several Tenth District priorities were included in this package, including programs to fight EtO pollution and climate change (more on that below).

Also last week, the House passed a bill to cover costs related to security in response to the January 6 attack on the Capitol. This includes costs specific to addressing the threat that day, as well as the costs of stationing the National Guard for the months following the insurrection. I've said it before and will say in many times again: I am forever grateful to all the fine men and women in uniform — U.S. Capitol Police, D.C. Metropolitan Police, and the National Guards from every state —who put their lives on the line to protect our democracy that day.

In COVID-19 news, the CDC issued guidance last week recommending that people in areas of significant transmission once again begin wearing masks indoors, even if you are vaccinated. If you live in Lake County, this means that we are once again wearing masks inside buildings.

While this is disappointing news, we are still very much in the fight to beat back the virus and I am confident that if we all work together we can once again gain back the momentum. I want to take this opportunity to encourage all of those who are not yet vaccinated to get vaccinated as soon as possible. Over 165 million Americans are now fully vaccinated, and almost 30 million more have received their first dose.  This progress is a testament to the success of the American Rescue Plan.

The vaccines are effective. That explains why currently 95% of COVID-19 hospitalizations are people who are not vaccinated, and, tragically, 99.5% of all COVID-19 deaths are people who were not vaccinated. In Lake County, 97% of the people who get infected with COVID-19 are unvaccinated. The vaccines are saving lives. So again, tell your loved ones, your friends, neighbors and coworkers, join the fight and get your shot!

Keep reading for information about what's been happening in Washington and around the district.
Join Me for an August Event
Congress on Your Corner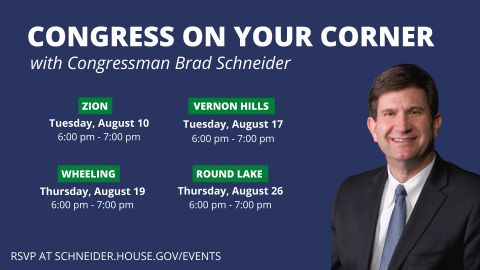 In the last few months, the American Rescue Plan has put shots in arms and money in pockets, and many of you have chosen to get vaccinated to protect yourselves and your neighbors. As a result, we are once again safely able to come together in person. I will be spending the month of August across the Tenth District holding events fighting for you. I am looking forward to reuniting with you all in person after the challenges of the last year and hearing from you about your concerns and hopes in the work of the Congress. 

RSVP for a COYC near you at: schneider.house.gov/events.
 
Following CDC guidelines and advice of the local health department, attendees are encouraged to get vaccinated against COVID-19. All attendees, especially those who are not vaccinated, are encouraged to wear a face mask for their own safety. Additionally, we are requiring RSVPs in advance to accommodate social distancing.
Highwood Public Library Celebration
The Highwood Public Library has won the 2021 National Medal for Museum and Library Service Award, the highest honor a library can receive, from the Institute of Museum and Library Services (IMLS). The 2021 National Medal for Library Service award is recognition of the outstanding work that the Highwood Public Library has put in to serving our community. The Highwood Library's technology and education services help ensure that local children and families of all backgrounds have the tools they need to succeed

Please join me and other local officials for a community gathering to celebrate the Highwood Public Library's success on Monday, August 9th. We will have speeches, refreshments, and arts & crafts for families. Learn more and RSVP here.
La Biblioteca Pública de Highwood ganó la Medalla Nacional al Servicio de Museos y Bibliotecas 2021, el honor más alto que una biblioteca puede recibir en todo el país. Este premio es un reconocimiento al trabajo sobresaliente que la Biblioteca Pública de Highwood y su Directora Ejecutiva, Carmen Patlan, han puesto al servicio de nuestra comunidad.

Únase a mí, la senadora estatal Julie Morrison, el representante estatal Bob Morgan, el director de IMLS Crosby Kemper y otros funcionarios de la comunidad para una reunión el lunes 9 de agosto para celebrar el éxito de la biblioteca de Highwood. Regístrese.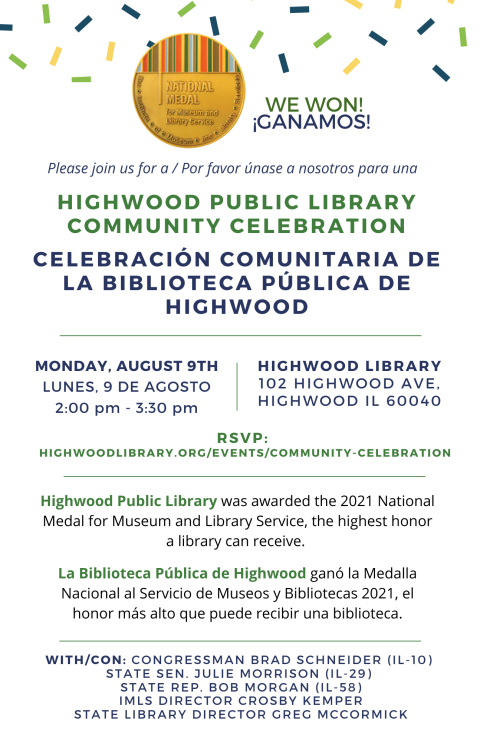 Bike the Tenth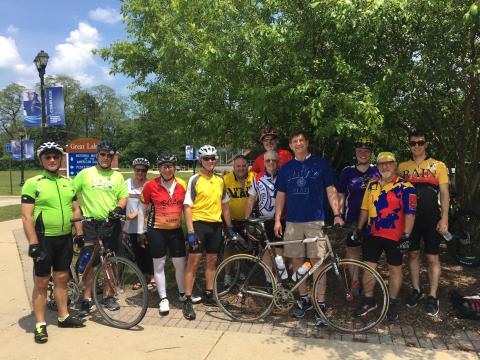 Now that we can come together in person again, I am excited to invite you to one of my favorite events of the year: Bike the Tenth! Join me and other constituents on a 15-mile ride along the Des Plaines River Trail, traveling throughout parts of the Tenth District at 9am, Saturday, August 28th. All ages are welcome for what will be a leisurely ride.

The route begins and ends at Half Day Forest Preserve in Vernon Hills. And knowing me, I suspect we will stop for ice cream somewhere on the route.

Learn more and RSVP.
Assistance for Renters and Landlords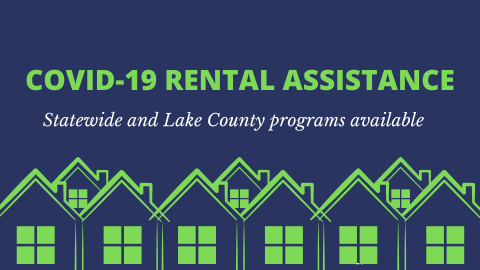 The CDC extended the national eviction moratorium until October 3rd. If you are one of the millions of Americans struggling to pay your rent or worried about losing your home, there are resources available to you.
While the Illinois Housing Development Authority rental assistance portal has closed, there is still help available through Illinois Department of Human Services that you may be eligible for. Learn more here.
IHDA does plan to reopen a rental application portal in the fall. We will post updated deadlines and links when they are available.
Illinois is helping lead the country in disbursements of rental assistance with over $200,000,000 already out the door, and IHDA continues to work diligently to disburse additional funds. 
Apply for Lake County COVID-19 Rental Assistance Program

Lake County renters who face financial hardship related to COVID-19 can now apply for the new Lake County Federal Emergency Rental Assistance (FERA) Program, which provides help for individuals paying rent and/or utility bills.

To qualify for help, residents must: pay rent in Lake County, have a COVID-related financial hardship, be at risk of homelessness or housing instability, meet income guidelines based on household size, and provide appropriate documentation.

More information and the application can be found here.
Around the District
Visiting the Highwood Library Community Health Fair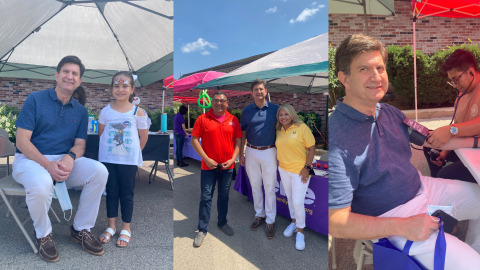 On Saturday I visited the Community Health Fair at Highwood Public Library. Special thanks to organizer Fabio Gomez and Executive Director Carmen Patlan for all of their work to put on what turned out to be a fantastic event. While I didn't get my face painted, I was grateful to get my blood pressure taken and check out everything else the fair had to offer.
STEAM Scholar Applications Now Open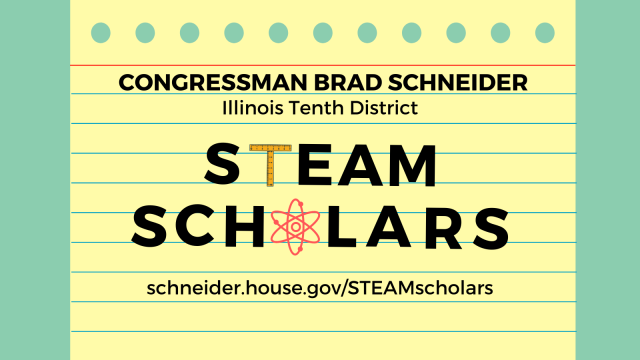 STEAM education is critical for preparing our next generation for the jobs of the future. The COVID-19 pandemic has only emphasized how important the STEAM fields are to our future, from developing vaccines to rolling out remote work software and finding creative solutions to new problems. I'm looking forward to joining this year's class of STEAM Scholars on visits to STEAM facilities and businesses around the district in the upcoming school year.
The program aims to connect highly-motivated students interested in science, technology, engineering, art, and mathematics with hands-on learning experiences throughout our district. In the fall, students selected to participate in the STEAM Scholars program will have the opportunity to join me on visits to four STEAM-related businesses and facilities during the 2020-2021 school year. 
Learn more and apply here by September 1st: https://schneider.house.gov/STEAMscholars
What's Happening in Washington
President Biden Names Deborah Lipstadt State Department Antisemitism Envoy

In January 2021, my bill elevating the State Department's special envoy to monitor and combat antisemitism to the rank of ambassador was signed into law. Last week, President Biden announced that Deborah Lipstadt will serve as the State Department Antisemitism Envoy.

I first met Deborah Lipstadt in 1990 when she was the resident scholar on a trip to Poland and Israel. For decades, she has served as both academic and activist, inspiring policymakers to confront the harsh realities of antisemitism in our world and fight for justice. I can't imagine a better, more qualified person to lead the United States' efforts to combat antisemitism. Amid recent rising antisemitism around the globe, Deborah Lipstadt will lead with a vigorous moral clarity. I wish her the best in her service.
House Passes Funding for Tenth District Priorities Including Fighting EtO, Climate Change, and Local Community Projects

On Thursday the House passed HR 4502, appropriations legislation to fund a wide variety of federal agencies. I am proud that several Tenth District priorities were included in this package, including programs to fight EtO pollution and climate change.

HR 4502 leads the way in protecting our environment, with critical priorities for Illinois' Tenth District, including requiring that the EPA step up its work on EtO and fighting the public health impacts of climate change. As we emerge from the pandemic, with this week's appropriations legislation, Congress is investing in the American people: creating good-paying jobs for all, growing the economy, and supporting small businesses.
HR 4502 includes:
Language requested by the bipartisan Congressional EtO Task Force, of which I am a co-chair, urging $10 million in funding for EtO ambient air monitoring and asking the EPA to better engage with impacted communities.
$110 million for the CDC's Climate Health program to support public health departments address the many climate-driven public health issues. I had previously led the charge in increasing support for this program.
My requested community project funding for Wolf Road sidewalk, the College of Lake County's workforce development project, Lake County's Health Department Behavioral Health Center addition, the Northern Illinois Food Bank's new food distribution center, the Park Street closure and enhancement project, and the Waukegan Carnegie Library revitalization project.
Honoring U.S. Capitol Police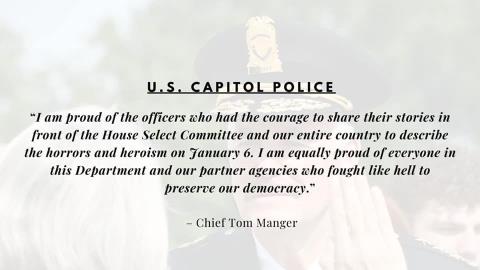 Every day I spend in Washington, I trust my safety under the watchful eyes of our heroic Capitol Police. On January 6, the incredibly brave police officers who most certainly saved my life and protected our democracy endured unspeakable physical and verbal attacks. In the face of the attacking mob, they stood strong and held fast. Our nation needs to hear their stories.

I am forever grateful to all the Capitol Police Force, and truly thankful for the courageous testimonies of Officers Dunn, Fanone, Gonell and Hodges in front of the Jan. 6th Commission last week.
Apply Today for the Congressional App Challenge

In less than a generation, apps have come to touch every aspect of our lives. The Congressional App Challenge is an opportunity for Tenth District students to demonstrate and develop their STEM skills by designing their own app and presenting their work on a national stage. I look forward to seeing the remarkable apps that this year's students create. View the application and learn more on my website.
Child Tax Credit Resources
The expanded Child Tax Credit is projected to cut the national child poverty rate in half and will lift 8,500 children in the Tenth District above the poverty line. Our office has started to receive many questions from constituents regarding the program. Please refer to the information below to address the most common questions related to the program.

To see if you are enrolled to receive payments, check to see if your payment was issued, and update your banking information with the IRS: Child Tax Credit Update Portal (CTC UP)
If you need to...   

Then use this tool

Check your eligibility for the Child Tax Credit

The Eligibility Assistant helps you determine if you might be eligible for advance payments of the Child Tax Credit. Available in English and Spanish.

Register for advance payments of the Child Tax Credit if you don't normally have to file a tax return

The Non-Filer Sign-Up Tool helps people who normally don't have to file a tax return complete a simplified return to get advance Child Tax Credit payments, the Recovery Rebate Credit and Economic Impact Payments.

Verify your identity before using the Child Tax Credit Update Portal

Go to the Child Tax Credit Update Portal and click "Manage Advance Payments." If you are a new user, you must create an ID.me account at the IRS and verify your identity. If you have an existing account with the IRS, use your Secure Access username and password and enter the security code as part of the multi-factor authentication (MFA) process. If you have an existing account with ID.me from a state government or federal agency, you may use your email and password and complete MFA. ID.me is a trusted third party.

Unenroll from advance payments of the child tax credit

You can use the Child Tax Credit Update Portal to unenroll from automatic payments if you:

•prefer to claim the full credit when filing your 2021 tax return, or

•you know you're not eligible because your situation changed for 2021.

Manage bank account information

The IRS will issue payments to the bank account you included on your 2020 or 2019 tax return or to an account known to the federal government, such as an account where you receive Social Security, veterans or railroad retirement benefits. Those who are not enrolled for direct deposit will receive a mailed check. Use the Child Tax Credit Update Portal if you need to update your bank account information or add a bank account.

Update your mailing address

You can now use the Child Tax Credit Update Portal to update your address. (Timing subject to change.)

Report updates that could affect your payment amounts

Starting in early fall, you can use the Child Tax Credit Update Portal to report updates that affect your payment amounts such as changes to:

•number of qualifying children
•marital status
•income
•custody agreement

If your situation has changed in 2021, updating this information will help you get the most accurate amount of advance payments.
LONG WAITS FOR PASSPORTS: Look Before You Book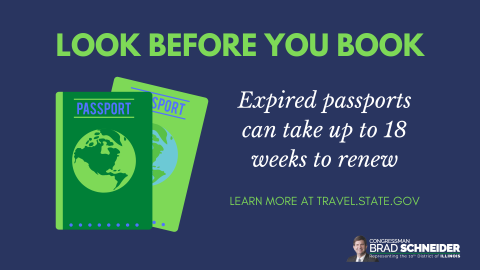 If You're Traveling Internationally Soon, Remember to Check Your Passport Expiration Date

As more and more people get vaccinated, travel is starting to pick back up again. My office has received a major uptick in calls asking to expedite passport renewals lately. If you plan to travel internationally, remember to check the expiration date on your passport before you book your trip. It is taking much longer than normal to renew a passport, so make sure to plan ahead.

Check the passport website to get an idea of processing time -- expedited processing is now taking 12 weeks from submission to receipt, regular processing 18 weeks.

At this point, expedited exceptions are only being made in case of emergency travel. In other words, apply now for that passport you will need for the trip you might take over Winter Break. Passports last for 5 or 10 years depending on what age you were issued your first passport.
District Resources
New VA Program Available to Help Vets Avoid Foreclosure

The VA is now offering a COVID-19 Refund Modification option to assist veterans who require a significant reduction in their monthly mortgage payments because of the COVID-19 pandemic. In some cases, veterans can receive a 20% payment reduction. Learn more here.
Mortgage Help for FHA-insured Borrowers




The Federal Housing Administration launched a COVID-19 mortgage forbearance program to help those struggling to pay their mortgage. If you are one of the many FHA-insured borrowers in communities across the country having difficulty paying your mortgage due to the pandemic, visit the HUD website to learn more.
Mixed Earners Unemployment Compensation Applications Now Open

Mixed earners, or those who earn money both through self-employment income and traditional W2 employment, can now apply for unemployment compensation. Eligible MEUC recipients will receive an additional $100 per week on top of their normal unemployment insurance benefits. View the application and learn more here.
In Closing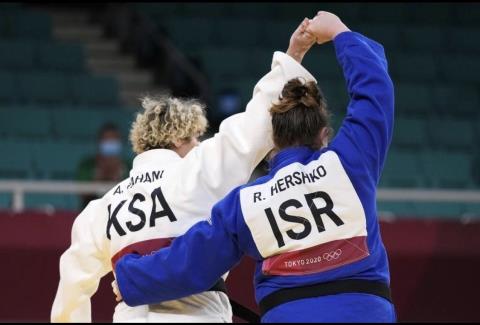 I hope you are enjoying the Olympics as much as I am. I was moved last week to see the historic moment between Israel's Raz Hershko and Saudia Arabia's Tahani Alqahtani. After boycotts in men's judo, it was uncertain whether these two renowned athletes would still compete against each other.

As it turns out, Raz and Tahani overcame their differences not only to just compete against each other, but to shake hands and embrace after. This powerful moment is a reminder that beyond the hardships going on in the world right now, we can focus on the stories of sportsmanship, the near superhuman discipline and perseverance and the competitors, and the honor of every athlete competing their hearts out on behalf of their country.

Here's to the our Team USA athletes. May they all perform at their very best and make our nation proud.
Onward,
Brad