10th News: Working Across the Aisle for Infrastructure Investments
The entire nation is looking to Congress as several critical pieces of legislation work their way through the House and Senate this week. Last week the House passed a bill to both prevent a government shut down on October 1 and ensure the U.S. won't default on our past obligations two weeks later. The Senate must now act with similar urgency. While I was disappointed that Senate Republicans blocked a vote on this bill yesterday, I remain hopeful they will find a path forward before Thursday.

In addition, the House considered several other bills (see below).

This week, I expect the House will vote on critical bipartisan infrastructure investments that passed the Senate 69-30 last month. At the same time, we are continuing work on the also critically important Build Back Better (BBB) Act. I will vote for the infrastructure bill, and I look forward to supporting the BBB Act soon. The infrastructure bill funds significant improvements for highways, transit, energy, water and broadband, and will create millions of good-paying jobs in Illinois and across the county.  At the same time, it is imperative that we will pass bold, transformative legislation that addresses climate change, grows our economy and creates quality jobs, supports kids and education, and improves healthcare for all Americans by advancing the BBB Act.

Lastly, I had a wonderful weekend at home, including a great Congress on Your Corner town hall in Glenview. I was grateful for the opportunity to meet with constituents and hear directly about both their aspirations and concerns. We had a great discussion about support for working families and the economy, voting rights, and many other topics.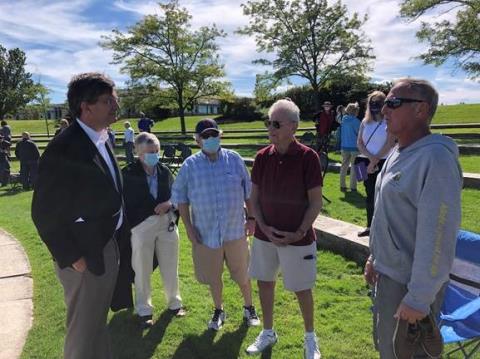 Keep reading for more information on what's been happening in Washington and around the district.
What's Happening in Washington
Last week I was proud to help pass important legislation in the House, including:
The Iron Dome Supplemental Appropriations Act

to stand with Israel and ensure security in the Middle East.

The Women's Health Protection Act

to codify Roe v. Wade into law.

A continuing resolution to avoid a government shutdown

to get assistance to those affected by recent natural disasters, help resettle Afghan refugees and prevent defaulting on our debt (a bill that Senate Republicans have since blocked)

The National Defense Authorization Act

, major legislation funding our national defense and outlining how those funds can be used
Iron Dome Funding: Ensuring Security in the Middle East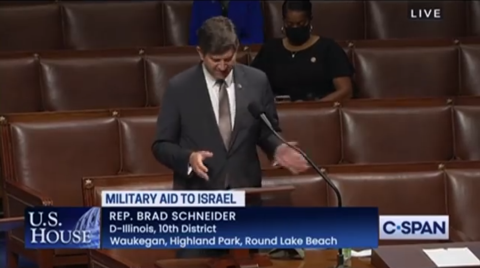 America's commitment to Iron Dome is rock solid.  Last week's vote made that clear —despite some on both sides of the aisle who seek to make Israel and our unyielding support of Israel a wedge issue. Watch my speech in support of Iron Dome funding here.
Codifying Roe v. Wade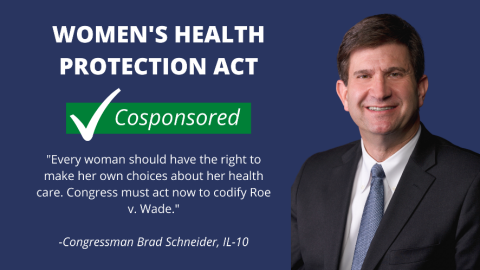 On Friday the House passed the Women's Health Protection Act, which takes the long overdue step of codifying Roe v. Wade into law.

Across the country, the precedent of Roe v. Wade is under attack, threatening the accessibility of safe and legal abortion services. Recent laws like Texas's SB 8 bring us backwards in time to when women did not have the freedom to make their own health care decisions. I'm proud of this bill, which guarantees women and families the health, privacy, dignity, and freedom they deserve.
National Defense Authorization Act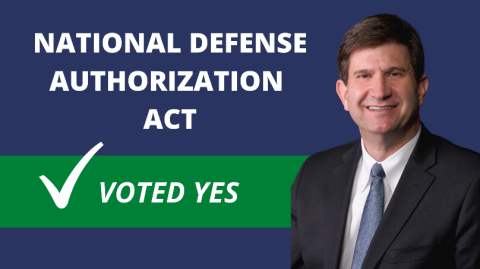 The House passed major legislation last week funding our national defense and outlining how those funds can be used. Significantly, it includes a pay raise for members of the military, who keep us safe and represent our values.

The bill included three of my amendments that 1) codify the Boots to Business program, which helps our veterans return home and put their leadership skills to work as entrepreneurs; 2) provide paid bereavement leave to federal employees, protecting parents in their darkest hour; and 3) requires the formation a U.S.-Israel Operations-Technology Working Group to enhance our mutual security and the security of the Middle East region as a whole.
District Connections
Upcoming Events
Webinar: Medicare Open Enrollment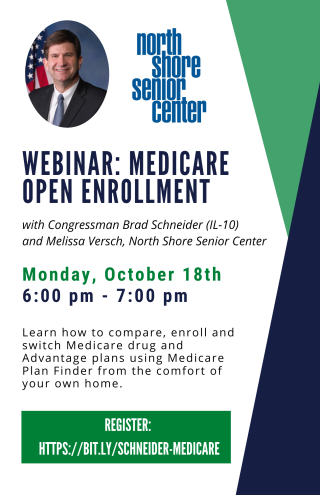 Did you know that you can compare, enroll and switch Medicare Drug and Advantage plans without leaving your home? Medicare Open Enrollment is the time to choose the coverage you need. Join me and SHIP Coordinator Melissa Versch for a presentation on how to navigate Medicare Plan Finder on Monday, October 18th at 6:00 pm. RSVP here.
October 23: Congress On Your Corner – North Chicago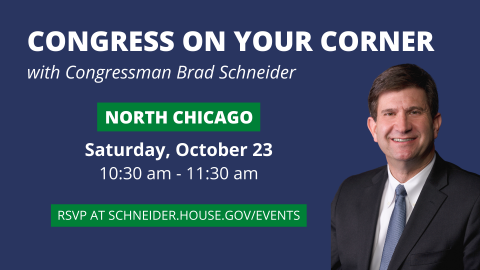 Please join me for Congress on Your Corner on Saturday, October 23rd at 10:30am in North Chicago. I will answer your questions and provide an update on my work in Washington fighting to help Illinois families rebuild after the pandemic. RSVP here: schneider.house.gov/events.
Brad's Bookworms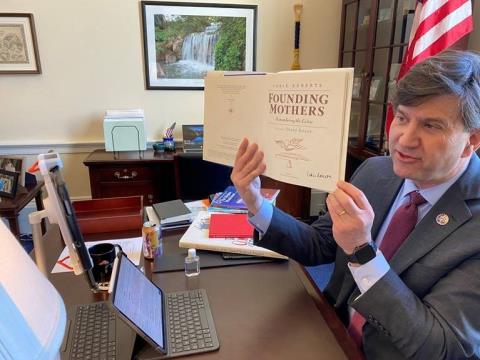 Reading books opens new worlds, no matter your age. The Brad's Bookworms Program encourages K-5 readers to read 10 books and discover new worlds — while also bringing the community together to help their students reach their reading goals. Learn more and apply here.
Around the Tenth
Helping Students Recover from the Pandemic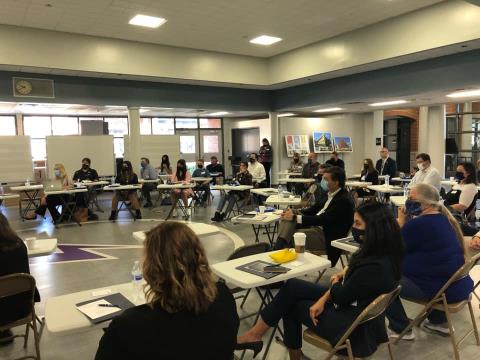 The American Rescue Plan is at work in Wheeling, where Superintendent Dr. Michael Connolly, the Board of Education, and all of School District 21 are addressing the learning loss our students have suffered as a result of the pandemic.
Apply Today for the Congressional App Challenge
In less than a generation, apps have come to touch every aspect of our lives. The Congressional App Challenge is an opportunity for Tenth District students to demonstrate and develop their STEAM skills by designing their own app and presenting their work on a national stage. I look forward to seeing the remarkable apps that this year's students create. View the application and learn more on my website.
COVID-19 Update
Illinois currently has a statewide mask mandate in effect. This means that everyone, regardless of vaccination status, must wear a mask when indoors.
Although the CARES Act and American Rescue Plan have helped us speed up recovery, we are unfortunately still very much in the thick of the pandemic.

The good news is that the vaccine is safe and effective. Currently, 95% of COVID-19 hospitalizations are people who are not vaccinated, and, tragically, 99.5% of all COVID-19 deaths are people who were not vaccinated.

In Lake County, 97% of the people who are hospitalized with COVID-19 are unvaccinated.

The vaccine is saving lives. So again, tell your loved ones, your friends, neighbors and coworkers, join the fight and get your shot!
Resources
LONG WAITS FOR PASSPORTS: Look Before You Book
If You're Traveling Internationally Soon, Remember to Check Your Passport Expiration Date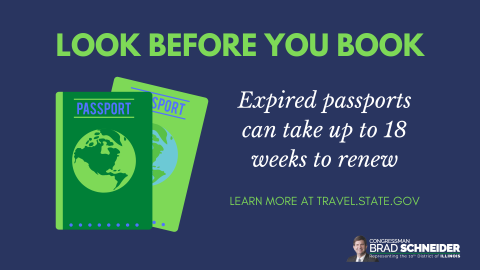 As more and more people get vaccinated, travel is starting to pick back up again. My office has received a major uptick in calls asking to expedite passport renewals lately. If you plan to travel internationally, remember to check the expiration date on your passport before you book your trip. It is taking much longer than normal to renew a passport, so make sure to plan ahead.

Check the passport website to get an idea of processing time -- expedited processing is now taking 12 weeks from submission to receipt, regular processing 18 weeks.

At this point, expedited exceptions are only being made in case of emergency travel. In other words, apply now for that passport you will need for the trip you might take over Winter Break. Passports last for 5 or 10 years depending on what age you were issued your first passport.
COVID-19 Rental Assistance
Apply for Lake County COVID-19 Rental Assistance Program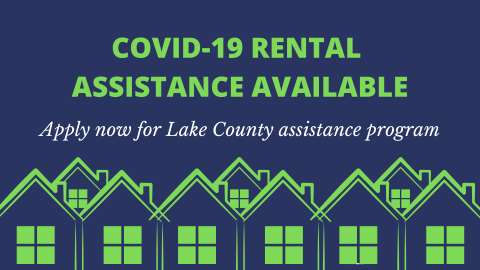 Lake County renters who face financial hardship related to COVID-19 can now apply for the new Lake County Federal Emergency Rental Assistance (FERA) Program, which provides help for individuals paying rent and/or utility bills.

To qualify for help, residents must: pay rent in Lake County, have a COVID-related financial hardship, be at risk of homelessness or housing instability, meet income guidelines based on household size, and provide appropriate documentation.

More information and the application can be found here. 
DUE 9/30: Mortgage Help for FHA-insured Borrowers

The Federal Housing Administration launched a COVID-19 mortgage forbearance program to help those struggling to pay their mortgage. If you are one of the many FHA-insured borrowers in communities across the country having difficulty paying your mortgage due to the pandemic, visit the HUD website to learn more.
Back to Business Grants: Applications Open Now
Governor Pritzker recently announced the statewide Back to Business (B2B) program, which will provide $250 million in grants to small businesses across Illinois experiencing significant losses from COVID-19. Top priority will be given to restaurants, hotels, arts businesses and more. Learn more and apply here.
IL-10: By the Numbers
We continue to manage a surge of constituent cases, in particular related to passports, IRS inquiries, and immigration issues. Please never hesitate to reach out to my team for assistance with any issue you may have with a federal agency, including Social Security, Medicare, Veterans Affairs, or any other agency.

We also work with local governments, agencies, groups and even individuals seeking federal grants. So far this year we have helped bring more than $38 million dollars in grant money to the district. If you don't already receive our monthly grants newsletter, you can sign up here and check the box for our grants newsletter.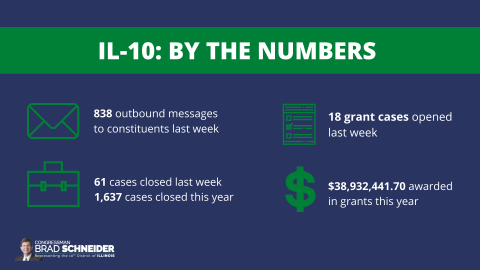 In Closing
This week I wanted to highlight some of the incredible casework that my district office team is helping with. Since the U.S. withdrew from Afghanistan, we have been swamped with calls from constituents asking for help evacuating family members or loved ones. My staff has been working around the clock to help everyone we can.

Last week, we received the great news that one constituent we had been helping finally made it out of Afghanistan. The constituent's mother had left Afghanistan a month before the evacuation, and after several weeks of trying, my staff was able to help her family cross the border into Islamabad so they could reunite.

While much of the news out of Afghanistan has been distressing, I am glad that my staff and I were able to help in every way we could. We must also forever remember and honor the service and sacrifice of every soldier, sailor, marine and airman, as well as the diplomats and others who served our nation in Afghanistan over the last 20 years. Their commitment and dedication helped the U.S. achieve the original goals that initiated our involvement in 2001. We all owe them our sincerest gratitude.    
Onward,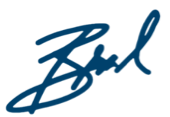 Bradley S. Schneider
Member of Congress