10th News: Working for Families
Congratulations to the Chicago Sky for winning their first ever WNBA title! I am in Washington so can't make the celebration today but we should all be proud of the players (local star Candace Parker, Lexie Brown, Finals MVP Kahleah Copper, Diamond DeShields, Stefanie Dolson, Dana Evans, Ruthy Hebard, Astou Ndola-Fall, Allie Quigley, Azura Stevens), coaches and everyone else who mad this great achievement possible. Chicago shines brighter because of every one of you!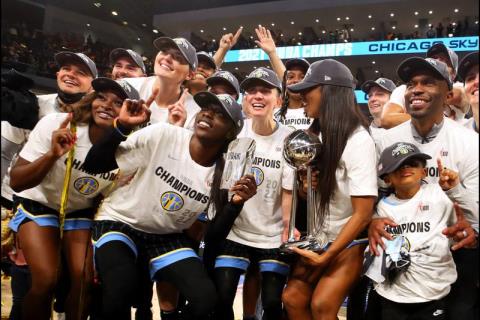 Stacey Wescott / Chicago Tribune
Last week was a "Committee Work Week." The House Foreign Affairs Committee held a hearing on Tunisia's democratic reforms and U.S. Policy. And on Friday, the House Government Oversight and Reform Committee hosted a special field hearing in Chicago on issues with the United States Postal Service. (More on this below)
On Friday I had the great honor of visiting with preschool students at Des Plaines' award-winning Early Learning Center. I had toured the center this summer before the students arrived and wanted to see the facility in action. I was incredibly impressed by how 3- and 4- year olds engaged with each other and are like knowledge sponges, learning without even being aware if it. I watched with awe as one group participated in what anyone in business would recognize as "team skills development" exercise, but what they just called play time with Lego and Marble Run. And a new friend even allowed me to share time with her white board!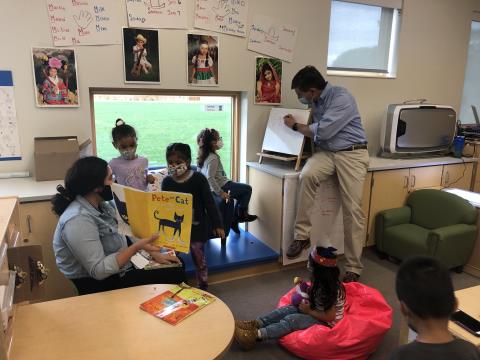 Over the weekend, I attended a number of events around the district. A highlight was joining the Vernon Township community as they renamed their aquatic center in memory of Jacob Grossman. Jacob died earlier this year at only 22, after a life long battle with Fanconi anemia (FA).  Though he endured pain every day of his life, he exuded joy and love for everyone he met.  You can read more about Jacob and the decision to rename the pool here.
Congress is back in session this week and continues to work on passing both bipartisan infrastructure reform and the Build Back Better Act. I am committed to passing both of these bills to address climate change, promote economic growth and job creation, invest in kids and education, and expand access while reducing the cost of health care. We will also be working on other legislation, including bills to support nursing mothers and address domestic violence.
Finally, please join me for my next Congress on Your Corner this Saturday, October 23rd at 11:00 am in North Chicago. I can't promise the weather will be as nice as last weekend, but I can for sure promise that we will have a great conversation and opportunity to hear from each other. Please RSVP here: schneider.house.gov/events.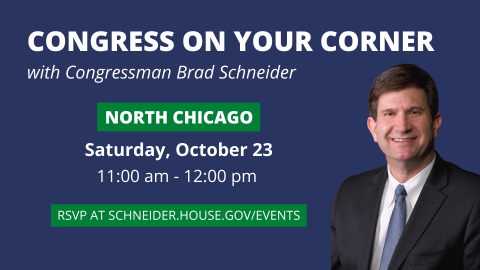 Keep reading for more information on what's been happening in Washington and around the district.
Around the Tenth
Supporting Essential Postal Service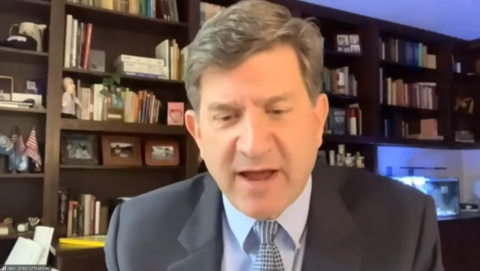 We brought a Congressional hearing on the road to Chicago to discuss how all Americans are experiencing mail delays. Declining USPS service levels are a national issue, but the Chicago area has been particularly affected. The hearing was a chance to highlight the local impact of delayed mail delivery and explore steps Congress can take to address the problems. 

Just yesterday I received a notice from my bank about how mail delays are impacting their ability to service customers. Frankly, the U.S. Postal Service's performance is unacceptable for any country, but especially in the United States of America, where we have delivered the mail on-time, rain or shine since our founding 245 years ago. Postmaster DeJoy needs to present a plan to ensure all Americans have true first-class mail. If he can't do it, then he should get out of the way so we can bring in someone who can!
You can watch my opening statement here, and you can watch the hearing in its entirety here.
Visiting Des Plaines' Early Learning Center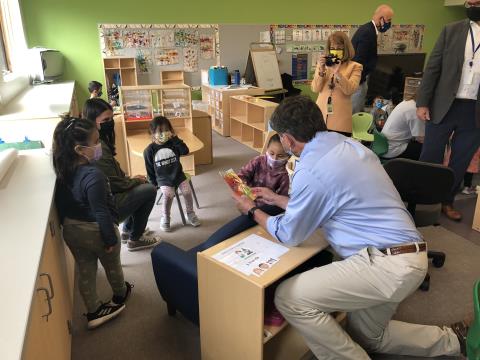 The preschoolers at District 63's Early Learning Center in Des Plaines are hard at work enjoying their new, award-winning learning space. All parents should have access to quality preschool. Thank you to Principal Barb Golik for the tour last week!
ICYMI: Child Tax Credit Conversation with Waukegan Mother Amanda Douglas

The fourth round of child tax credit payments started hitting bank accounts on Friday, October 15th. I had a wonderful virtual conversation with Amanda Douglas, a mother of two from Waukegan, about how the CTC has helped her and her two children, Axel and Adam. Watch the full conversation here.
Honoring Late Constituent Jacob Grossman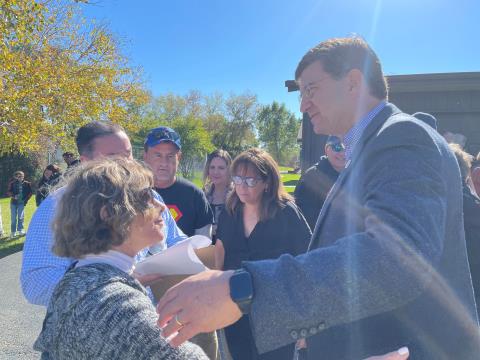 On Sunday I attended a memorial service honoring my friend and constituent, Jacob Grossman. Jacob passed away earlier this year at the age of 22 after a lifelong battle with Fanconi anemia (FA). Despite dealing with chronic pain daily, Jacob loved swimming. Vernon Township renamed the pool the Jacob Grossman Memorial Aquatic Center to honor Jacob's memory.

I knew Jacob and his family very well. Jacob was filled with love and joy, and I have many fond memories of special moments with Jacob, including always sitting with him at Rosh Hashanah services every year. Whether Jacob was at services or out in the community, he always had a big smile, and a strong opinion. Thank you to Vernon Township and Supervisor Jon Altenberg for this incredibly thoughtful gesture to honor Jacob's memory.
Celebrating Tenth District Art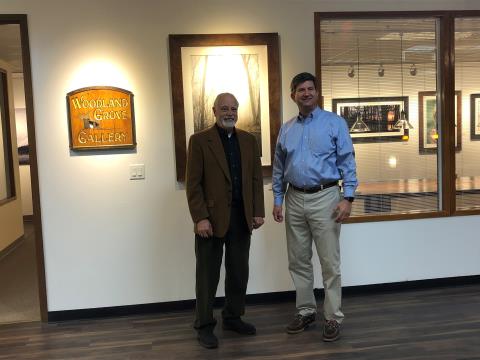 It was a great time visiting my friend Tobin Fraley's photography studio grand opening in Mundelein over the weekend! I've long known of Tobin's passion for art (and politics), but getting to see his work displayed in such a beautiful gallery was a treat.
WHAT'S HAPPENING IN WASHINGTON
It's hard to believe the end of 2021 is right around the corner and there are many important items Congress must address. Negotiations continue on translating President Biden's Build Back Better agenda into legislation that can pass both the House and the Senate. While there are still many differences to be resolved, I remain committed to helping craft a package of action that will take bold steps on addressing climate change, will help grow our economy and bring more workers into the job market, invest in our kids and their education, and deliver quality, affordable health care to more Americans.
This week the House will consider several bills including the two below, both of which I look forward to helping pass and send to the Senate:
The PUMP For Nursing Mothers Act

to require that employers provide a reasonable break time and adequate space for mothers to nurse

The Family Violence Prevention and Services Improvement Act

to create new programs to address domestic violence and make state domestic violence grants more inclusive
Meeting with Foreign Minister Yair Lapid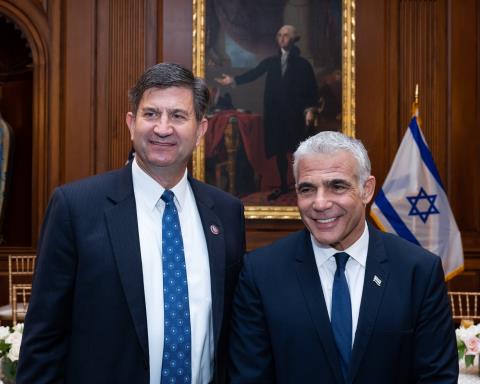 It was an honor to participate in a bipartisan meeting with Israeli Foreign Minister Yair Lapid, Ambassador Designate Michael Herzon, House Speaker Nancy Pelosi, Majority Leader Steny Hoyer and Minority Leader Kevin McCarthy last week. We had an excellent discussion of the special relationship between the United States and Israel, bipartisan support for preserving Israel's security (including Iron Dome missile defense system funding), and our shared commitment to ensuring Iran never gets a nuclear weapon. We also talked about the Abraham Accords and my bill, the Israel Relations Normalization Act of 2021.

Israel's new government — probably the most diverse in the history of any parliament -  is a testament to what can be accomplished through determined coalition building. It is critical that the United States continue to support Israel, particularly building on the historic success of the Abraham Accords, which holds prospects for a new, peaceful future for the region.
Making Health Care More Affordable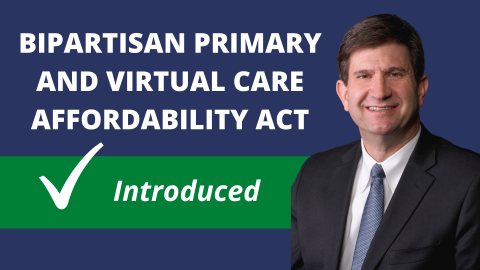 Last week I introduced the bipartisan Primary and Virtual Care Affordability Act to improve the affordability of primary care and telehealth for individuals with high-deductible health insurance plans (HDHPs).

Financial burdens should not prevent Americans from seeing their primary care doctor to discuss critical health care needs. The upfront costs of high-deductible health plans discourage too many Americans from getting the preventative care they need, leaving issues untreated and ultimately resulting in higher costs and poorer outcomes down the line.
In Honor of Those Who Have Experienced Loss of a Pregnancy or Infant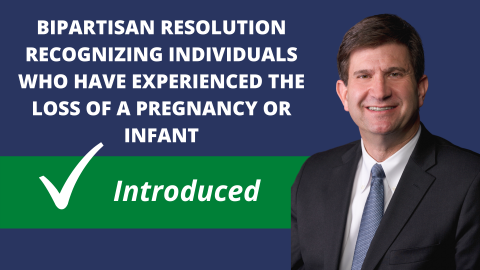 In honor of National Pregnancy and Infant Loss Remembrance Day last week, I introduced a bipartisan resolution to recognize those who have experienced the loss of a pregnancy or infant.

Losing a pregnancy or young child is devastating. Congress stands with all individuals and families affected by these losses. Their experiences cannot and should not be minimized or forgotten; rather, we must remember and recognize their loss and through it find communal strength and resolve. By increasing awareness, promoting research, and providing community to those who have experienced such a loss, we can help prevent future suffering.
Congressional App Challenge: Applications Due November 1
In less than a generation, apps have come to touch every aspect of our lives. The Congressional App Challenge is an opportunity for Tenth District students to demonstrate and develop their STEAM skills by designing their own app and presenting their work on a national stage. I look forward to seeing the remarkable apps that this year's students create. View the application and learn more on my website.
District Connections
Veterans' Day Reception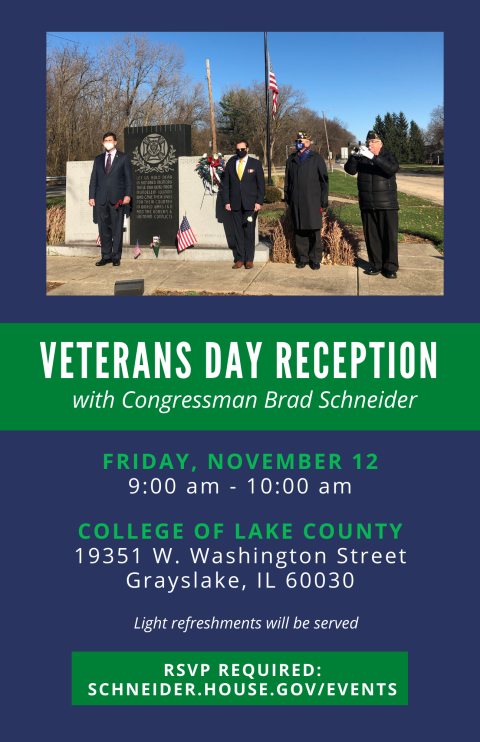 Please join me for a reception on Friday, November 12 at 9:00 am to honor those in our community who have served our country. I will also share some of the ways that my office and local veteran organizations can be of assistance, as well as updating attendees on legislation in Congress affecting veterans. Please register here.
Brad's Bookworms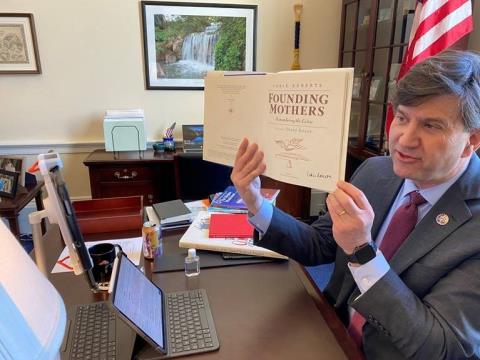 Reading books opens new worlds, no matter your age. The Brad's Bookworms Program encourages K-5 readers to read 10 books and discover new worlds — while also bringing the community together to help their students reach their reading goals. Learn more and apply here: https://schneider.house.gov/bookworms.
COVID-19 Update
Illinois currently has a statewide mask mandate in effect. This means that everyone, regardless of vaccination status, must wear a mask when indoors.
Although the CARES Act and American Rescue Plan have helped us speed up recovery, we are unfortunately still very much in the thick of the pandemic.

The good news is that the vaccine is safe and effective. Currently, 95% of COVID-19 hospitalizations are people who are not vaccinated, and, tragically, 99.5% of all COVID-19 deaths are people who were not vaccinated.

In Lake County, 97% of the people who are hospitalized with COVID-19 are unvaccinated.

The vaccine is saving lives. So again, tell your loved ones, your friends, neighbors and coworkers, join the fight and get your shot!
Resources
LONG WAITS FOR PASSPORTS: Look Before You Book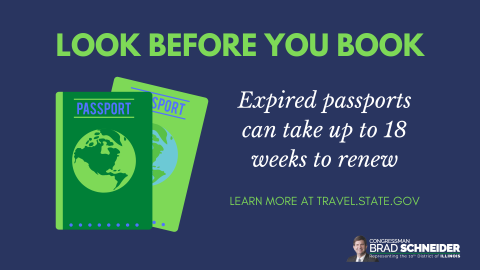 As more and more people get vaccinated, travel is starting to pick back up again. My office has received a major uptick in calls asking to expedite passport renewals lately. If you plan to travel internationally, remember to check the expiration date on your passport before you book your trip. It is taking much longer than normal to renew a passport, so make sure to plan ahead.

Check the passport website to get an idea of processing time -- expedited processing is now taking up to 10 weeks from submission to receipt, regular processing up to 14 weeks.

At this point, expedited exceptions are only being made in case of emergency travel. In other words, apply now for that passport you will need for the trip you might take over Winter Break. Passports last for 5 or 10 years depending on what age you were issued your first passport.
Cook and Lake Counties COVID Rental Assistance Programs Open Now
Both Lake and Cook Counties are now offering rental assistance programs for those who face financial hardships related to COVID-19 and are struggling to pay rent.
In Closing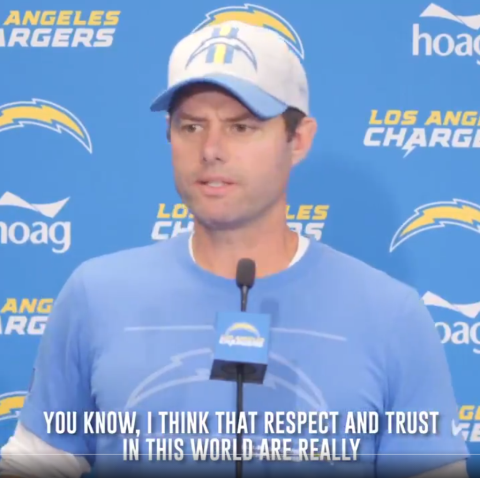 In keeping with the sports theme of my last few newsletters, I wanted to share a video of the Los Angeles Chargers coach Brandon Staley that moved me this week. After the Las Vegas Raiders' head coach resigned over offensive comments he made via email, Coach Staley talked about the importance of respect and building trust with those who are different from you.

As Coach Staley said, we actually all have much more in common than we think and we should be able to come together to respect each other in spite of our differences.

While I might not cheer for the Chargers, I can still respect their coach and celebrate his humanity!
Onward,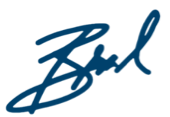 Bradley S. Schneider
Member of Congress