10th News: Working for Working Families 
It's now officially fall! Our first fall weekend brought beautiful weather and also quite a few local events around the district. I hope you had a chance to get out and enjoy some of what our communities have to offer.

This week, I am back in Washington as Congress moves to the next phase of crafting the Build Back Better Agenda. In particular, we are focused on the details of President Biden's American Jobs and American Families Plans. Already, the American Rescue Plan has strengthened our economy as we continue battling the pandemic, and, among other things, lifted millions of children out of poverty for the first times in their lives. The bills we are working on in the weeks ahead will boldly address climate change, make the enhanced Child Tax Credit permanent, expand access to quality health care, invest in education and small businesses, and take many other concrete steps to secure our future.

While Congress will be in session over the next several weeks, I always try to come home on the weekends and travel around the district. This Saturday, September 25, I am hosting another Congress On Your Corner on in Glenview. I would love to see you and talk in person about what's happening here, in Washington and around the world. If you would like to attend, please RSVP here.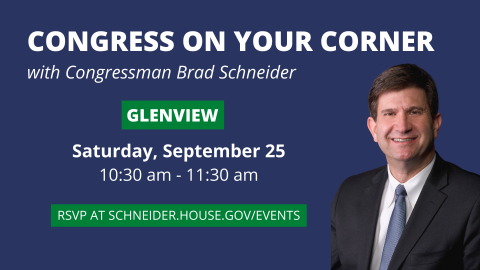 Keep reading for more information upcoming events, activities from last week, and what's happening in Washington and around the district.
District Connections
Upcoming Events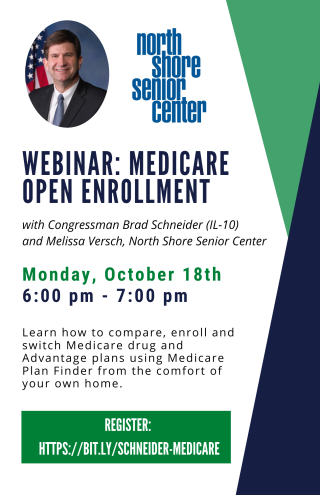 Did you know that you can compare, enroll and switch Medicare Drug and Advantage plans without leaving your home? Medicare Open Enrollment is the time to choose the coverage you need. Join me and SHIP Coordinator Melissa Versch for a presentation on how to navigate Medicare Plan Finder on Monday, October 18th at 6:00 pm. RSVP here.
Around the Tenth
Virtual Career Expo

We had an incredible virtual job fair last week with ten different employers in the Tenth District. Over the years, our job fairs have helped connect hundreds of constituents with local, well-paying jobs in the area. If you were unable to attend, you can see the recording here.
Service Academy Night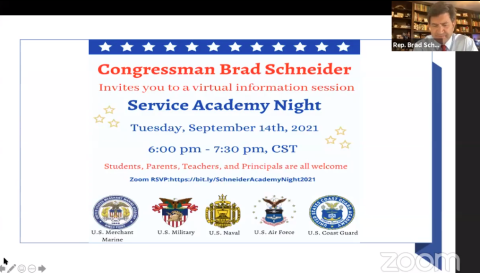 Every year, one of the great honors of my job is nominating outstanding Tenth District students for service in a U.S. military academy. If you missed last night's Service Academy Night and know someone interested in military academy service, you can watch the recording here.

More information about the nomination process can also be found on my website.
Supporting First Responders in Avon Township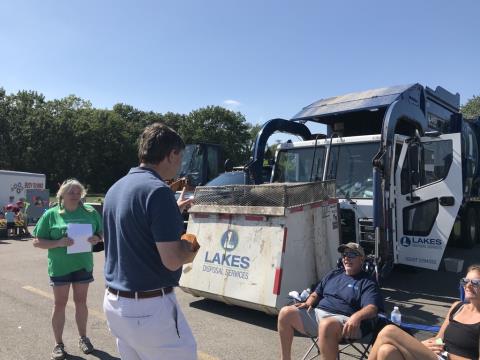 I caught up with first responders, municipal workers and other local leaders at Avon Township's 'Touch a Truck' event this weekend. Our first responders are on the frontlines battling the pandemic and there to help us day and night. I was grateful to talk with them and get to see some of the vehicles that help them save lives every day.
Honoring Former Deerfield Mayor Harriet Rosenthal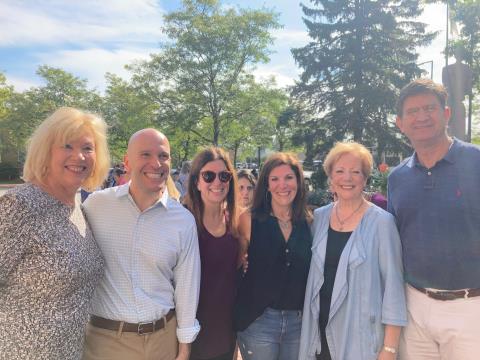 Former Deerfield Mayor Harriet Rosenthal selflessly served her home community of Deerfield for over 36 years. I had the privilege to attend a ceremony over the weekend dedicating a garden at Deerfield Village Hall in her honor.

As the first woman to be elected Mayor in Deerfield, Mayor Rosenthal leaves behind an extraordinary legacy of public service. Over a decade of serving together, I have looked to Harriet as a trusted mentor, governing partner and good friend. Our nation and our communities need great leaders now more than ever, and Mayor Rosenthal has more than stepped up to be the leader that our community needed. I know that her legacy will not end here.
Celebrating Hispanic Heritage Month with St. Joseph Parish Church in Round Lake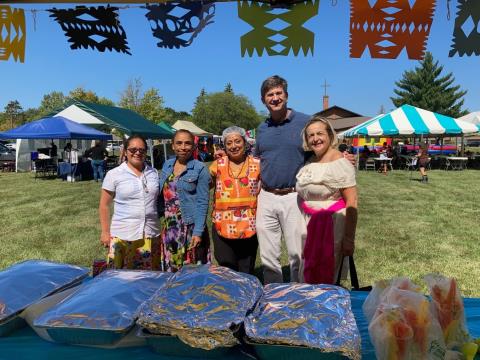 I stopped by St. Joseph Parish Church's Fiestas Patrias celebration in Round Lake. It was great seeing countless families out in a rich, cultural celebration. Josie McPhee was a great host for my visit.
Hispanic Heritage Month: Book Club Edition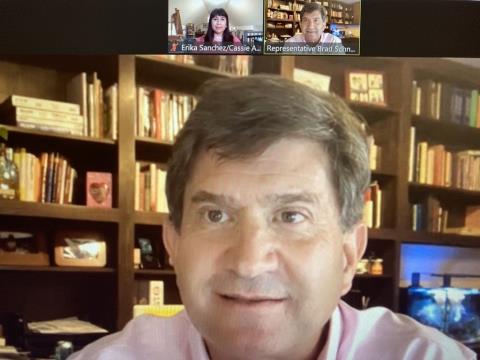 In honor of Hispanic Heritage Month, I visited a book club event with author Erika Sanchez last week. I highly recommend her book, 'I Am Not Your Perfect Mexican Daughter.' This month and every month, it's important that we recognize the Hispanic community's invaluable contributions to American society.
What's Happening in Washington
Fighting Climate Change with the Build Back Better Act
Last week in the Ways and Means Committee, we wrote large sections of President Biden's Build Back Better Act. With this legislation as the guide, the Build Back Better Act will make unprecedented investments in America's fight against global climate change and in the competitiveness of America's workers and businesses. And it will enhance critical support for American families and, something I hope we can all celebrate, lift 3.6 million American children out of poverty. This is the greatest investment in tackling climate change in our nation's history. I am proud that two bills I have championed– The Sustainable Skies Act and the Greener Transportation for Communities Act – have been included in this legislation to fight climate change. The Sustainable Skies Act would invest in America's capacity to decarbonize aviation by providing a federal incentive for sustainable aviation fuel. Working toward eliminating aviation emissions, which represents two percent of the world's carbon emissions, is a monumental step in decarbonizing our economy.

Over the next few weeks, the House will continue working on the Build Back Better Act, seeking common ground with the Senate and the Administration. I know it won't be easy and it won't be particularly fast, but I am committed to fighting for the priorities and values of our district and ensuring that our best days as a nation lie ahead.  I look forward to hearing from you and sharing our progress with you as we move forward.
Hearing from Sec. Blinken on Afghanistan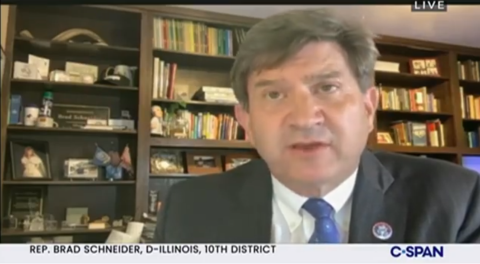 The current situation in Afghanistan and the tragic events of this August were the consequence of policies taking place over 20-years. Had we stayed beyond our deadline, we would have put more troops at risk and engaged in active combat, likely resulting in further casualties. A cost of both blood and treasure for the United States. Watch my full testimony at last week's hearing with Sec. Antony Blinken here.
Puppy Mill Awareness Day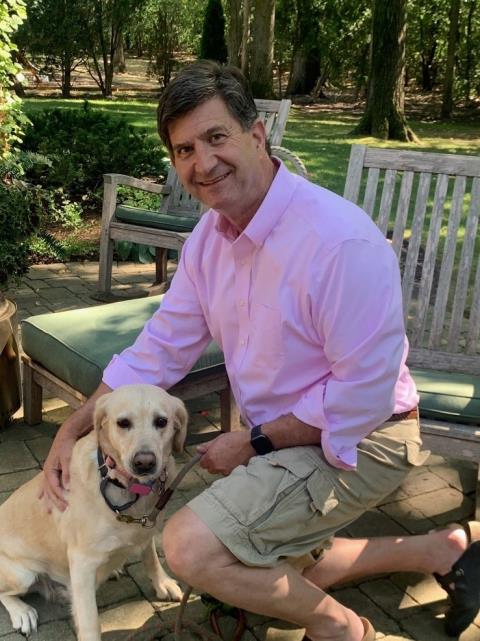 Puppy mills are unacceptable and harmful. This issue is personal for me: our family dog, Jojo, was rescued from a puppy mill, and I've seen the effects first-hand.

In honor of Puppy Mill Awareness Day last Friday, I'm leading members from both sides of the aisle in asking the USDA and Biden Administration for an update on what they are doing to enforce the laws against puppy mills.

JoJo was abused as a breeder dog at a puppy mill before coming to us. These breeder dogs are typically confined to a cage with no room to exercise, repeatedly forced to have litters of puppies. JoJo was abused in that cage. When no longer able to breed, these poor animals are often simply taken out back and shot.

Thankfully, JoJo was rescued, but she still bears the psychological scars of her abuse. No other dog should suffer this fate.

Dogs like JoJo shouldn't suffer at puppy mills. The USDA must enforce the law and shut down unsafe, unsanitary, and illegal puppy mills.

Third Round of Child Tax Credit Payments Hitting Bank Accounts Now
Last week, families across the country started receiving the third round of monthly Child Tax Credit payments hit their bank accounts.

Congress expanded the Child Tax Credit as part of the American Rescue Plan passed in March. Hardworking families nationwide will receive monthly payments of up to $300 per month per child. In August alone, 123,000 children in the Tenth District received $36 million in Child Tax Credit payments. Nationwide, the Child Tax Credit is expected to cut poverty in half. I am working to invest in the future of American children and families by making this expanded tax cut for working families through 2025.
Apply Today for the Congressional App Challenge
In less than a generation, apps have come to touch every aspect of our lives. The Congressional App Challenge is an opportunity for Tenth District students to demonstrate and develop their STEAM skills by designing their own app and presenting their work on a national stage. I look forward to seeing the remarkable apps that this year's students create. View the application and learn more on my website.
COVID-19 Update
Illinois currently has a statewide mask mandate in effect. This means that everyone, regardless of vaccination status, must wear a mask when indoors.
Although the CARES Act and American Rescue Plan have helped us speed up recovery, we are unfortunately still very much in the thick of the pandemic.

The good news is that the vaccine is safe and effective. Currently, 95% of COVID-19 hospitalizations are people who are not vaccinated, and, tragically, 99.5% of all COVID-19 deaths are people who were not vaccinated.

In Lake County, 97% of the people who are hospitalized with COVID-19 are unvaccinated.

The vaccine is saving lives. So again, tell your loved ones, your friends, neighbors and coworkers, join the fight and get your shot!
Resources
LONG WAITS FOR PASSPORTS: Look Before You Book
If You're Traveling Internationally Soon, Remember to Check Your Passport Expiration Date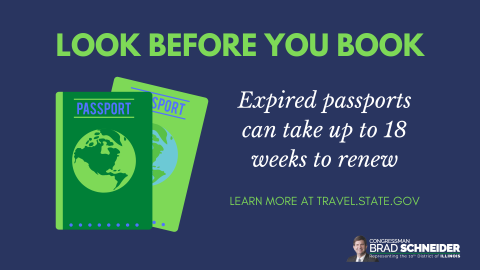 As more and more people get vaccinated, travel is starting to pick back up again. My office has received a major uptick in calls asking to expedite passport renewals lately. If you plan to travel internationally, remember to check the expiration date on your passport before you book your trip. It is taking much longer than normal to renew a passport, so make sure to plan ahead.

Check the passport website to get an idea of processing time -- expedited processing is now taking 12 weeks from submission to receipt, regular processing 18 weeks.

At this point, expedited exceptions are only being made in case of emergency travel. In other words, apply now for that passport you will need for the trip you might take over Winter Break. Passports last for 5 or 10 years depending on what age you were issued your first passport.
COVID-19 Rental Assistance
Apply for Lake County COVID-19 Rental Assistance Program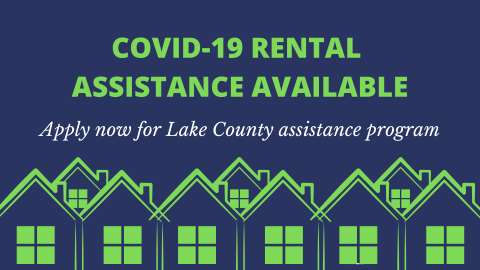 Lake County renters who face financial hardship related to COVID-19 can now apply for the new Lake County Federal Emergency Rental Assistance (FERA) Program, which provides help for individuals paying rent and/or utility bills.

To qualify for help, residents must: pay rent in Lake County, have a COVID-related financial hardship, be at risk of homelessness or housing instability, meet income guidelines based on household size, and provide appropriate documentation.
More information and the application can be found here.
Mortgage Help for FHA-insured Borrowers

The Federal Housing Administration launched a COVID-19 mortgage forbearance program to help those struggling to pay their mortgage. If you are one of the many FHA-insured borrowers in communities across the country having difficulty paying your mortgage due to the pandemic, visit the HUD website to learn more. Apply before September 30.
Back to Business Grants: Applications Open Now

Governor Pritzker recently announced the statewide Back to Business (B2B) program, which will provide $250 million in grants to small businesses across Illinois experiencing significant losses from COVID-19. Top priority will be given to restaurants, hotels, arts businesses and more. Learn more and apply here.
IL-10: By the Numbers
As I have noted here before, we receive between 1,000 and 2,000 emails, letters and calls a typical week. We try to respond to everyone as quickly as possible, though sometimes inquiries require extra time for research and other digging to give a more complete reply. Last week we received and sent out more than 2,500 messages! 

We also continue to manage a surge of constituent cases, in particular related to passports, IRS inquiries, and immigration issues. Please never hesitate to reach out to my team for assistance with any issue you may have with a federal agency, including Social Security, Medicare, Veterans Affairs, or any other agency.

We also work with local governments, agencies, groups and even individuals seeking federal grants. So far this year we have helped bring more than $38 million dollars in grant money to the district. If you don't already receive our monthly grants newsletter, you can sign up here and check the box for our grants newsletter.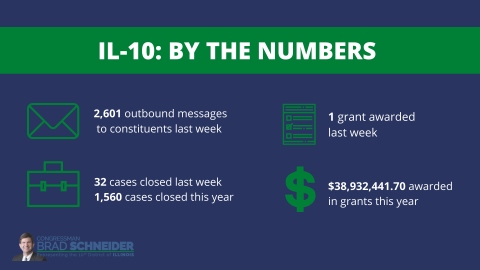 In Closing
I wanted to celebrate a piece of good news out of the district. Cristo Rey St. Martin College Prep, a majority low-income school in Waukegan, recently won an award for their efforts to adapt and transform a previously unused space – specifically and old, abandoned Kmart site – into their current school campus.

Personally, I visit Cristo Rey St. Martin as often as I can. Not only is their campus beautifully designed, but the students are always engaged and inspiring to speak with. Their efforts to transform a diamond in the rough have certainly paid off: Last school year, the school achieved a 100% graduation rate, with 92% of graduating students attending college. Congratulations to Cristo Rey for this great honor!

You can read more about Cristo Rey's efforts in the Lake County News Sun.
Onward,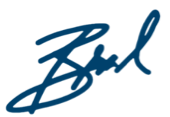 Bradley S. Schneider
Member of Congress