10th News: You Can Get a Vaccine
It's official; as of Monday, April 19, every person in the United States over age 16 can get vaccinated. If you haven't already received your shot, please schedule your appointment as soon as possible. I've said from the start of the pandemic that we will get through this crisis together.  Getting your vaccine is the best way to protect yourself, your loved ones and your community. More information about how to get vaccinated is included below and on my website.

Reaching this point is a remarkable achievement reflecting the incredible work and partnership of scientists researching and developing the vaccines, American companies and their employees working around the clock to produce those vaccines, and countless health professionals and volunteers getting shots into arms. I am proud to have played even a small part of this effort by helping pass the American Rescue plan last month to support and accelerate the effort.

Here in Washington, last week was a busy one legislatively.  The House passed several bills, including on Tuesday passing my Medicare Sequester COVID Moratorium Act as part of H.R. 1868. President Biden signed the bill into law on Wednesday. This bipartisan legislation will prevent annual 2% cuts to hospital payments through the end of 2021. I also helped pass the Paycheck Fairness Act to address the persistent gender pay gap in our country. Two individuals doing the same work should earn the same pay, whether a woman or a man.

This week I will continue to work on the American Jobs Plan and the American Families Plan. In addition, my colleagues and I in the House will consider several important bills on civil rights and criminal justice reform. The House may also consider D.C. statehood.

Finally, last week marked the beginning of the Holy Month of Ramadan. To our Muslim friends in the Tenth District and across the world: Ramadan Mubarak. I wish you a month of prayer, reflection, and community.

Please keep reading for more information on vaccines, what's happening in Washington and around the district, and at the end, a personal thank you from Julie and me

 
VACCINATION UPDATES

Illinois hit 8 million vaccine doses administered over the weekend, and half of all American adults have now received at least one dose. All Illinois residents 16 and older are now eligible to receive a vaccine. As the American Rescue Plan continues to help put more shots in arms, I am glad to see that 26.1% of Illinois residents have been fully vaccinated.

More detailed information about how and where to sign up for vaccine appointments can be found on my website.

Illinois Vaccine Supply Not Significantly Impacted by Nationwide Pause in Johnson & Johnson

State health officials have said that the pause in J&J has not significantly impacted the pace of Illinois vaccinations. Of the expected 483,720 doses the state is set to receive this week, only 5,800 were to be Johnson & Johnson. Most of the Illinois mass vaccination sites that relied heavily on the J&J vaccine have either switched to Moderna or Pfizer brands, or shifted appointments to a different site. Again, I encourage you to get the vaccination as soon as you are able. It is safe, effective and our best hope to beat back this virus.

WHAT'S HAPPENING IN WASHINGTON

Survey: Do you support withdrawing our troops from Afghanistan?

On Wednesday, April 14th, President Biden announced that he would withdraw all U.S. troops from Afghanistan by September 11th, the 20th anniversary of the 9/11 attacks at the World Trade Center and Pentagon. This action will put an end to our nation's longest war and bring our last troops out of a two-decades engagement.

As the country prepares for this next move, I asked for your opinion. Do you support bringing all our troops out of Afghanistan, without preconditions, at a certain date? So far, 70% of respondents support President Biden's decision to withdraw the troops from Afghanistan.

There's still time to let me know what you think: Take the survey here and tell me if you support President Biden's decision to withdraw the troops by September 11, 2021.

Working Across the Aisle After January 6th
I built my service reaching across the aisle. But since the mob tried to take over the Capitol and 139 of my colleagues supported them in trying to overturn the election, I have established the Schneider Standard: anyone I work with must fundamentally accept the legitimacy of Joe Biden as President.

In case you missed it, I joined MSNBC last week to talk more about the Schneider Standard, and what bipartisanship looks like after January 6th. Watch the full clip here.

Fighting to Restore the SALT Deduction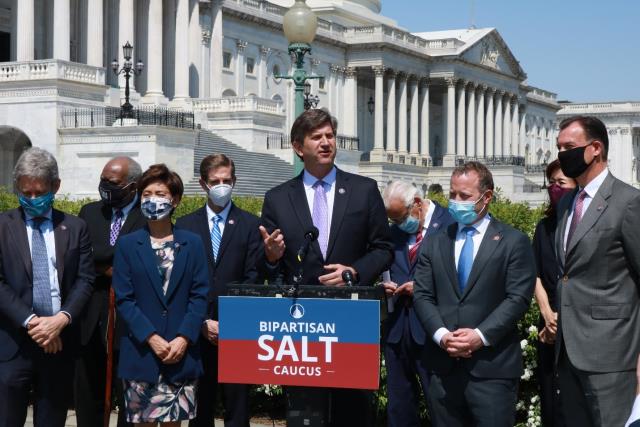 Last week I helped form the bipartisan SALT Caucus to fully restore the State and Local tax deduction. Illinois made the decision to invest in our schools, our communities and our infrastructure, and residents shouldn't be punished for it. We need a tax system that is fair, lifts up our nation, makes our companies competitive, and creates the future for our children that we all want them to have. Watch my speech here.

President Biden Signs Schneider Bill to Stop Cuts to Medicare Payments

Last week President Biden signed my bill preventing cuts in payments to hospitals through the end of the year. In the middle of a once-in-a-century pandemic, Congress is taking the steps necessary to make sure that we have the backs of doctors, nurses, administrators, and more on the front lines of our hospitals fighting this terrible virus.

Advocating for the Tenth District Infrastructure Needs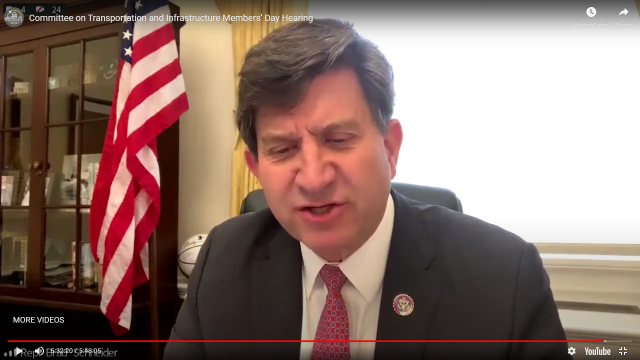 Last week I testified before the Transportation & Infrastructure Committee to encourage that the  infrastructure needs of the Tenth District be considered in the American Jobs Plan. Here at home, infrastructure means more than roads and bridges. It means adequate stormwater management and flood mitigation systems. It means affordable and accessible public transit. And it means that any investment in infrastructure – existing or new – must prioritize climate resiliency and transitioning to a green economy.

House Votes to Close the Gender Pay Gap, Passes Paycheck Fairness Act

In the Tenth District, women are paid $14,683 less than men per year. Nationally, women are paid 20% less than men, and women of color are paid even less. On Thursday, I voted to help end the gender pay gap by passing the landmark Paycheck Fairness Act, which gives workers more tools to fight sex-based pay discrimination.

Celebrating Israel's Independence Day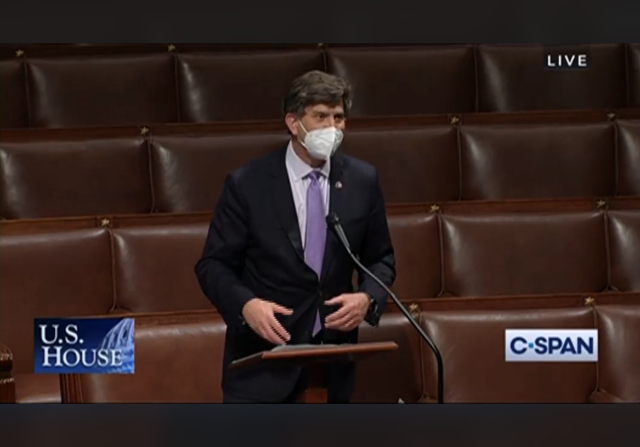 I was proud to join with my colleagues on the House floor to honor and celebrate the 73rd anniversary of the founding of Israel. Israel is our most reliable ally in an important region of the world, and one of our best allies anywhere. Congress remains dedicated to protecting Israel's security as a Jewish, democratic state and to pursing lasting peace and stability to Israel and her neighbors. You can view my remarks here.

AROUND THE TENTH

Trump Administration Blocked EPA from Investigating Ethylene Oxide Polluters, Including Facilities in Waukegan and Gurnee

Industry-connected political appointees in the Trump administration blocked the EPA from investigating ethylene oxide polluters and failed to warn thousands of Americans who live near sources of the carcinogenic gas, the Chicago Tribune reported last week.

The Trump Administration ignored calls – and cries from our communities – for help when we knew the profound threat posed by EtO. The Trump-appointed leadership at EPA actively stood in the way of meaningful action in Lake County when they should have been making sure that Americans were safe from this known carcinogen. I look forward to working with the Biden Administration to guarantee appropriate monitoring of EtO under the law—and the proper engagement of affected communities in addressing the issue.

Parenting During the Pandemic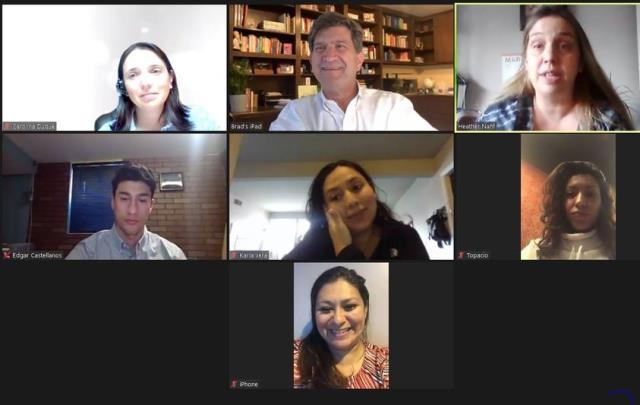 The pandemic has been challenging for all of us, but especially for parents. Last Tuesday, parents from Waukegan told me about the emotional toll the pandemic has taken on them and their kids. I hope that the money for parents in the American Rescue Plan - including the expanded child tax credit in the form of direct, advance payments - will help lessen some of that burden and help all Americans through these hard times.

Highlighting the Dangers of Climate Change with STEM Scholars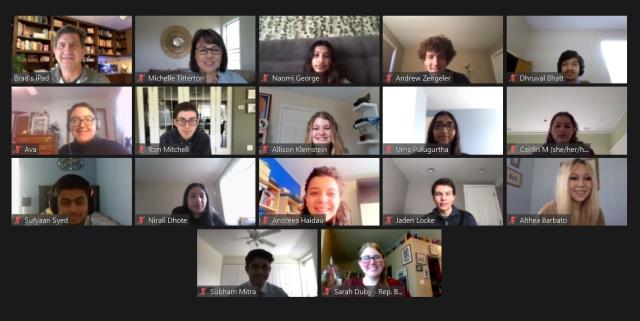 Over the weekend I hosted the fourth and final meeting with this year's class of STEM Scholars as they participated in a simulation designed to highlight the harmful effects of climate change. Climate change poses an existential threat to our way of life, and we are already seeing its effects in our own communities. In Illinois, climate change has led to decreasing water levels in Lake Michigan and increased precipitation that leads to severe flooding. We must address this problem urgently, and I was inspired to see the students' dedication to solving this important issue.

Meeting with the Jewish Federation of Chicago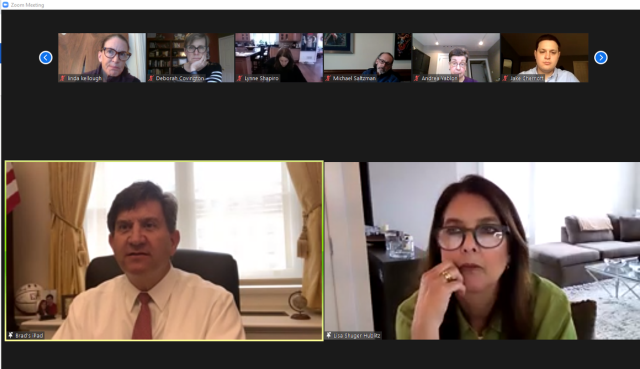 I met with the Jewish Federation of Chicago last week as part of their annual advocacy mission. We had a great discussion wrapping up the first legislative quarter of Congress and talking about how Congress can continue to champion a strong U.S. – Israel relationship.

On Adam Toledo

Last week, the horrific video of the death of Adam Toledo was released to the public.

Every 13-year-old should be able to dream of a bright future. The death of Adam Toledo is a tragedy for his family and our community. We, as a society, failed him. We can't bring Adam back, but we can strive for a world where no 13-year-old meets such a tragic end.

As the Toledo family said, we are all pained by Adam's death and seeing the video last week cut us to our core.

RESOURCES AROUND THE DISTRICT

FEMA Providing COVID-19 Funeral Assistance

FEMA is now accepting applications for financial assistance for funeral expenses incurred after Jan. 20, 2020 for deaths related to COVID-19. The assistance is limited to a maximum financial amount of $9,000 per funeral and a maximum of $35,500 per application. Please find more information at FEMA's COVID-19 Funeral Assistance website or call 844-684-6333 for help.

Apply for Lake County COVID-19 Rental Assistance Program

Lake County renters who face financial hardship related to COVID-19 can now apply for the new Lake County Federal Emergency Rental Assistance (FERA) Program, which provides help for individuals paying rent and/or utility bills.

To qualify for help, residents must: pay rent in Lake County, have a COVID-related financial hardship, be at risk of homelessness or housing instability, meet income guidelines based on household size, and provide appropriate documentation.

More information and the application can be found here.

Collect your 2017 Tax Refund

The IRS currently has refunds totaling $1.3 billion for people who never claimed their 2017 tax refunds. If you didn't file a 2017 federal income tax return, you can still claim your refund if you file your 2017 income tax return by May 17, 2021.

If you were eligible for the Earned Income Tax Credit in 2017 and did not file a return, you can still receive the EITC retroactively if you file by the May 17th, 2021 deadline.

Learn more on the IRS website.

IN CLOSING

On a personal note, you may have heard that our beloved dog JoJo went missing on Friday in Deerfield. We rescued her in December from a puppy mill where she was a "breeder" dog, confined to a cage for four years having one litter of puppies after another. Everything in a normal dog's world (a warm bed, love of family and freedom to explore the world around her) is new and very, very scary. She is still missing but we remain hopeful that she will safely return home soon.

We are of course very sad about JoJo's disappearance.  But I write about it here to share the uplifting part of the story. From the moment we shared that JoJo had run away, countless neighbors, friends and even strangers have, on their own initiative, joined the search to locate her. As Julie and I have followed up on any and every sighting, we run into people walking and driving the area hoping to see her.

So I am taking the personal privilege of penning this newsletter to say thank you to everyone for helping us in our time of need. Your kind efforts reaffirm my belief in the power of community.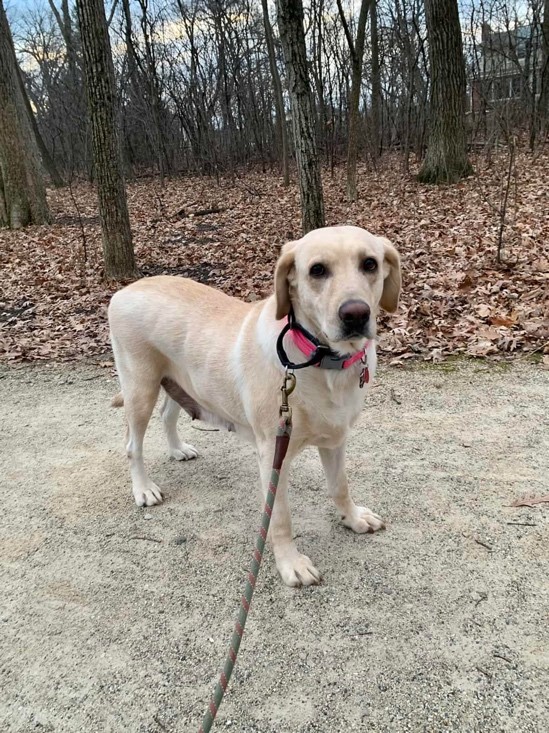 If you by chance see a scared yellow lab, please text or call in her location to 847-471-9696. Please do not call her or give chase, as that will only scare her and cause her to flee, potentially running into oncoming traffic.

Onward,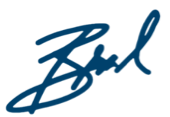 Bradley S. Schneider
Member of Congress