10th News: 200 Days of Progress
Better late than never, and hopefully well worth the wait, the 2020 Olympics are finally happening! These Games will likely always be remembered as the Pandemic Olympics with the year's long delay, empty stadiums and the images of too many athletes missing their chance to compete after testing positive for COVID-19. But beyond the hardships, we should focus on the stories of sportsmanship, the near superhuman discipline and perseverance and the competitors, and the honor of every athlete competing their hearts out on behalf of their country.
Here's to the our Team USA athletes. May they all perform at their very best and make our nation proud.

Back in Washington, the House this week is voting on a number of the Fiscal Year 2022 government funding bills. These bills include monies for several local community projects I supported and advocated to be included. Once these bills pass the House, they will go to the Senate and will hopefully be on the President's before the September 30 deadline to fund the government.

Closer to home, I had a fun weekend traveling across the district. It's nice to be able to get out again and visit with people in person. I am especially excited to be home for the entire month of August and hopefully will have to the chance to see you at one of the many events we are planning. Just yesterday we announced four Congress On Your Corner town halls and my fourth annual "Bike the Tenth" summer ride. Please continue to read my weekly newsletter or visit my website for other events next month.

Lastly, as the COVID-19 Delta variant continues to spread around the country, I want to once again encourage all of those who are not yet vaccinated to get vaccinated as soon as possible. More than 160 million Americans are already vaccinated, which is a testament to the success of the American Rescue Plan. Because of the protection of the vaccines, at present, 95% of COVID-19 hospitalizations are for those who are not vaccinated. Maybe more important, 99.5% of all COVID-19 deaths are now people who were not fully vaccinated. The vaccine is safe, effective  and our best hope to beat back this virus once and for all.

In case you missed it, I recorded a Facebook Live Town Hall last week to discuss some of these issues and more that you can watch here.

Keep reading for information about what's been happening in Washington and around the district.
Join Me for Congress on Your Corner in August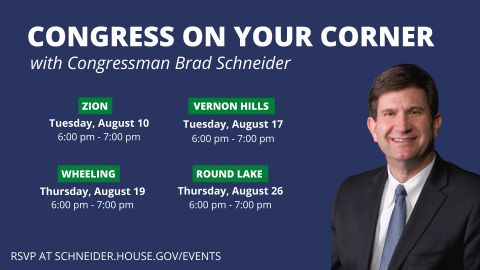 In the last few months, the American Rescue Plan has put shots in arms and money in pockets, and many of you have chosen to get vaccinated to protect yourselves and your neighbors. As a result, we are once again safely able to come together in person. I will be spending the month of August across the Tenth District holding events fighting for you. I am looking forward to reuniting with you all in person after the challenges of the last year and hearing from you about your concerns and hopes in the work of the Congress.  

RSVP for a COYC near you at: schneider.house.gov/events. 

Following CDC guidelines and advice of the local health department, attendees are encouraged to get vaccinated against COVID-19. Those attendees who are not vaccinated are encouraged to wear a face mask for their own safety. Additionally, we are requiring RSVPs in advance to accommodate social distancing.
Consider This a Personal Invitation: Let's Ride Together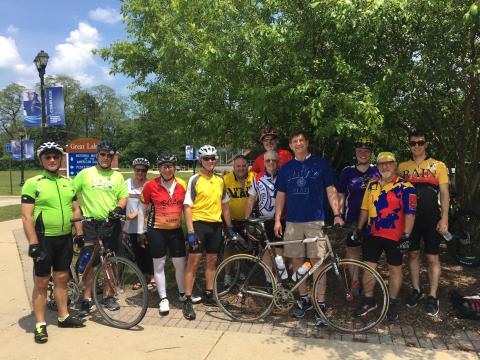 Now that we can come together in person again, I am excited to invite you to one of my favorite events of the year: Bike the Tenth! Join me and other constituents on a 15 mile ride along the Des Plaines River Trail, traveling throughout parts of the Tenth District at 9am, Saturday, August 28th. All ages are welcome for what will be a leisurely ride. The route begins and ends at Half Day Forest Preserve in Vernon Hills. And knowing me, I suspect we will stop for ice cream somewhere on the route.

Please RSVP on my website: schneider.house.gov/bike. I hope to see you there!
AROUND THE DISTRICT
Meeting with Round Lake Mayor Russ Kraly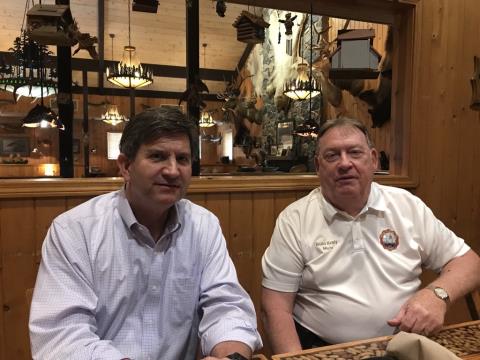 I had a great time catching up with Mayor Russ Kraly at Bill's Pub in Round Lake over the weekend. We talked about how the American Jobs Plan and infrastructure reform will help Round Lake.
WHAT'S HAPPENING IN WASHINGTON
Celebrating 200 Days of Progress This Congress
July 21st marked the 200th day of the 117th Congress. My colleagues and I have been hard at work to pass legislation important to the American people. Here's a recap of the legislation the House passed this Congress:
The American Rescue Plan to put shots in arms, money in pockets, children safely back to school and people back to work, signed into law by President Biden on March 11th
The COVID-19 Hate Crimes Act to address the surge in hate crimes targeting the AAPI community since the start of the pandemic, signed into law by President Biden on May 20th
The Juneteenth National Independence Day Act to make Juneteenth a federal holiday to commemorate the end of slavery in the United States, signed into law by President Biden on June 18th
The For the People Act to promote government transparency, strengthen access to the ballot box and make it easier for Americans to exercise their right to vote, secure election infrastructure, and curb the influence of dark money in politics
The Equality Act to prohibit LGBTQ+ discrimination
The Dream and Promise Act to protect DREAMers from deportation and creating a path to citizenship
The Washington, DC Admission Act to admit Washington, DC to the union as the 51st state
The Protecting the Right to Organize Act to strengthen labor protections, promoting free and fair union elections, and holding companies accountable
The George Floyd Justice in Policing Act to address racial bias in policing, ensuring accountability for police brutality and misconduct, and rebuilding trust between police and the communities they serve
The Violence Against Women Reauthorization Act to reauthorize funding for vital grant programs to help survivors of sexual assault and domestic violence
The INVEST in America Act to rebuild our nation's crumbling infrastructure and fund several Tenth District community projects that I supported, including:

Pace Route Access in North Chicago
27th Street Resurfacing in Zion
The Patriot Path across Lake County
Metra's Zero Emission Vehicle Pilot
Improvements to IL-21 Milwaukee Ave
House Passes Bipartisan ALLIES Act to Save Translators as Troops Leave Afghanistan
I voted alongside my House colleagues last week to pass the bipartisan ALLIES Act, which will improve visa processing and help those who served side by side with American troops in Afghanistan are protected.

The bipartisan ALLIES Act will help our courageous Afghan translators, and other allies who risked their lives to assist American forces during the war, obtain immigration visas to come to the U.S. Now that President Biden has ended America's longest war, it's time for us to help the thousands of local Afghan translators and contractors who were critical to the safety and success of our mission in the country. As long as our allies remain on the ground in Afghanistan, they are at grave risk for retribution from Taliban forces. These brave men and women have already endured unacceptable delays and backlogs while trying to get out of Afghanistan, and I am proud of last week's vote to get these heroes to the new home they have earned.
Fighting for Human Rights in Iran with Masih Alinejad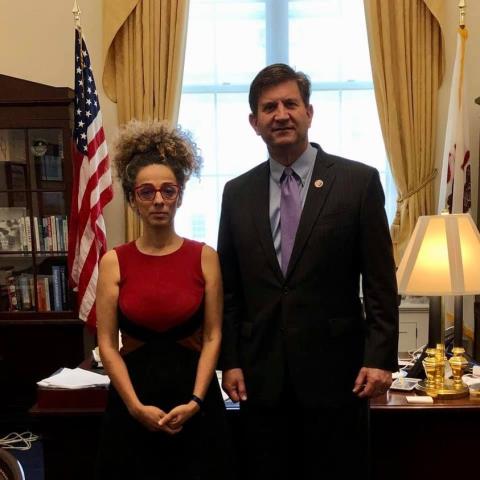 Masih Alinejad is an Iranian immigrant, an American citizen and champion of human and civil rights. The Iranian regime fears her message and tried to kidnap her from her New York home.  I was honored that she shared with me the stories of countless Iranians risking their lives for freedom and essential rights. She speaks because they cannot.
Apply Today for the Congressional App Challenge

In less than a generation, apps have come to touch every aspect of our lives. The Congressional App Challenge is an opportunity for Tenth District students to demonstrate and develop their STEM skills by designing their own app and presenting their work on a national stage. I look forward to seeing the remarkable apps that this year's students create. View the application and learn more on my website.
CHILD TAX CREDIT RESOURCES
The expanded Child Tax Credit is projected to cut the national child poverty rate in half and will lift 8,500 children in the Tenth District above the poverty line. Our office has started to receive many questions from constituents regarding the program. Please refer to the information below to address the most common questions related to the program.

To see if you are enrolled to receive payments, check to see if your payment was issued, and update your banking information with the IRS: Child Tax Credit Update Portal (CTC UP)
If you need to...

Use this tool:

Check your eligibility for the Child Tax Credit

The Eligibility Assistant helps you determine if you might be eligible for advance payments of the Child Tax Credit. Available in English and Spanish.

Register for advance payments of the Child Tax Credit if you don't normally have to file a tax return

The Non-Filer Sign-Up Tool helps people who normally don't have to file a tax return complete a simplified return to get advance Child Tax Credit payments, the Recovery Rebate Credit and Economic Impact Payments.

Verify your identity before using the Child Tax Credit Update Portal

Go to the Child Tax Credit Update Portal and click "Manage Advance Payments." If you are a new user, you must create an ID.me account at the IRS and verify your identity. If you have an existing account with the IRS, use your Secure Access username and password and enter the security code as part of the multi-factor authentication (MFA) process. If you have an existing account with ID.me from a state government or federal agency, you may use your email and password and complete MFA. ID.me is a trusted third party.

Unenroll from advance payments of the child tax credit

You can use the Child Tax Credit Update Portal to unenroll from automatic payments if you:

prefer to claim the full credit when filing your 2021 tax return, or
you know you're not eligible because your situation changed for 2021.

Manage bank account information

The IRS will issue payments to the bank account you included on your 2020 or 2019 tax return or to an account known to the federal government, such as an account where you receive Social Security, veterans or railroad retirement benefits. Those who are not enrolled for direct deposit will receive a mailed check. Use the Child Tax Credit Update Portal if you need to update your bank account information or add a bank account.

View your payment history

After payments are issued, the Child Tax Credit Update Portal tool will show your payment dates and amounts.

Update your mailing address

Starting in August, you can use the Child Tax Credit Update Portal to update your address. (Timing subject to change.)

Report updates that could affect your payment amounts

Starting in early fall, you can use the Child Tax Credit Update Portal to report updates that affect your payment amounts such as changes to:

number of qualifying children
marital status
income
custody agreement

If your situation has changed in 2021, updating this information will help you get the most accurate amount of advance payments.
LONG WAITS FOR PASSPORTS: Look Before You Book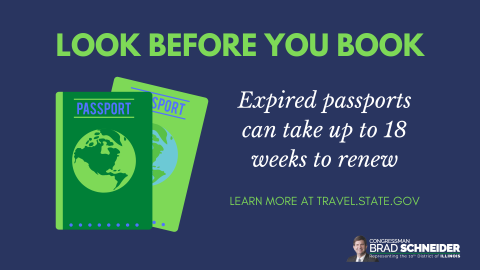 If You're Traveling Internationally Soon, Remember to Check Your Passport Expiration Date

As more and more people get vaccinated, travel is starting to pick back up again. My office has received a major uptick in calls asking to expedite passport renewals lately. If you plan to travel internationally, remember to check the expiration date on your passport before you book your trip. It is taking much longer than normal to renew a passport, so make sure to plan ahead.

Check the passport website to get an idea of processing time -- expedited processing is now taking 12 weeks from submission to receipt, regular processing 18 weeks.

At this point, expedited exceptions are only being made in case of emergency travel. In other words, apply now for that passport you will need for the trip you might take over Winter Break. Passports last for 5 or 10 years depending on what age you were issued your first passport.
DISTRICT RESOURCES
TOMORROW: Applications Open for Affordable Housing Units in Wheeling and Niles
The Housing Authority of Cook County (HACC) will re-open its waitlist for one-bedroom units at their property locations in Niles (9201 N Maryland Ave) and Wheeling (200 N Milwaukee Ave). The household will be required to pay rent equal to up to 30% of their adjusted annual income. To qualify, the annual income for a one-person household cannot exceed $39,180 and the annual income for a two-person household cannot exceed $44,760.

Pre-applications will be open online from Wednesday, July 28 at 10 am to Friday, July 30 at 4:00 pm. To apply, please visit http://www.thehacc.org and select OPEN under the property listing for Huntington OR Wheeling Tower. Then scroll down and select "Apply to Waiting List" to begin the online- pre-application for housing.
---
Highwood Public Library Health Fair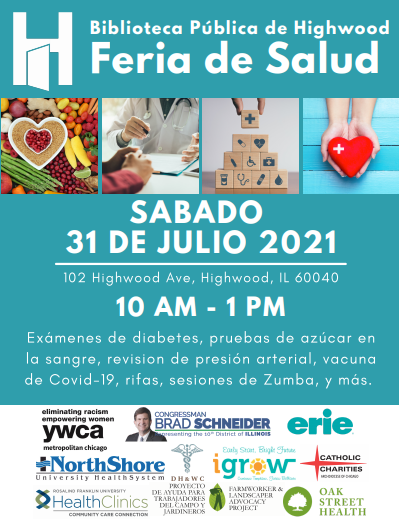 Saturday, July 31st, 10 am – 1 pm: Come visit the Highwood Public Library Health Fair for free diabetes and blood sugar screenings, high blood pressure checks, COVID-19 vaccines, raffles and prizes, Zumba sessions and more.

Sabado, 31 de Julio, 10 am – 1 pm: Visítanos en la biblioteca pública de highwood para exámenes de diabetes, pruebas de azúcar en la sangre, revision de presión arterial, vacuna de Covid-19, rifas, sesiones de Zumba, y más.
---
Tax Credits Available for Higher Education

Tax credits can help offset the expensive costs of higher education. The American Opportunity Tax Credit and the Lifetime Learning Credit can help taxpayers save money on education. Learn more and find out if you're eligible here.
---
COVID-19 Rental Assistance

New VA Program Available to Help Vets Avoid Foreclosure

The VA is now offering a COVID-19 Refund Modification option to assist veterans who require a significant reduction in their monthly mortgage payments because of the COVID-19 pandemic. In some cases, veterans can receive a 20% payment reduction. Learn more here.

Apply for Lake County COVID-19 Rental Assistance Program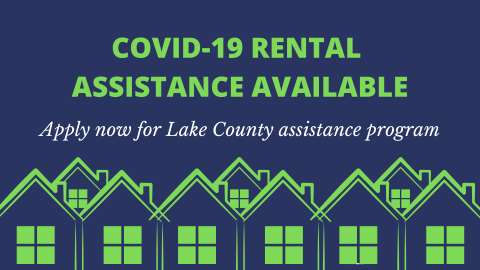 Lake County renters who face financial hardship related to COVID-19 can now apply for the new Lake County Federal Emergency Rental Assistance (FERA) Program, which provides help for individuals paying rent and/or utility bills.

To qualify for help, residents must: pay rent in Lake County, have a COVID-related financial hardship, be at risk of homelessness or housing instability, meet income guidelines based on household size, and provide appropriate documentation.

More information and the application can be found here.
Mortgage Help for FHA-insured Borrowers


The Federal Housing Administration launched a COVID-19 mortgage forbearance program to help those struggling to pay their mortgage. If you are one of the many FHA-insured borrowers in communities across the country having difficulty paying your mortgage due to the pandemic, visit the HUD website to learn more.
---
Mixed Earners Unemployment Compensation Applications Now Open
Mixed earners, or those who earn money both through self-employment income and traditional W2 employment, can now apply for unemployment compensation. Eligible MEUC recipients will receive an additional $100 per week on top of their normal unemployment insurance benefits. View the application and learn more here.
---
IN CLOSING
I thought I would close with a bit of Olympic trivia.
You may have noticed that the Team USA was the only Olympic team that did not dip its flag when passing the reviewing stand of the host country. This is not a faux pas. Legend has it that the tradition started when an Irish-American athlete in the 1908 London Olympics refused to lower the flag to the King as an act of nationalism.
But it turns out that it did not become official US policy to not dip the flag until the 1936 Berlin Olympics, when Team USA led several other nations in formally refusing to dip their flags in front of Adolf Hitler.

You can read more here.

Enjoy the Games and I can't wait to see you next month in person.
Onward,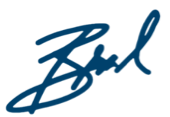 Bradley S. Schneider
Member of Congress